CORONAVIRUS | "Please be responsible, be honest about your travel history and follow orders to stay at home."
This is the message that 25-year-old Aida Nabila Mohamad Ghazali, who has so far lost five family members to the virus, wants to put across to the public.
Aida, a master's degree student at Universiti Putra Malaysia, recently had to bury her grandmother, an uncle and an aunt, and two distant relatives in Kuching, Sarawak after all of them succumbed to Covid-19.
Health authorities had traced the source of infection to a colleague of her aunt. The aunt lives in the same house as Aida's late grandmother together with her three siblings (another aunt of Aida and two uncles).
The colleague, referred by the Health Ministry as Patient 1,580, had returned from Italy.
At the time, the federal government had yet to impose mandatory self-quarantine measures. Compulsory isolation at quarantine centres took effect on April 3.
But Sarawak government had since March 5 ordered all those residing in Sarawak to undergo home quarantine for 14 days if they had just returned from Italy.
However, Aida said her aunt's colleague turned up for work.
It was not until the middle of March that the family noticed something was amiss.
It started with Aida's 79-year-old paternal grandmother who was admitted to a private hospital with pneumonia on March 16.
She later asked to be discharged and taken home to spend her final hours with her family. At the time, she had yet to be diagnosed with Covid-19.
"Many questioned why we took my grandmother back to her home. But it was actually her who really wanted to go home as if she knew that her time was coming.
"She only had a few hours at her house before she breathed her last at about 2am," Aida said on Twitter.
Uncle and aunt also falls ill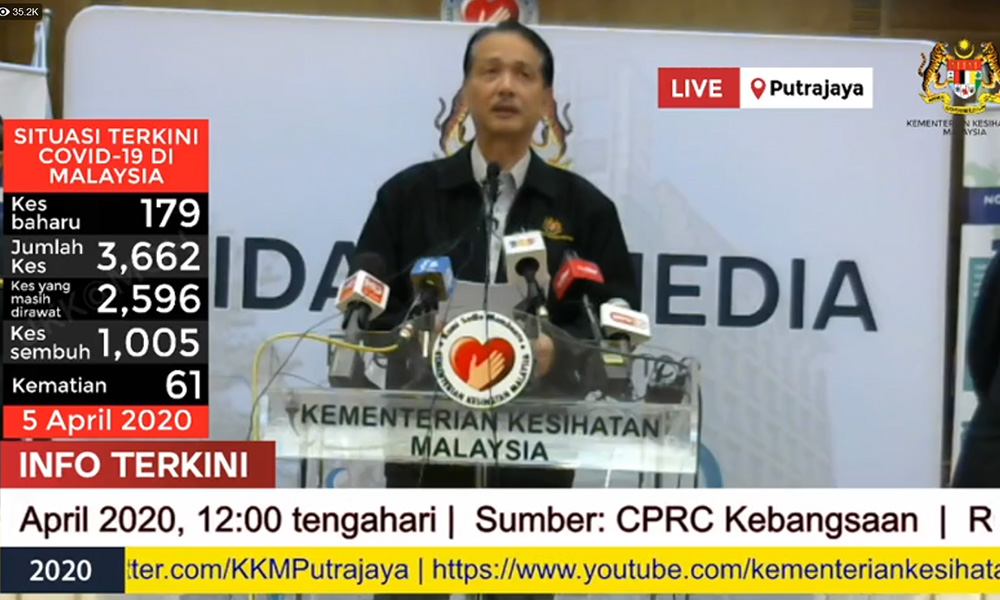 Health Ministry director-general Noor Hisham Abdullah (photo) had yesterday referred to the cluster of infections involving Aida's family as an example of why being truthful was important in the battle against Covid-19.
Malaysiakini had reached out to Aida for her to share her side of the story.
Aida said her grandmother was buried on March 18, the same day she passed away.
However, on the same day, her aunt and uncle who lived with her grandmother began to fall sick and were soon admitted to hospital.
They were both tested positive for Covid-19 on March 20. On the same day, her deceased grandmother's (Patient 1,031) Covid-19 test also returned positive.
This prompted the entire family and relatives to be brought to the hospital for screening and test swabs.
"All in all, a total of 37 people, including myself, tested positive for Covid-19," said Aida, adding that the number largely comprised her family members and relatives.
The four who were not related to the family are a colleague of Aida's father and his two children who attended the grandmother's funeral and that of Patient 1,580.
Aida's uncle (Patient 1,006) and aunt (Patient 1,032) succumbed to the coronavirus on March 23 and 21, respectively. Later, two of her distant relatives (Patient 2,210 and Patient 2,850) also died.
To date, 10 of her family members are still warded at Sarawak General Hospital, including Aida's father Mohamad Ghazali Abd Rahman, who is fighting for his life on a ventilator.
Some 20 others, including Aida, are now at a quarantine centre in Kuching.
'Pray for recovery'
Aida said she had spent two weeks under treatment at Sarawak General Hospital before being transferred to the centre to make room for more critical patients.
Aida said she held no grudges with Patient 1,580 but had this message to say: "I want everyone to be honest and responsible when giving information. And I want everyone to follow whatever that has been ordered by the government.
"Those who have a travel history, be responsible and quarantine yourselves. The others just stay at home. I'd like to take this opportunity to thank all the frontliners for risking their lives to save ours," she said.
Aida said she accepted what had happened to her family as a test from God and is hoping for the best on the recovery of her remaining family members.
"I don't have anything to say to her (Case 1,580,) but I do beg everyone to pray for us to be fully healed.
"Especially my dad, I just want my family to be healthy again. Pray for the other Covid-19 patients as well. I really hope this will end soon.
"I can't wait to be with my family again," she said.
---
Keep up with the latest information on the outbreak in the country with Malaysiakini's free Covid-19 tracker.
Malaysiakini is providing free access to the most important updates on the coronavirus pandemic. You can find them here.
Help keep independent media alive - subscribe to Malaysiakini.