CORONAVIRUS | The total number of Covid-19 cases in Malaysia has exceeded the 4,000 mark, according to Health Ministry director-general Noor Hisham Abdullah.
Noor Hisham (photo) said as of noon today, the country recorded 156 new cases, bringing the total to 4,119 cases.
He also reported two new deaths, bringing the death toll to 65.
On the bright side, the number of recoveries has for the second time exceeded the number of new cases.
A total of 166 people have recovered, bringing the total recoveries to 1,487 cases or 36.1 percent of total infections.
The last time the number of recoveries exceeded new cases was on April 6.
For those under treatment, 76 people are in the intensive care unit, down from 92 yesterday.
Of those in ICU, 45 are on ventilators, down from 50 yesterday.
The new deaths are as follows:
Patient 2,903 (64th death)
A 58-year-old Malaysian woman who had a history of diabetes and high blood pressure. She was treated at Tuanku Ja'afar Hospital in Negeri Sembilan on March 30. She passed away on April 7 at 3.20pm.
Patient 1,906 (65th death)
A 69-year-old Pakistani man who had a history of diabetes. He had attended the Sri Petaling religious gathering in late February. He was treated at Kuala Lumpur Hospital on March 22. He passed away on April 8 at 9.30am. He is the second foreigner to die of Covid-19 in Malaysia.
Noor Hisham said at present, the vast majority of infections affected Malaysians with only 145 foreigners involved.
He reiterated that it was important for Malaysians to stay home to break the chain of infection.
He also urged Malaysians to practice good hygiene and social distancing in the fight against Covid-19.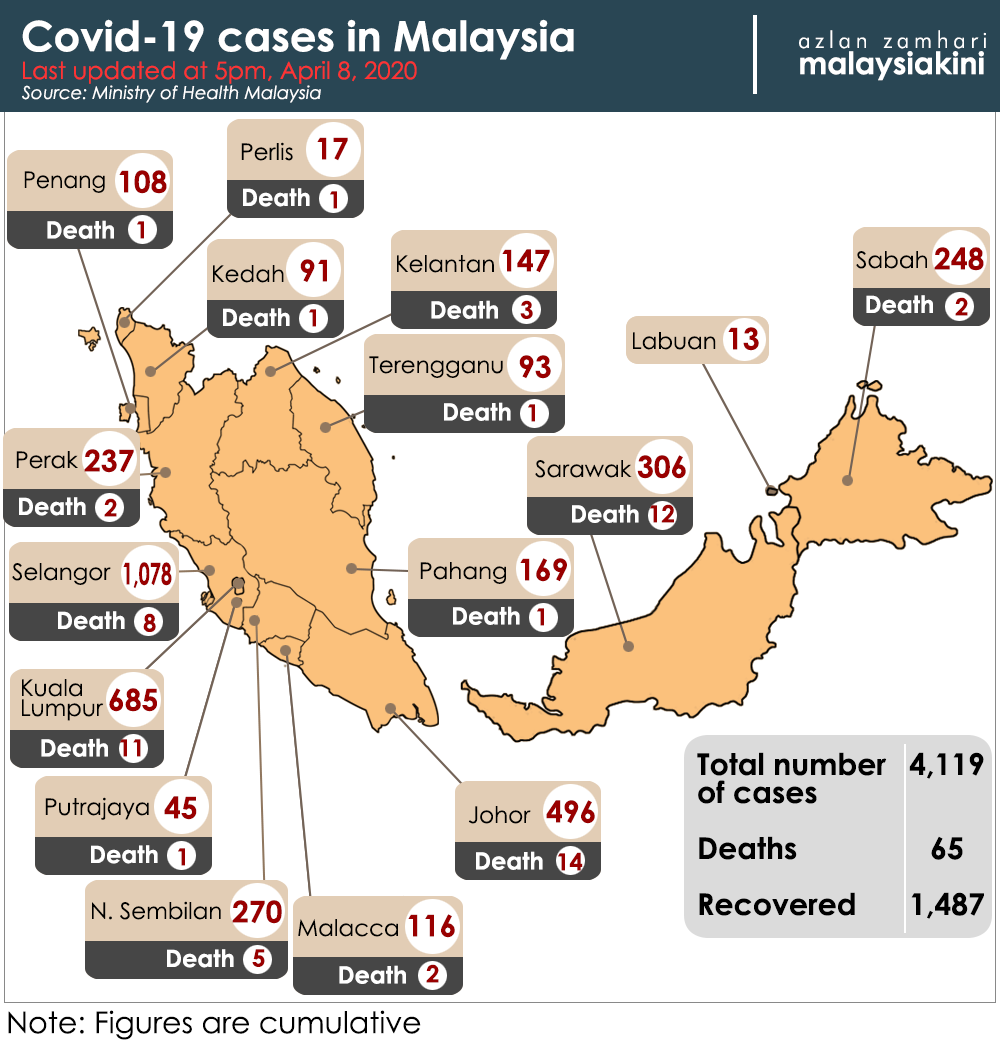 ---
Keep up with the latest information on the outbreak in the country with Malaysiakini's free Covid-19 tracker.
Malaysiakini is providing free access to the most important updates on the coronavirus pandemic. You can find them here.
Help keep independent media alive - subscribe to Malaysiakini.