CORONAVIRUS | The Health Ministry will propose several options for Prime Minister Muhyiddin Yassin and his cabinet to decide if the movement control order (MCO) period needs to be extended.
Assessing the state of the outbreak today, the ministry's director-general Dr Noor Hisham Abdullah noted that the daily increase in cases was under control.
However, he stressed that the fight against the virus remained.
"As far as we are concerned, no exponential growth has been seen in our cases.
"Although we have not won the war yet, neither have we lost the war," he said.
Malaysia registered 156 new cases as of noon today, bringing the Covid-19 cases tally to 4,119.
Two new deaths were recorded while 166 recovered, bringing the totals to 65 and 1,487 respectively.
Noor Hisham said that daily data has been informing ongoing modelling and projections of the outbreak.
Asked for the ministry's advice if the MCO needed to be extended, he sidestepped the question but said several "options" were available to the executive.
"We have seen the initial reports but we still need a day or two for us to analyse the whole data (set).
"With the data in hand, the ministry will put up a proposal [...] A few options are available and the decision is up to the cabinet and the PM," he answered.
Kluang lockdown goals met
The director-general also sidestepped a question on whether the enhanced MCO in Kluang, Johor needed to be extended beyond tomorrow.
He nevertheless said he was "quite happy" with how the ministry's objectives for the order there had been met.
"The implementation of the enhanced MCO has been encouraging and it has achieved the goals that we set out for the two weeks.
"We have obtained positive results from the enhanced MCO in Kluang," he answered.
Two areas in Kluang were placed under lockdown from March 26 to April 9 after a spike in cases was detected there.
This allowed ministry officials to carry out active case detection and sanitisation activities.
As of noon today, Noor Hisham shared that the areas had registered 174 Covid-19 infections, four more than yesterday.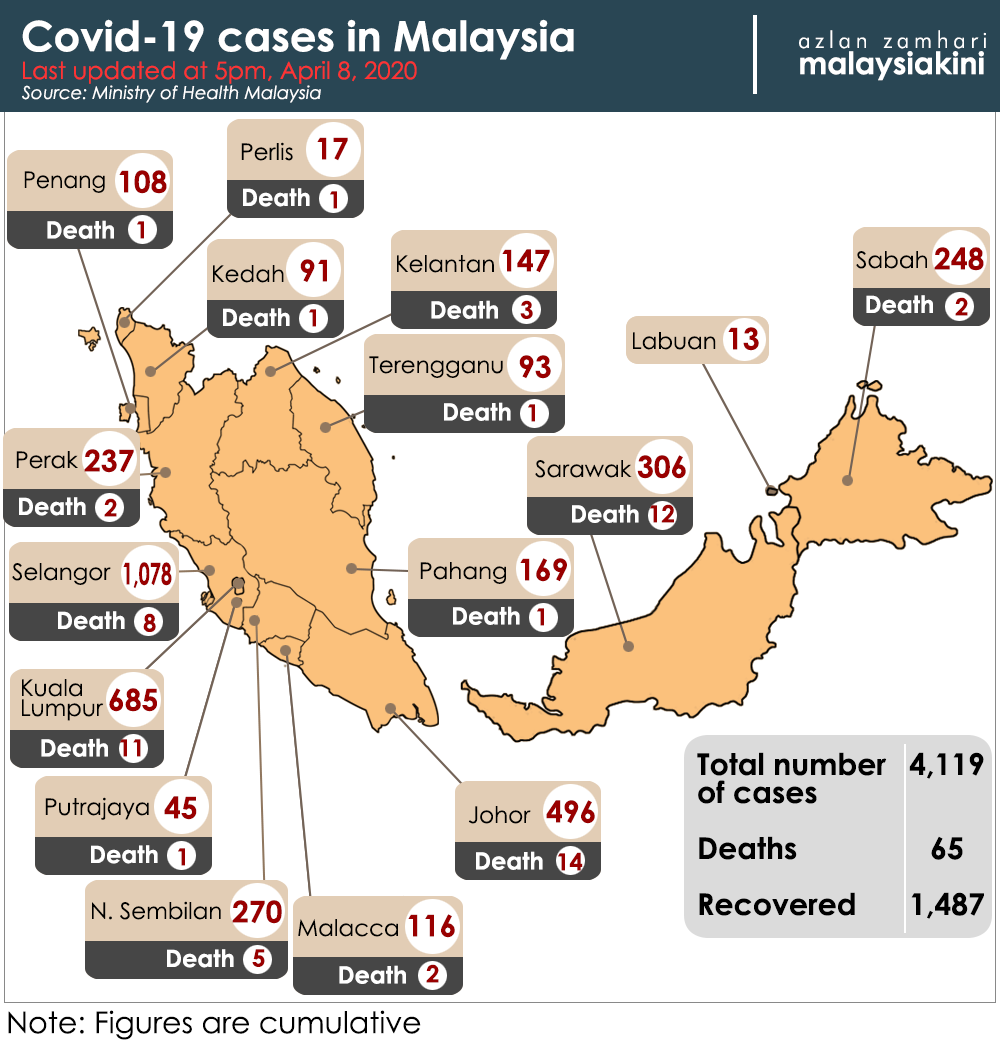 ---
Keep up with the latest information on the outbreak in the country with Malaysiakini's free Covid-19 tracker.
Malaysiakini is providing free access to the most important updates on the coronavirus pandemic. You can find them here.
Help keep independent media alive - subscribe to Malaysiakini.