CORONAVIRUS | Malaysia has recorded 109 new Covid-19 cases, bringing the total to 4,228, according to Health Ministry director-general Dr Noor Hisham Abdullah.
Noor Hisham also reported that 121 Covid-19 patients have recovered and were discharged.
This brings the number of total recoveries to 1,608 or 38 percent of total cases.
This is the third time and second consecutive day recoveries have exceeded new infections.
Meanwhile, Noor Hisham also reported two new deaths, raising the death toll to 67. This represents a mortality rate of 1.58 percent.
Of those in treatment, the number of Covid-19 patients in intensive care units (ICU) is at 72, down from 76 yesterday.
Of the Covid-19 patients in ICU, 43 are on ventilators, down from 45 yesterday.
The two new reported deaths are as follows:
Patient 2,798 (66th death)
A 59-year-old Malaysian man who had a history of autoimmune and chronic diseases. He had attended the tabligh gathering at Sri Petaling, Kuala Lumpur in late February. He was treated at the Malacca Hospital on March 31. He passed away on April 9 at 5am.
Patient 2,864 (67th death)
A 23-year-old Malaysian woman who had a history of thyroid disease. She had close contact with "Patient 2,469" and "Patient 2,470". She is part of the cluster from a church conference held in late February in Kuching, Sarawak. She did not attend the event but is a fifth-generation infection. She was treated at the Sarawak General Hospital on March 30 and passed away on April 9 at 9.42am.
"The Health Ministry conveys our condolences to their family members," Noor Hisham told a press conference in Putrajaya today.
He also reiterated for Malaysians to comply with the movement control order while urging them to practice good hygiene and social distancing in the fight against Covid-19.
Malaysia had been under a partial lockdown since March 19 to curb the spread of the pandemic.
The MCO was supposed to end on March 31 but was extended until April 14.
Under the MCO, all non-essential businesses and services must close while people are only allowed to leave their homes for approved reasons.
Foreigners are also not allowed into the country while Malaysians cannot leave.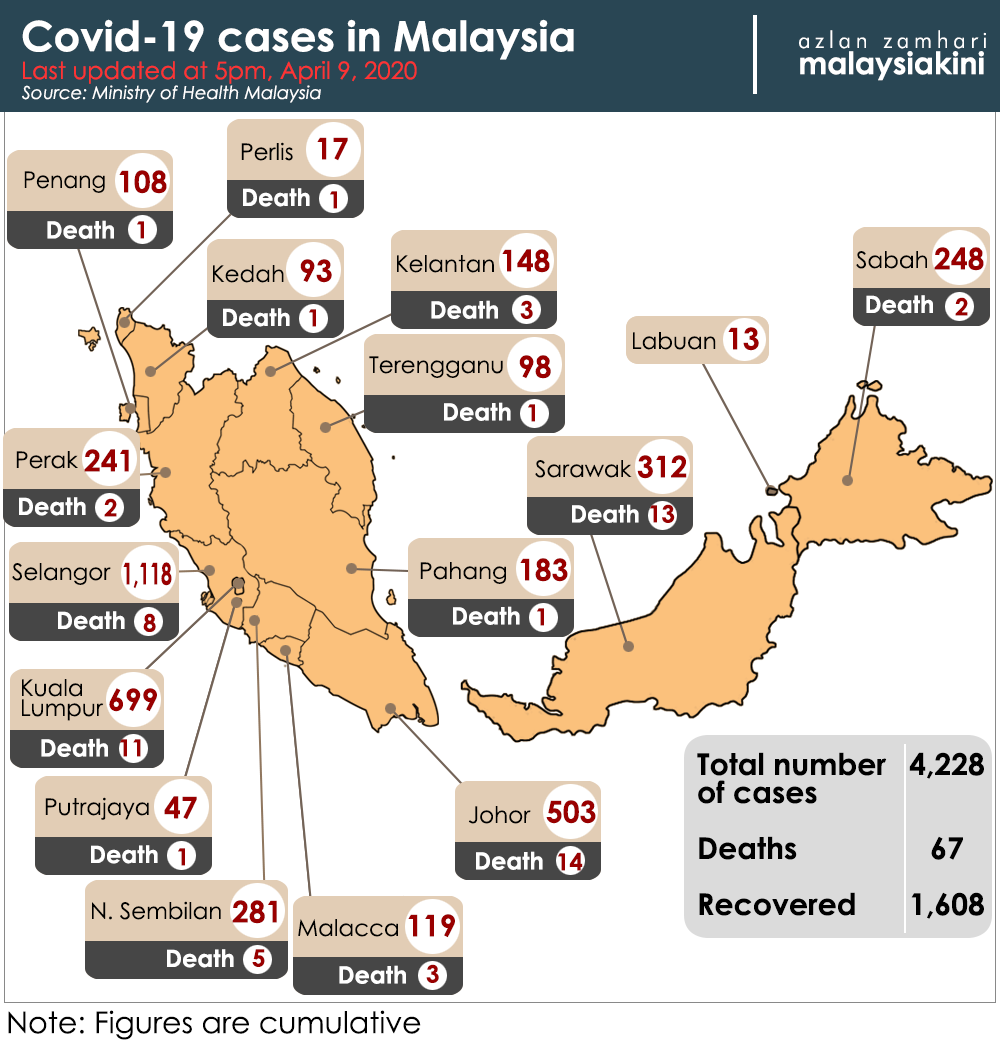 ---
Keep up with the latest information on the outbreak in the country with Malaysiakini's free Covid-19 tracker.
Malaysiakini is providing free access to the most important updates on the coronavirus pandemic. You can find them here.
Help keep independent media alive - subscribe to Malaysiakini.