CORONAVIRUS | The Education Ministry today announced that Ujian Penilaian Sekolah Rendah (UPSR) and Pentaksiran Tingkatan Tiga (PT3) are cancelled amid the Covid-19 pandemic.
Education Minister Radzi Jidin at a press conference in Putrajaya also said all secondary school examinations will be postponed to next year.
Radzi said the Sijil Pelajaran Malaysia (SPM), Sijil Vokasional Malaysia (SVM) and Sijil Tinggi Agama Malaysia (STAM) will be postponed to the first quarter of 2021.
Meanwhile, for Sijil Tinggi Persekolahan Malaysia (STPM) candidates, their second-semester examination is postponed to August 2020 while the third-semester examination is postponed to the first quarter of 2021.
Noting that postponement of the exams would impact enrolment to institutions of higher learning, Radzi said the Education Ministry and Higher Education Ministry have agreed to postpone the new intake date for foundation programmes, matriculation and diplomas to July or August next year, and for degree programmes to September or October next year.
At the primary and secondary school level, Radzi said the ministry would come up with a new assessment method to replace UPSR and PT3 results, currently used as selection criteria to enter government boarding schools, Sekolah Menengah Kebangsaan Agama, Maktab Rendah Sains Mara and Maktab Tentera Diraja.
The UPSR exam was originally scheduled to be held across five days on Sept 1, Sept 2, Sept 3, Sept 7 and Sept 8.
The PT3, meanwhile, was scheduled from Sept 28 to Oct 6.
Radzi (below) also reassured parents that continuous discussions will be held with the health minister before a date is set for schools to reopen, and an announcement will be made at least two weeks in advance.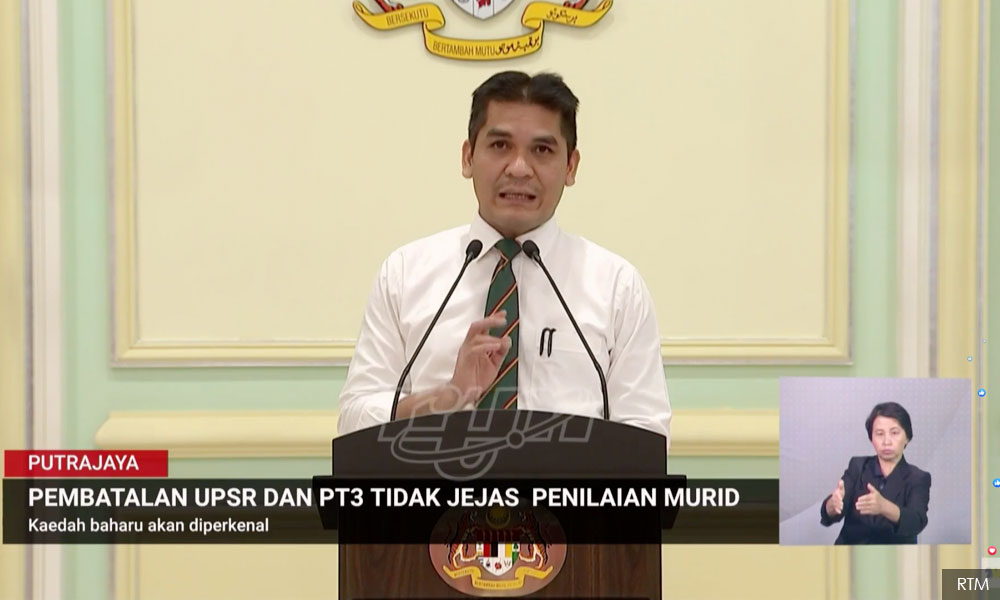 "This decision to reopen schools will only be made after we are fully convinced that the situation has returned to normal.
"At this stage, reopening of schools will only involve examination classes comprising SPM, SVM, STPM, STAM and other equivalent international level examinations," said Radzi.
The current school term started on March 22, four days after the MCO was first enforced.
According to the annual school year schedule, classes are supposed to be ongoing for nine weeks until May 22, before breaking for Hari Raya holidays and mid-term.