COMMENT | Malaysia was greeted with the wonderful news that our beloved Health director-general Dr Noor Hisham Abdullah was regarded by China Global TV Network (CGTN) as one of the top doctors to have led his country in battling the coronavirus pandemic. 
Such a recognition puts him on par with Dr Anthony Fauci of the US and Dr Ashley Bloomfield of New Zealand.
At the same time, however, we were also greeted with more worrisome news. The Malaysian police had arrested close to 15,000 people for violating the country's movement control order (MCO). 
While the police should be applauded for their resoluteness in enforcing the MCO and containing movement for the sake of public health, the act of detaining people could potentially manifest a new wave of coronavirus outbreak.
The news reports and press conferences published so far disclose no explicit account on whether these detainees would be screened for their health status either before their arrest and/or during their detention. This is to say, the detainees were likely to be arrested on the streets and public spaces without prior knowledge of their coronavirus status. 
Typically, they would be then transported to detention centres on vehicles and subsequently put together into cells with dozens of other detainees. The detainees would then have to spend a certain amount of days in detention before their court date or release. 
Without adequate health screening before and during their detention, we are inadvertently putting the health of the detainees at risk because they may contract the virus while being detained and subsequently spread it to their family as well as the wider community once they are released from detention.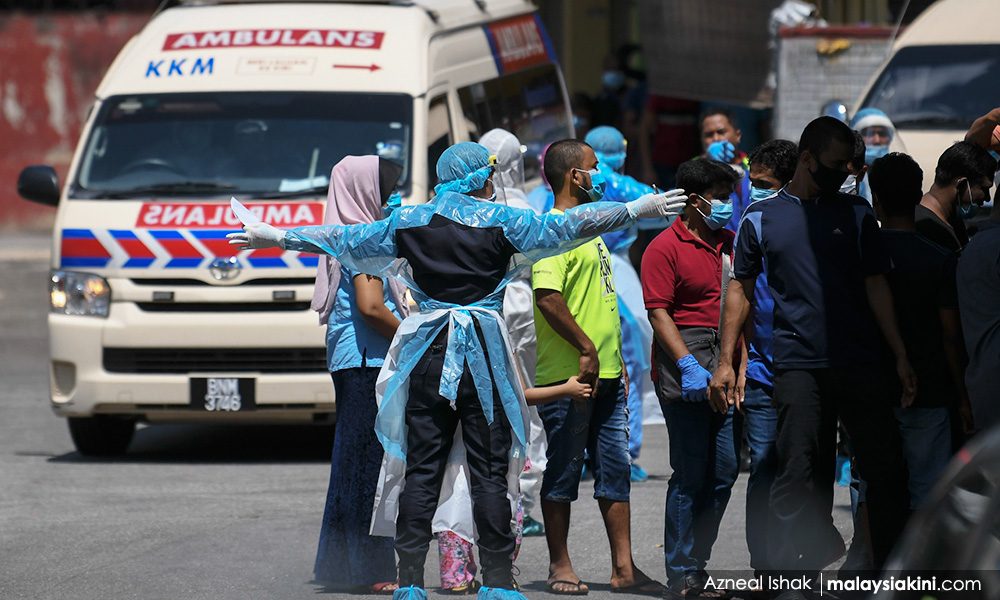 This is not a matter to be taken lightly. The virus is known to be more infectious in densely populated spaces. While studies have estimated that the (basic) reproduction number for the coronavirus to be between two and three, the (effective) reproduction number changes according to the environment and location. 
One study, for example, accounted for population density and movement and estimated that the median reproduction number of the virus in Wuhan to be around 5.7. This means that in denser populated spaces, the virus could spread and infect up to six people from a single host. This is without considering again when the (potentially infected) detainees eventually return to their families and communities.
In a recent press conference, it was mentioned that the police will enforce some "social distancing effort" within the detention centres albeit vaguely. Also, they were planning to use prison training/rehabilitation centres to host the detainees due to their overwhelming numbers and the lack of space. Good luck with that.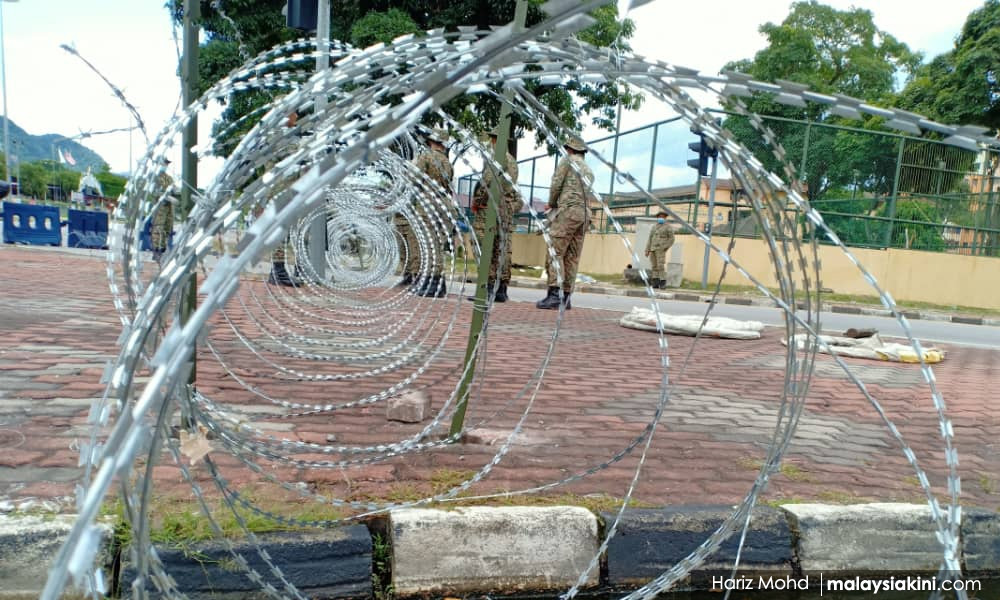 Results from a study that investigated the spread of coronavirus in air demonstrated that the virus can be found in air samples up to four metres away from a host. A separate simulation also found that the virus can also travel across aisles in grocery stores. 
Hence, any social distancing within a closed prison environment would require a substantial amount of space per capita – an even more significant challenge given that the prison occupancy (including detainees) capacity stood at 142 percent as recently as December 2019.
Malaysia is faced with a policy conundrum. On one hand, many members of the public are not adhering to the MCO. On the other hand, putting people together in detention centres may potentially create more clusters of coronaviruses that spread especially without proper health screening, which seems to be the case at the moment. 
There also seem to be no clear alternatives to effectively disincentivise violators. Maybe one could consider issuing summonses but with heftier penalties without the need to detain. 
There should also be more clarity with regards to public service announcements on the MCO. The early stages of the MCO were somewhat confusing as different messages were given out by different officials. The sense of lightheartedness towards the coronavirus crisis as portrayed by the Women Ministry, as well as the Education Ministry, could have also distracted the public's attention as to what is seriously at stake. 
It intriguingly seems true though, as one economist put it, populations in countries with poorer Mathematical performance scores tend to not to take the coronavirus threat seriously – policymakers and the public likewise. Let that settle in for a moment.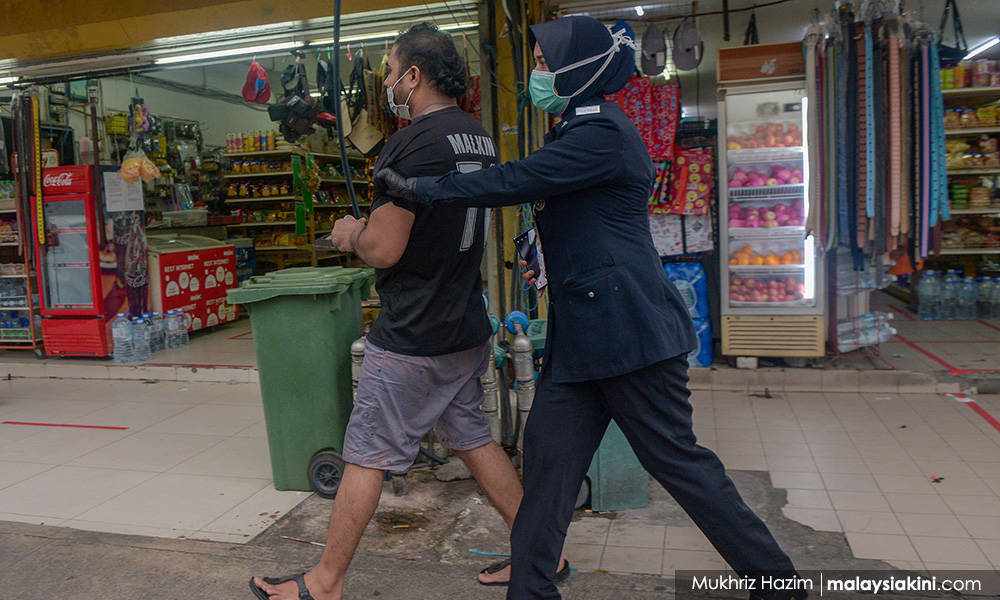 If there is a need to arrest the public for violating the MCO during the coronavirus crisis, there should be adequate screening of every detainee. Merely relying on the onset of symptoms such as temperature checks will be inadequate because at least one in four infected persons will be asymptomatic. 
Fortunately, on this end, it seems that many NGOs are working closely with the police to provide coronavirus screening for detainees. However, this does not seem universal. 
As such, should the detaining continue, more resources need to be devoted to screening detainees. Given such resources were already prioritised for our public healthcare system, however, making this happen would be a challenge
Malaysia has done so well so far in battling the coronavirus crisis. Policymakers need to maintain all the good work by keeping a keen thought on all potential circumstances of policies involving the public including the management of MCO violators. 
If not handled appropriately, Malaysia will be at risk of having a third coronavirus wave through its detention centres.
---
The author is a World Bank Group consultant based in Washington.
The views expressed here are those of the author/contributor and do not necessarily represent the views of Malaysiakini.
---
Keep up with the latest information on the outbreak in the country with Malaysiakini's free Covid-19 tracker.
Malaysiakini is providing free access to the most important updates on the coronavirus pandemic. You can find them here.
Help keep independent media alive - subscribe to Malaysiakini.