CORONAVIRUS | Menara City One residents have refuted Health Ministry Director-General Dr Noor Hisham Abdullah's explanation about the problematic mass testing procedures carried out at the apartment complex last night.
This afternoon, Noor Hisham stated that social distancing measures were not observed during the process as some had shown up for testing even though they were not called for it.
"When we looked at the report, the announcement (for testing) was only made for Block A.
"But those residents from Menara B also came down together. So there was congestion there," he said when asked about the matter during the ministry's daily Covid-19 briefing.
In an immediate statement of reply, the residents said this was untrue.
Instead, they said it was ministry staff who had ordered for a mass screening all at once.
"We are extremely disappointed in how the ministry is conducting these sessions. The conclusion is made after the 12th screening session last night whereby ministry personnel requested residents from multiple units and multiple floors to all come at the same time to the common area without any thought of cross-infection [...]
"We deny there was a massive number of Block B residents who came for the April 24 intended screening for Block A as mentioned by Noor Hisham in his press conference today," they said.
The statement was jointly issued by Menara City One residents and its management corporation and management.
Block A residents previously told Malaysiakini that they were alerted yesterday evening to be on standby for the tests.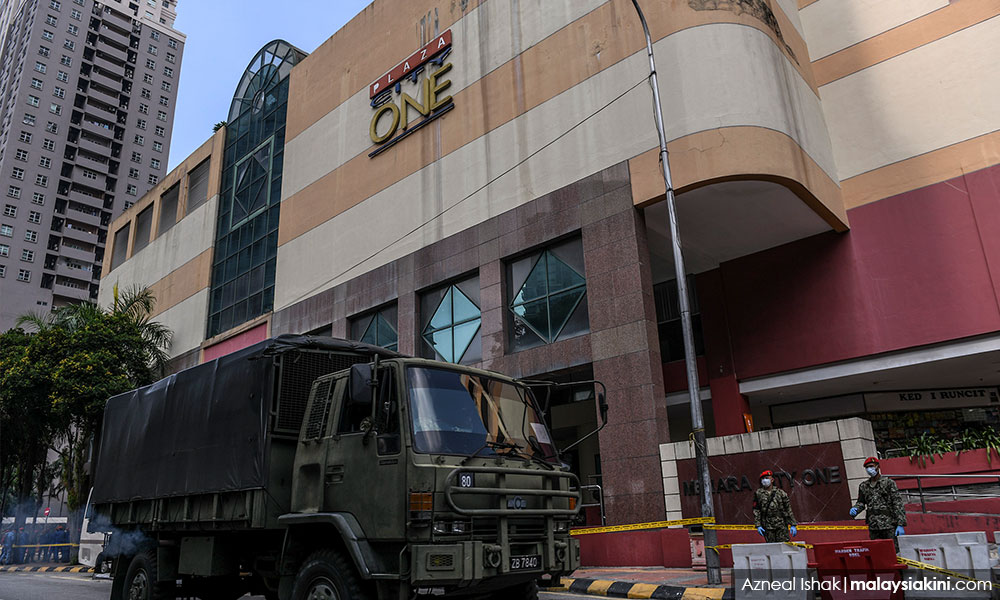 Ministry staff along with armed police later knocked on the doors of every apartment unit.
Long queues then began forming just to get to the four functioning elevators in the building, and residents claimed social distancing was neither practised nor enforced.
Door-to-door testing instead
At his press conference, Noor Hisham vowed that future mass testing would be done in accordance with the rules.
"We hope that in terms of implementation, we can actually improve the practice (of) social distancing among residents," he said.
In its response, residents noted that such "chaotic" situations had already happened several times.
Moving forward, they proposed that the ministry perform door-to-door screening to reduce the risks of infection.
"Asking the residents to assemble in large crowds and queue up for testing is exposing them unnecessarily to the risk of Covid-19 infection," they said.
Malaysiakini has contacted Noor Hisham for a response.
---
Keep up with the latest information on the outbreak in the country with Malaysiakini's free Covid-19 tracker.
Malaysiakini is providing free access to the most important updates on the coronavirus pandemic. You can find them here.
Help keep independent media alive - subscribe to Malaysiakini.