As he approached the police roadblock, Hambali Mohamed got ready to dismount and open his delivery bag for inspection.
The Lalamove delivery rider would pass another two roadblocks on his delivery run in the capital of Kuala Lumpur.
Such restrictions are part and parcel of the daily life of delivery riders, who stand among the frontliners keeping the country safe and running amid the coronavirus pandemic.
From the inconvenient to the life-threatening, here are some of the challenges faced by delivery riders in getting food and packages to their customers during the ongoing lockdown.
Roadblocks have been a feature of Malaysia's lockdown following the start of the nationwide movement control order (MCO) in mid-March.
But ever since a delivery rider found two packets of drugs packed in his customer's food order, police in Malaysia have been running thorough checks on all deliveries at roadblocks.
This means delivery riders have to plan ahead to ensure they get the most out of their day.
Nurdhiya'aizat Othman, 30, who just started with GoGet, said even with a clearance letter from the authorities, roadblocks were slow going as there was no express lane for deliveries.
"Since I drive a car, each roadblock would set me back between 30 minutes to an hour," said Nurdhiya'aizat, who also volunteers with the Malaysian Relief Agency.
"I buy groceries for customers, so I would head out to several wet markets by 6am and try to reach home before breaking fast (at 7.20pm). So, I'm on the road 12 hours a day."
Some riders like Azizi Azni, 19 (below), prefer to keep to their immediate neighbourhood instead to minimise any encounters with roadblocks.
"I only work for a few hours and cater to orders close to home, so I don't mind the wait," said the aviation college student from Cheras, who starts deliveries after his online classes.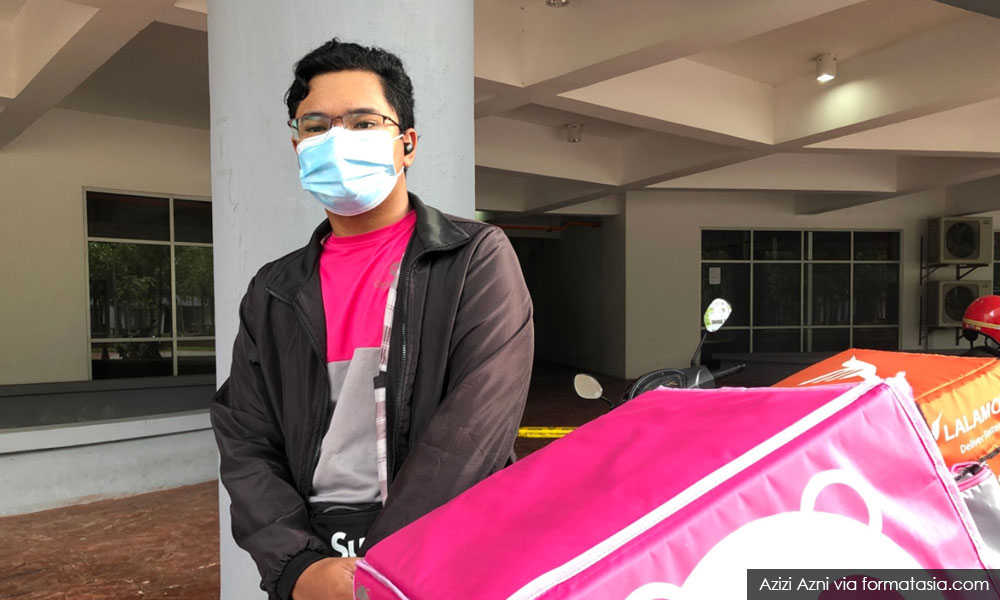 Roadblocks aside, the weather remained a top concern for riders, with the frequent evening showers since last week complicating deliveries.
GrabFood rider Ashabal Hairi, 23, said there have been times when he has waited in the pouring rain because his customer was not aware that he'd arrived.
"We can't take our phones out from the waterproof casing and we've honked numerous times. Until our calls are answered, we have no choice but to wait," he said.
He added that braving the heat was one thing, but rain also posed a risk to safety and delays for those on a motorcycle.
The risks are real. Last week, Muhammad Zaim Azman, a 21-year-old Food Panda rider, died on the job after getting into a road accident in Meru near the port city of Klang.
More than 20 of his colleagues accompanied the hearse during its 80km journey from Klang Hospital to his grandmother's house in Sekinchan to pay their last respects.
From side hustle to full-time job
But the job remains attractive to many, especially those who no longer have a steady source of income due to the strict restrictions on businesses operating during this period.
AirAsia X cabin crew Abdul Ghani Senari, 31 (below), started working as a Teleport delivery driver two weeks ago as passenger flights ground to a halt.
"I get about RM600 a week, enough to serve as pocket money throughout this MCO," he said.
Hambali, a waiter at the Putra World Trade Centre who earns RM2,000 a month, recently took a pay cut after the convention and exhibition centre closed. He has since been delivering full-time.
"I've been working part-time with Lalamove since last year and since I have nothing to do, going full-time is a great option to make ends meet," said the 33-year-old, who now does deliveries from 10am to 5pm.
Before the lockdown, Hambali went back to his wife Nur Farahin Asmida's hometown of Ipoh as they welcomed their third child, but he decided to return alone to their home in Cheras, Kuala Lumpur on March 31.
"Farahin sells cookies online and she makes enough profit for her personal spending. Since I have no one waiting at home for me, I figured I should do this and hopefully be able to make about RM4,000 a month."
Delivery charges too high?
With roadblocks and delays at restaurants adding to delivery time, many riders have also struggled to manage customer expectations.
"We brave through the heat, rain, roadblocks, virus, all for the sake of customers. There's always a valid reason for our tardiness," said Ashabal, who hails from Hulu Klang.
While some sympathise with their predicament, others have been less understanding. Some have also complained about the delivery charge of about RM5 per order.
"Restaurants don't provide chairs anymore for safety reasons so we have to stand while waiting for orders. Some orders are fast, while other times we have to stand and wait for an hour," Ashabal said.
"Please put yourselves in our shoes. Not many would do this for RM5."
Hambali said he sometimes travels 250km a day just doing deliveries around Kuala Lumpur.
"Today, for example, I've only delivered seven orders but I've travelled over 100km for this."
Nurdhiya'aizat, who lives in Bukit Jalil, said his daily route includes travelling in his car (below) 30km all the way to Klang to cater to a single order.
"I leave early because the other half of my day is for volunteer work, so some of my morning deliveries end in failure because my customers aren't even up yet!"
Overcoming fear
Hambali said he understood the risk of always being outside during a pandemic, but it was something he had to do to provide for his family.
"I try to avoid running grocery orders to avoid contact as much as I can. Instead, I only pick up parcels or food that have already been packed and ready to go," he said.
"As for Aidilfitri celebrations, I don't think it'll be the same as we're used to. I don't even know if I can go back to Ipoh to see my wife and children, especially our newborn."
Ashabal pleaded with customers to learn more about contactless delivery options highlighted by the government and delivery companies.
"You can leave a chair outside so the riders can place your order there or if you have a low wall at the gate, leave a note for the riders to leave it there," he said.
He said he'd never really thought of delivery riders as frontliners, but it meant a lot to him to see the gratitude shown by his customers and their reminders to stay safe.
"All my life, I don't think I've given anything to my country, but today I'm proud to do something meaningful for Malaysians."
---
The above article first appeared in Format.
The views expressed here are those of the author/contributor and do not necessarily represent the views of Malaysiakini.
---
Keep up with the latest information on the outbreak in the country with Malaysiakini's free Covid-19 tracker.
Malaysiakini is providing free access to the most important updates on the coronavirus pandemic. You can find them here.
Help keep independent media alive - subscribe to Malaysiakini.