UPDATED 6.18PM | Added update on swab tests from public labs and comments on new Covid-19 cluster.
CORONAVIRUS | Malaysia today recorded 20 new Covid-19 cases, bringing the total number of infections to 7,877 to date.
Health Ministry director-general Dr Noor Hisham Abdullah said 15 out of the 20 new cases today were imported, meaning they were Malaysians returning from abroad.
There were only five local transmissions comprising three non-citizens and two Malaysians.
Among Malaysians, one new infection was detected at the Labuan ferry terminal while another is from the Pedas cluster in Negeri Sembilan where an outbreak began at a chicken farm.
The last time the country reported only five or fewer locally transmitted cases was almost three months ago on March 5.
As for the imported cases, seven involved Malaysians returning from Egypt while five were from Saudi Arabia and one each from Mexico, India and China, Noor Hisham told a press conference in Putrajaya today.
He also reported 66 new recoveries, bringing the total patients who have recovered to 6,470 or 82.14 percent of the total number of cases.
A total of 1,292 Covid-19 patients are still under treatment, of which six are in the intensive care units (ICU). Of the ICU patients,  two need ventilators to breathe.
No new death was reported today, maintaining the death toll at 115 for the 12th consecutive day.
According to Health Ministry data, a total of 12,242 swab tests for Covid-19 were conducted by public labs yesterday.
However, data on the total number of tests from private labs yesterday were not yet available.
Public and private labs combined have a maximum capacity of 29,787 tests a day.
On a separate matter, Noor Hisham noted that some may celebrate Hari Raya for up to a month but reiterated that gatherings are prohibited to contain the spread of Covid-19.
This is after the discovery of a new Covid-19 cluster believed to be linked to Hari Raya visits.
He reiterated for people to comply with the movement control order.
Noor Hisham also encouraged the public to avoid crowded places, confined spaces and close conversations.
He added that people should frequently wash their hands with soap and wear a face mask in public places.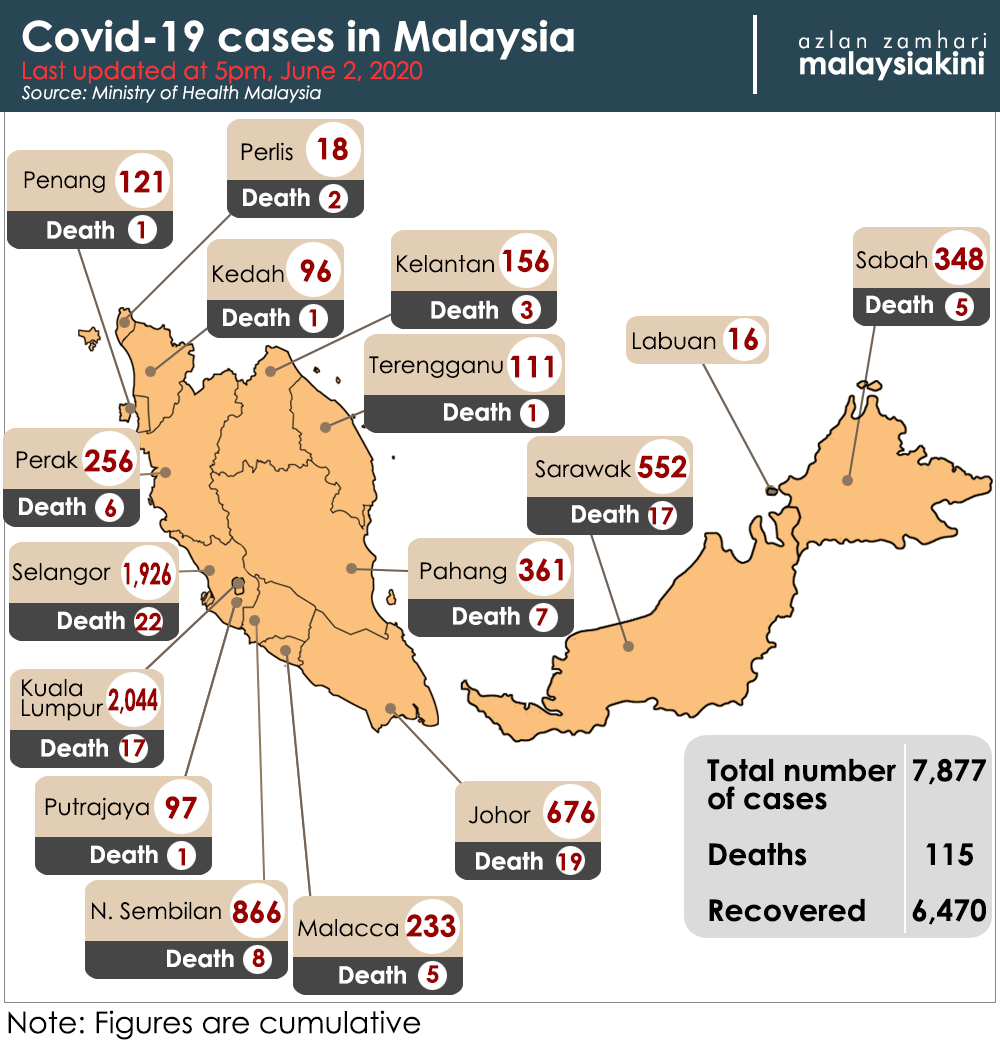 ---
Keep up with the latest information on the outbreak in the country with Malaysiakini's free Covid-19 tracker.
Malaysiakini is providing free access to the most important updates on the coronavirus pandemic. You can find them here.
Help keep independent media alive - subscribe to Malaysiakini.