CORONAVIRUS | The Sri Petaling tabligh gathering cluster, which became the epicentre of the country's Covid-19 pandemic, has finally been resolved.
Health Ministry director-general Dr Noor Hisham Abdullah said no new cases from the cluster have been detected for 28 days.
"Today is a very meaningful day for the country as we have gone through it together," he told a press briefing in Putrajaya today.
Noor Hisham also revealed that the Health Ministry has concluded that the Sri Petaling cluster was likely to have been sparked by an imported case.
"There is a high likelihood that the cluster originated from overseas and later spread in the community during the mass gathering through close contacts," he said.
The religious gathering, which took place from Feb 27 to March 3, was attended by some 16,000 people including 1,500 foreigners from across the globe.
It went on to infect 3,375 people, including 2,550 Malaysians, 169 Filipinos, 151 Bangladeshis, 140 Myanmarese, 114 Indonesians, 88 Indians, 51 Pakistanis, 22 Cambodians and 22 Vietnamese.
Other affected citizens include from Thailand (9), China (8), Kyrgyzstan (8), Brunei (7), Nepal (7), Nigeria (5), Fiji (4), Jordan (4), Sri Lanka (4), Australia (2), Singapore (2), the US (1), Kenya (1), Maldives (1), Egypt (1), Somalia (1), Tunisia (1) and Yemen (1).
For context, the next largest clusters are from the Bukit Jalil detention centre involving 647 infected people and Pedas chicken factory involving 326 infected persons.
The Sri Petaling gathering, which sent the country into lockdown on March 18, also spawned 17 subclusters, namely Sungai Lui cluster, KL wholesale market cluster, Bandar Baru Ibrahim Majid cluster, Selangor Mansion cluster, Bandar Baru Bangi wedding cluster, Sungai Salan religious school cluster, Menara Plaza City One cluster, Rembau cluster, Ayer Merbau religious school cluster, Kuching SP cluster, PKNS flat cluster, Jalan Othman market cluster, Pekan cluster, Pasir Gudang Edible Oil cluster, Malayan Mansion cluster, Penanti religious school cluster and Selayang daily market cluster involving 1,353 patients.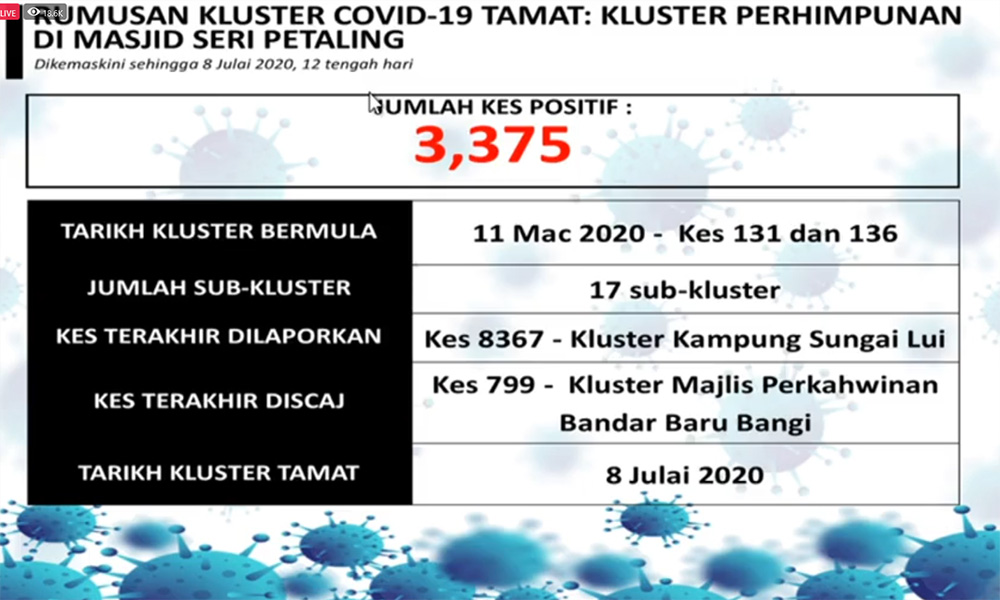 The milestone today was coupled with another positive development as the country recorded no new Covid-19 cases from the local transmission.
This is the second time in a week the country has recorded no new local transmission. The last was on July 2.
However, Noor Hisham said there were three imported cases recorded today. All of them were Malaysians returning from Saudi Arabia, Sudan and Mexico respectively.
The new infections put the cumulative cases to date at 8,677, of which 8,486 cases have recovered. This includes the recovery of another five Covid-19 patients today.
A total of 70 patients are still under treatment, of which two are in the intensive care unit (ICU). One of the ICU patients is on a ventilator.
No new death was reported, maintaining the death toll at 121 for the 27th consecutive day.
Noor Hisham said a total of 6,660 Covid-19 swab tests were conducted yesterday but added that this figure is incomplete as some private labs have yet to furnish their numbers. Government and private labs have a maximum capacity of 37,004 swab tests a day.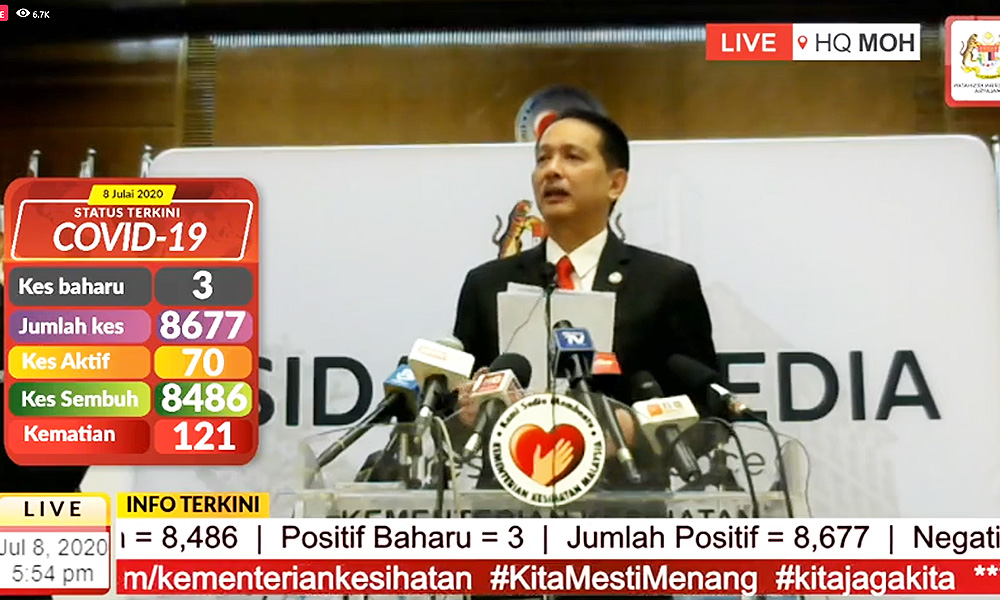 Elaborating on the Sri Petaling cluster, Noor Hisham said a total of 42,023 people within the cluster were screened up to yesterday, and this surveillance will continue even though the cluster is declared over.
He said the cluster saw a total of 34 deaths comprising 31 Malaysians and three non-citizens. 29 of those deaths involved victims aged 50 and above.
He said the cluster had lasted for four months since it was first detected on March 11, a week after the gathering, involving Patient 131 and Patient 136.
The last case in the cluster, he said, was Patient 8,367 who was found to be positive with Covid-19 on June 11.
Noor Hisham also thanked the Sri Petaling mosque for providing close cooperation to trace all those who had participated in the religious gathering.