The National Security Council (NSC) has denied issuing a directive for people who share a car with others from different households to wear masks and to practise social distancing.
This is in relation to a text message circulating on WhatsApp which purported it to be the new standard operating procedure (SOP) for car-sharing, amid concerns raised by the public following the implementation of the mandatory face mask rule beginning today.
The message allegedly links to the national operations management centre as its hotline number was included in the text.
Taking to social media, the NSC uploaded a "print screen" of the text message with a "fake" stamp on it.
The text message in question read: "MCO query phone +60388882010. Called the above number to seek clarification on the mandatory mask requirement in-car travel (sic)."
According to the text message, there is no need for mask-wearing for those travelling alone or for passengers from the same household, provided they show their MyKad displaying the same address.
The text message added that drivers and passengers from different households not only needed to wear masks but must also practise social distancing.
It then claimed that only two people were allowed in small cars like the Perodua Axia.
The text message also touched on the SOP at eateries, saying that people who dine-in have to continuously wear their masks while waiting for their order to arrive and have to immediately put on their masks after eating and drinking.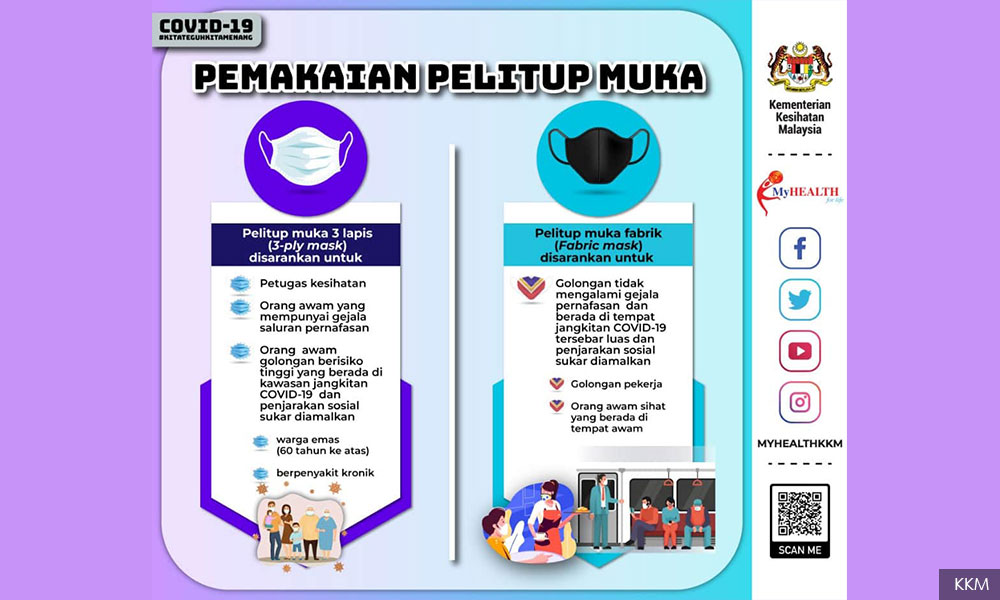 While the NSC dismissed the viral text message as fake, the police advised those who dine-in to keep wearing their masks until their food is served.
By doing so, the police said the public could protect themselves from being infected by Covid-19.
In a statement today, the NSC explained that the wearing of masks is compulsory on public transport and at crowded public areas such as pasar tani (farmers' market), supermarkets, recreation parks, and tourism destinations.
However, children under two years old, the disabled, and individuals who can't wear face masks by themselves, were not subjected to the rule.
The NSC added that the wearing of fabric masks was allowed as long as the public adhered to requirements set by the Health Ministry and World Health Organisation (WHO).
Individuals who flout the compulsory face mask order will be fined RM1,000.