It is up to the Anti-Corruption Agency (ACA) to investigate the Malaysia Airlines (MAS) scandal , said Minister in the Prime Minister's Department Mohd Nazri Abdul Aziz today.
"The ACA is free to discharge its responsibility without any directive from the government. I believe they are monitoring this case (MAS). I can't comment on this because it is a court case," he told the Dewan Rakyat.
In a supplementary question, Karpal Singh (DAP-Bukit Gelugor) had asked whether the government will allow the ACA to investigate the matter as well as former premier Dr Mahathir's Mohamad alleged role in it.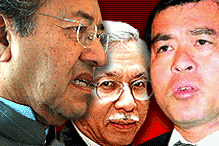 Business tycoon Tajudin Ramli had claimed in court papers that he was instructed by Mahathir and then second finance minister Daim Zainuddin to buy MAS shares way above the market price as a 'national service' in 1994 after Bank Negara (which owned MAS shares then) suffered massive forex losses.
He purchased the controlling stake of 29 percent in MAS from Bank Negara, paying RM8 per share.
The government bought back the loss-making airline in 2000 in what was widely seen as a bailout for Tajudin, RM8 per share, again more than twice its market value at the time.
Deputy Speaker rapped
Yesterday, Parliamentary Opposition Leader Lim Kit Siang (DAP-Ipoh Timor) tried in vain to move an emergency motion to ask the government to set up a royal commission to probe the MAS case and other financial scandals over the past two decades.

Lim hit a brick wall again today when deputy speaker Lim Si Cheng stopped him from asking a supplementary question on the matter.
"Why is everyone avoiding the question of corruption, what more when the Tajudin-MAS scandal is a hot topic?" exclaimed the visibly annoyed opposition leader after being told to sit down by the deputy speaker.
In a press statement later, Lim accused the deputy speaker of attempting to protect the government from embarrassment by denying the opposition from questioning the high-profile corruption cases.
"I had wanted to ask in my supplementary question about the ACA's failure to deal effectively with a five-year-old police report about the RM1.8 billion acquisition of Tajudin's MAS stake by the government at RM8 per share when the market price was RM3.68 per share," he said
The report was lodged on Jan 27, 2001 by more than 1,000 people comprising opposition leaders, non-governmental organisation representatives and concerned citizens.
In a related development, Nazri told the Dewan Rakyat that the ACA had opened a total of 3,766 investigation papers between 2001 and 2004 and out of this, a total of 1,444 people were arrested.
Responding to a question from Chor Chee Heung (BN-Alor Setar), he said in 2001, 318 people were arrested for corruption, 290 in 2002, 339 in 2003 and 497 last year.