COVID-19 | Malaysia has reported 12 new Covid-19 cases today, most of which were attributed to the Tawar cluster that has now reached its third generation of infections.
According to Health Ministry director-general Dr Noor Hisham Abdullah, four of the new Tawar cluster cases were detected in Kedah, while another three were found in Penang.
"All these cases are of the third generation," he said in a statement today.
This brought the total number of cases in this cluster to 46, surpassing the Sivagangga cluster by just one case to become the second-largest active cluster in the country.
Noor Hisham added that contact tracing for the cluster is still underway, with 1,135 people tested so far and 251 tests still pending results in Kedah, Penang, and Perak.
The Tawar cluster was linked to a funeral held on July 31 and Aug 1.
According to a chart issued by the Health Ministry, the four new cases in Kulim, Kedah involved a teacher and three schoolboys (Cases 9,204 to 9,207).
Two boys, aged 13, are classmates with Case 9,163 while another boy, aged 8, is the classmate of Case 9,165.
Case 9,615 is the teacher's pupil.
Cases 9,163 and 9,165 are a pair of siblings who were found positive on Aug 15. The first person detected in this cluster is their granduncle.
In Penang, the three cases (Cases 9,210 to 9,212) were visitors of two different patients at a private hospital, who had caught Covid-19 from another patient (Case 9,129) with close contact to the index case.
For the record, the largest Covid-19 cluster that is still actively being monitored by the Health Ministry is the Bukit Jalil Immigration Detention Depot cluster with 653 cases.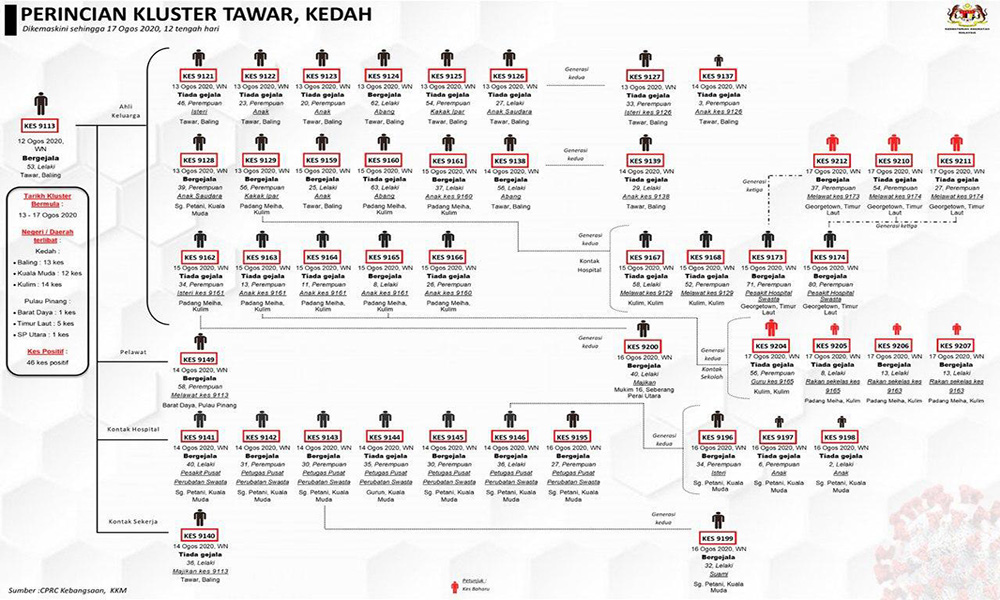 Meanwhile, Noor Hisham said two of the new cases were attributed to the Sala cluster, also in Kedah, bringing the size of the cluster to six infections.
They are the brother (Case 9208) and sister-in-law (Case 9,209) of the index case (Case 9,148). The couple is located in Pengkalan Kundur, Kota Setar.
In Selangor, one person was admitted to Sungai Buloh Hospital after showing symptoms of the disease.
The other two remaining cases reported today were imported – one from Syria, and one from the Philippines.
The number of recovered patients exceeded that of new cases today, with 17 people being discharged.
This brought the total number of Covid-19 cases so far to 9,212, with 211 cases still active.
Eight of the cases are being treated in intensive care units, compared to seven yesterday. Two of them require ventilator support, which is the same as yesterday.