COVID-19 | Malaysia has reported six new cases of Covid-19 today as well as its second death this month.
Health Ministry director-general Dr Noor Hisham Abdullah said the new death involved a 62-year-old man (Case 9,124) who is part of the Tawar cluster. He is the elder brother of the cluster's index case, Case 9,113.
The cluster is linked to a funeral held on July 31 and Aug 1.
Noor Hisham said Case 9,124 started experiencing coughs since Aug 11 and was admitted to the Sultanah Bahiyah Hospital in Alor Setar on Aug 13 after testing positive for Covid-19.
The patient had a history of diabetes and high blood pressure.
"His condition deteriorated and the patient needed ventilator support since Aug 19. He was confirmed dead on Aug 30 at 10.35pm.
"The Health Ministry conveys its condolences to his family," he said in a statement today.
The new death is the country's 127th confirmed Covid-19 fatality since the beginning of the outbreak and the second death in two days.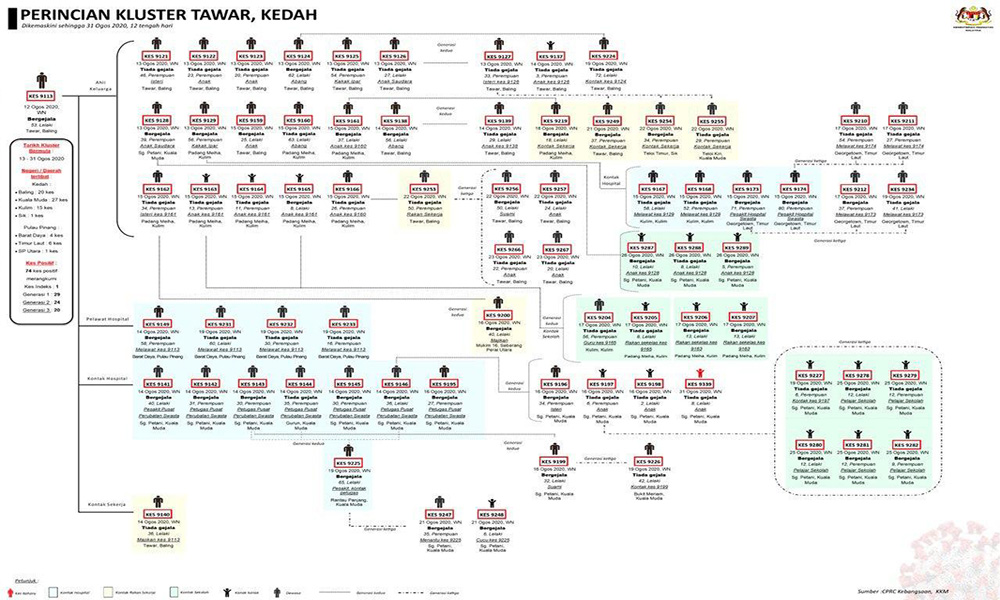 Just a day before Case 9,124's death, Case 9,290 had died of Covid-19 at the same hospital.
The deaths came in the wake of a spike of new Covid-19 cases since mid-July due to outbreaks in several states, especially in Kedah which had been the epicentre of five clusters of infection.
This was followed by a corresponding increase in admissions to intensive care units (ICUs), as well as the number of patients being intubated.
As of today, Noor Hisham said six patients out of 159 active cases are still being treated in ICUs, of which four require ventilator support.
Meanwhile, of the six new Covid-19 cases, Noor Hisham said two of the infections were locally acquired.
Both of the cases were reported in Kedah. One of them is attributed to the Tawar cluster, which is the second-largest active Covid-19 cluster. The cluster has so far reported 74 cases.
The new case, Case 9,339, is the eight-year-old son of a private hospital worker - Case 9,146. The hospital worker's wife and two other children previously tested positive.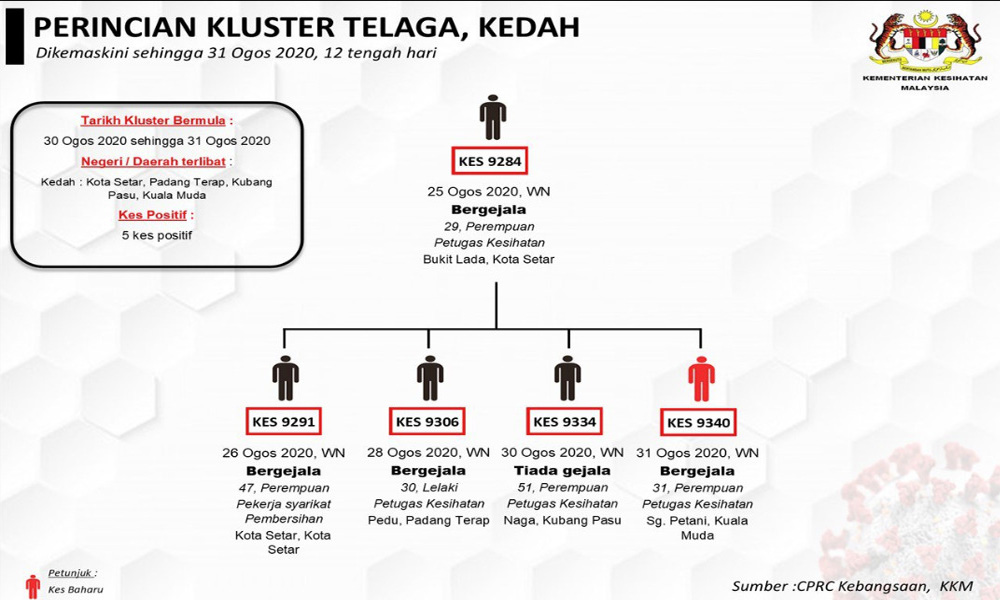 The other new case involved the Telaga cluster which was first reported yesterday.
"This cluster was reported on Aug 30 with two positive cases involving hospital staff (Case 9,284, that is the index case, and Case 9,334).
"However, further investigations found two more cases which were reported before (Case 9,306 and Case 9,291) who are close contacts of the index case.
"This brings the number of Covid-19 cases in this cluster to five," Noor Hisham added.
Meanwhile, Noor Hisham said there is a new but isolated cluster involving the crew of a ship in Port Dickson, Negeri Sembilan.
He said the ship has a travel history to Singapore and its 34 crew members were tested on Aug 28 as part of sign-in and sign-off process from the vessel.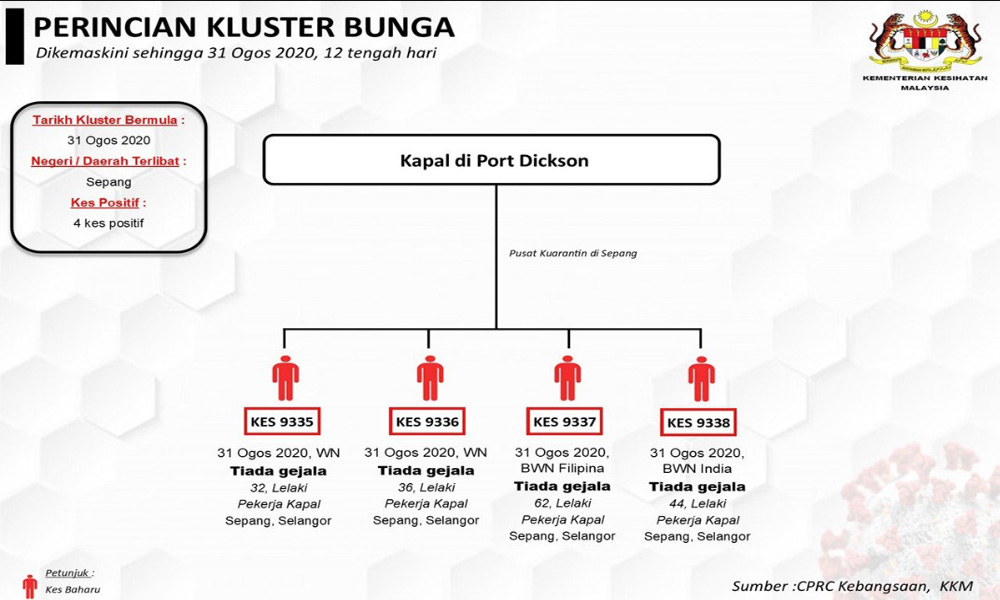 Of those tested, four (two Malaysians and two foreigners) came back positive for Covid-19, six tested negative and 24 are still pending results.
"All four cases did not show symptoms and were initially quarantined at a hotel in Singapore. Upon testing positive, they were admitted to Sungai Buloh Hospital in Selangor.
"Thus, they do not pose a risk of infection in the community because it is an imported cluster that is isolated on a ship," he said.
The new cases bring Malaysia's total Covid-19 caseload to 9,340 since the beginning of the outbreak.
Six patients have also recovered from the disease today and have been discharged.