COVID-19 | Malaysia has reported 62 new Covid-19 cases today, bringing the total of cumulative cases to 10,031.
The country has now passed the 10,000 mark, after recording 9,969 cumulative cases yesterday.
Health Ministry director-general Dr Noor Hisham Abdullah tweeted that of the 62 cases, 61 were local cases while one was an imported case.
According to an infographic by the ministry, 59 cases came from Sabah, while the other two from Kedah and Penang. The one imported case was a local who returned from India.
Subsequently, in a media statement, Noor Hisham said for the cases in Sabah, 48 were from the Benteng LD cluster involving 20 non-Malaysians, four cases were detected from screening involving health workers in Lahad Datu hospital, and three cases were from screening at the International arrival gate.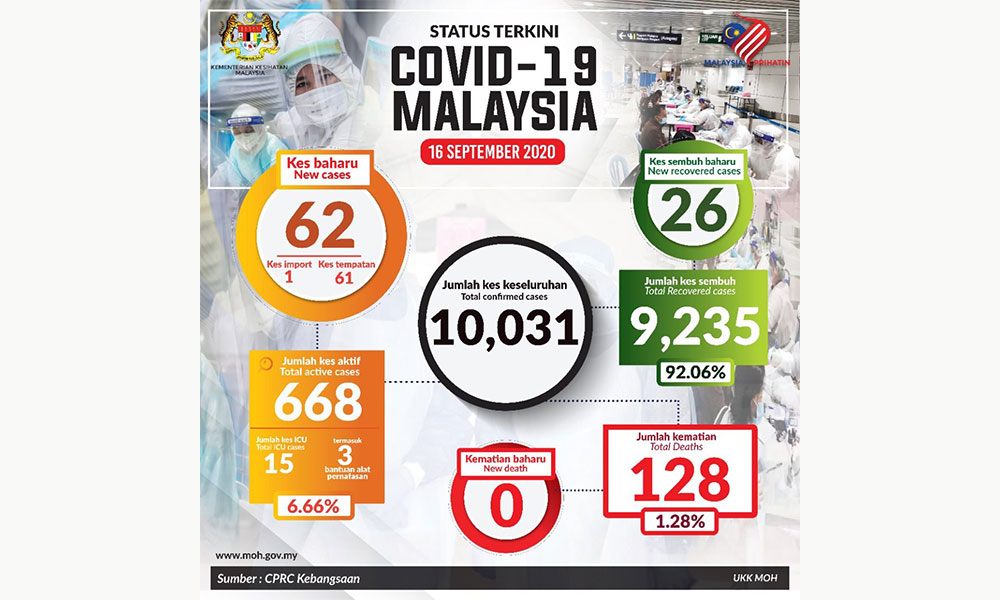 There were also two cases from screening at the Lahad Datu health clinic, and a case each from the Pulau cluster and the Sandakan prison.
One case in Kedah was from the Sungai cluster.
In Penang, the case was a family member of case-9397 and case-9459.
Meanwhile, Noor Hisham tweeted that 26 patients were discharged, bringing the cumulative discharged figure to 9,235.
The death toll remains unchanged at 128 cases as no death was recorded today.
There's an additional one patient being treated in an Intensive Care Unit, bringing the total of those in ICU to 15. Of the number, three were intubated.
In regard to the 15 patients in ICU, Noor Hisham said six patients are aged 60 and above while the rest between 21 and 56. Nine of them are from the Sungai cluster, 10 of them have a background of chronic illness. 14 patients were infected locally while one contracted the virus abroad.
All of them are locals, he said.
On active clusters, Noor Hisham said the total positive cases for the Benteng LD cluster is 472, while the Pulau cluster has 10, and the Sungai cluster has 59.
For the Benteng LD cluster, 1,531 individuals were screened in Lahad Datu, where 141 tested positive and 84 are awaiting test results. In Tawau, 5,716 individuals were screened where 331 tested positive while 2,621 are awaiting test results.
Of the Benteng LD cluster's 472 cases, 258 are Malaysians, 167 are Filipinos, and 91 are Indonesians.
For the Pulau cluster involving Kedah, Penang, and Perlis, a total of 193 individuals were screened involving 171 citizens and 22 non-citizens.
Of those, 10 tested positive while 166 individuals had pending results.
For the Sungai cluster, 19,809 individuals were screened. In Kedah, of 19,648 screened, 58 tested positive while 1,776 are awaiting results.
In Penang, of 136 screened, 135 were found to be negative while one individual was awaiting their result.
In Perlis, 25 were screened where one tested positive and six were awaiting results.