Warisan MP Mohamaddin Ketapi has apologised for his remarks that allegedly insulted security personnel who fought against intruders during the 2013 Lahad Datu standoff in Sabah.
In a statement, the Lahad Datu representative said that a speech of his, during the Sabah election campaign trail, had been misinterpreted. He stressed that he did not have any intention to hurt members of security forces.
Instead, Mohamaddin (above) said he was training his guns on BN, which was the government at the time, for their alleged failure in defending the country's borders.
"I want to clarify that my remarks when campaigning at Kampung Wawasan had been misinterpreted. I have never belittled our members of security forces, let alone insulting the personnel who had been risking their lives to protect our country from the intruders.
"When I gave that speech, I was giving the audience a picture of the hardship that our security forces had to face in defending the sovereignty of our country, which was caused by the weaknesses in the previous government in addressing issues of undocumented migrants," he said.
Mohamaddin also claimed that a video clip of his speech, which had gone viral, was not in the full context of what he said to the voters.
He said the video should have been shared in full, not just the part which referred to the issue alone. He said he strongly condemned the "dirty tactic" by certain quarters who want to undermine Warisan's image.
"If the issue of undocumented migrants had been a focus of the state government (at the time), the incident in Tanduo would not have happened.
"Thus, I once again would like to stress that I have never ever insulted our security forces who were on duty during the incident in Tanduo, as what had been spun by (Warisan) opponents especially parties from the Peninsula.
"However, I would like to apologise if the video, which was made viral with bad intentions, had hurt the feelings of members of security forces in general," he added.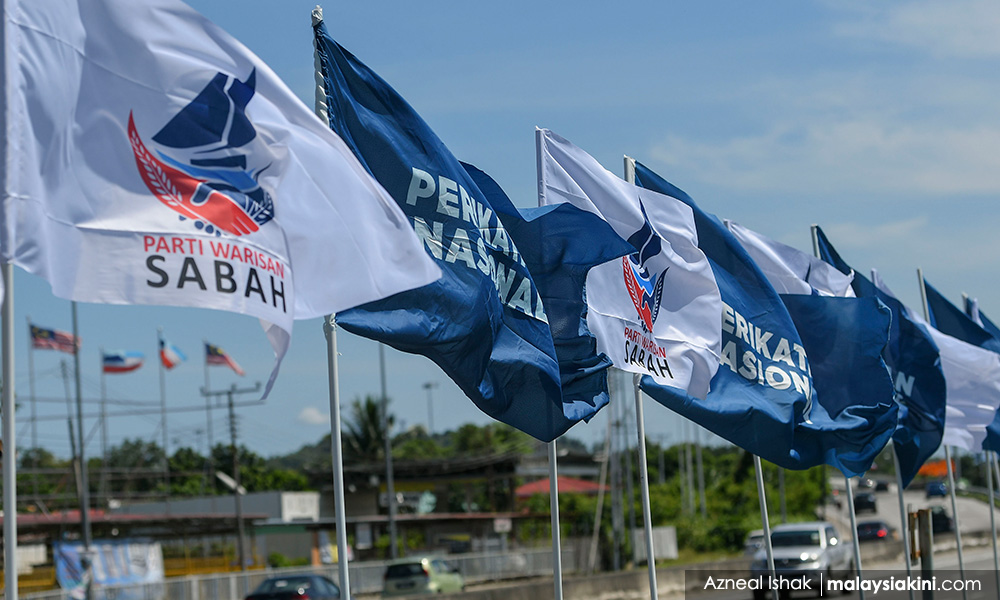 In the short video clip which went viral early Monday, Mohamaddin had told voters at the village that the 2013 incident was only a 'sandiwara' (staged act) by the federal government then.
He claimed that the Umno-led government had done so to secure support from Sabahans in the 13th General Election, which was conducted later in the same year.
"Do you remember that (before) the previous general election, they (BN) said that the Philippines wanted to take Sabah. So there was a battle in Tanduo. Jets were sent to bomb the villagers' palm trees.
"It destroyed the people's plantations, houses were damaged by bullets. This is a fact. Tanks were also sent to villages, to fight with chickens," he had said.
Backlash from political opponents
Following his remarks, the former tourism minister had since been bombarded with criticisms for allegedly insulting the members of security forces who fought in the battle.
For the record, the police aided by the armed forces had launched Operation Daulat in March 2013 in response to an intrusion by a group that called themselves the Royal Sulu Army. The group wanted to claim Sabah as their territory.
The incident ended a month later, in early April. By then, 10 members of security forces had been killed. The intruders suffered 65 casualties while over 100 others were arrested.
Among those who condemned Mohamaddin was the Bersatu Youth wing, whose leaders and members lodged a police report against the MP earlier this afternoon.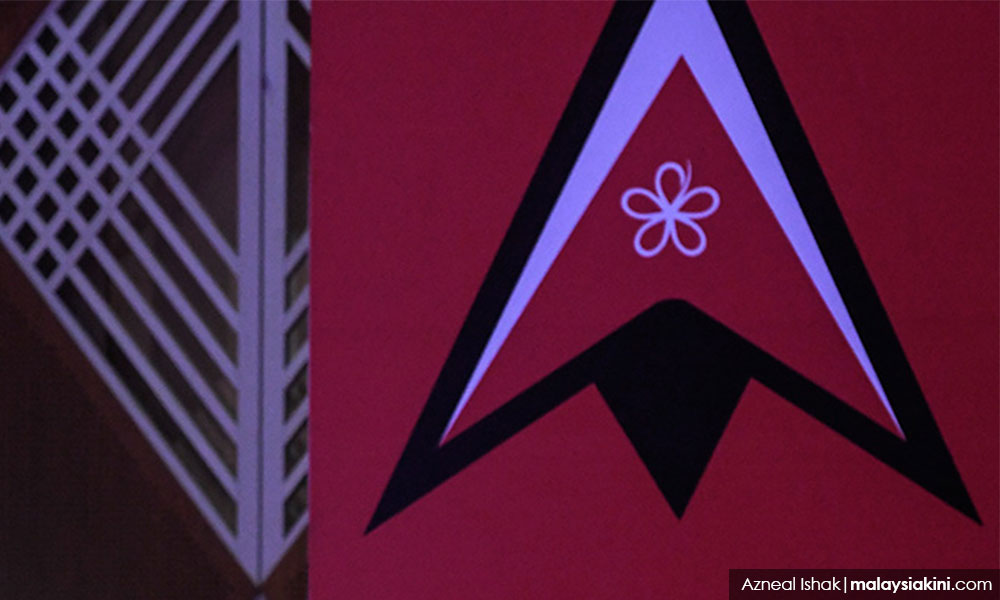 According to Sabah Bersatu Youth information chief Fariz Fadila, they want the police to investigate Mohamaddin for his remarks.
"His remarks were clearly made with ill intention, and was slander aimed at creating a false perception against a situation that really occurred in Sabah concerning the sovereignty of Malaysia and the state," Fariz said in a statement.
The Perikatan Nasional (PN) governing coalition also called for Mohamaddin to retract his remarks.
Its information chief Azmin Ali in a statement alleged that Mohamaddin was trying to sow disunity among the people. He also said this showed how Warisan was not committed to protecting the sovereignty and security of Sabah.
"At the same time, Mohamaddin's speech had also made fun of the country's security forces and insulted the contributions of its members who had fallen in the incident.
"I believe that the big family of security forces especially those who had given their lives in the battle, and patriotic Malaysians, cannot accept his rude remarks."
---
Read more: Sabah Decides 2020: Making sense of the players, parties and battles
---
In an immediate reaction, the Armed Forces have issued a statement refuting Mohamaddin's allegation.
Its chief, General Affendi Buang, said the politician's remarks undermined the responsibility shouldered by the military in defending the country during the incident.
"It was a very irresponsible statement, which is totally unacceptable, where it hurts the feelings of families of the slain security forces personnel from both the Armed Forces and police," he said in the statement.
Affendi said that they are always ready to carry out their duties and face any adversaries to protect Malaysia.
He also reminded Malaysians not to make any statement that can create confusion and jeopardise the country's security.
"The Armed Forces has witnessed so much blood, sweat, and sacrifices made by our earlier members to ensure the country's harmony, peace, and prosperity."
Defence Minister Ismail Sabri Yaakob in a separate statement also criticised Mohamaddin, saying that the latter was being rude and disrespectful towards members of the country's security forces.
"The security forces especially the Armed Forces and police know the truth of the incident, and nobody has ever openly disputed it.
"As the Armed Forces had only celebrated its 87th anniversary on Sept 16, such accusation only shows how he (Mohamaddin) does not understand the sacrifices made by security forces and look down on them."
More backlash, now on Covid-19 remarks
Meanwhile, Mohamaddin has also been criticised for his speech about Covid-19 cases in the state.
This was after a video showed him telling voters that there would allegedly be a 'sandiwara' (play) staged by certain parties to scare off voters on polling day.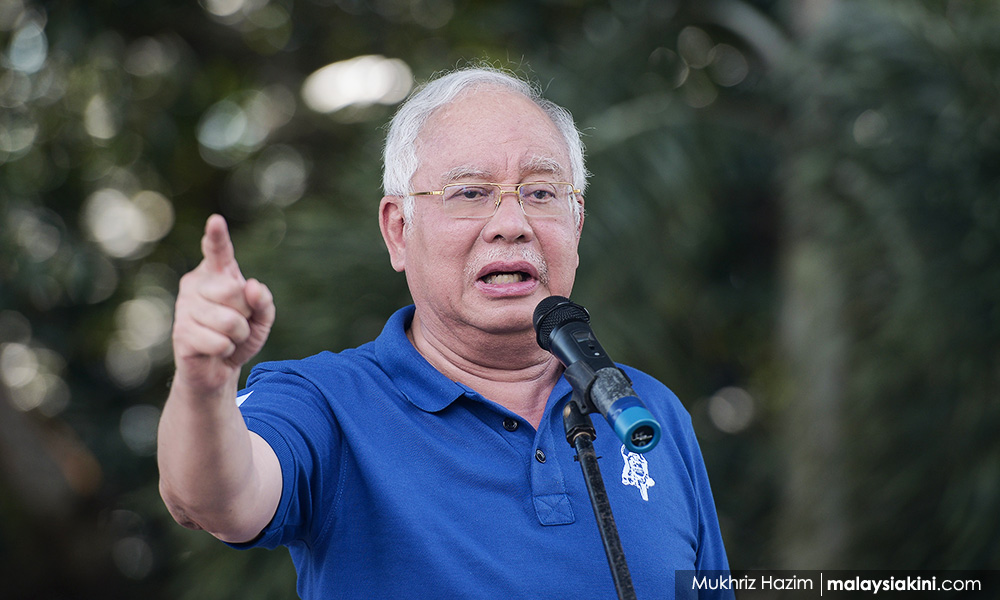 Former prime minister Najib Abdul Razak (photo) posted on Facebook saying that Mohamaddin had purportedly slandered Health Director-General Dr Noor Hisham Abdullah and all front-liners by his remarks.
"They said that the Malays are not afraid of Covid. Only the Chinese are afraid of Covid.
"Only because they want to get power, Warisan Plus could slander the Health DG and all frontliners, and put public health at risk," Najib said in a Facebook post today.
He added in the comments section later that Covid-19 is not something that the Health Ministry (MOH) would "play with". He also suggested for Mohamaddin to be taken to see the wards which are used to treat patients who tested positive for the virus.
"MOH should invite him to visit the Covid-19 ward in Lahad Datu, without wearing a mask. Let him see for himself whether it is a 'play' or not.
"Covid-19 is not a play. MOH would not play with such a serious issue because Covid can take people's lives and cripple our economy if not put under control," Najib said.
However, in the short video of his speech, Mohamaddin did not specifically refer to the Covid-19 cases in Sabah as a "sandiwara" or play.
Instead, he alleged that there would be certain individuals paid to pretend to be sick and "collapse" during the polling day to cause panic.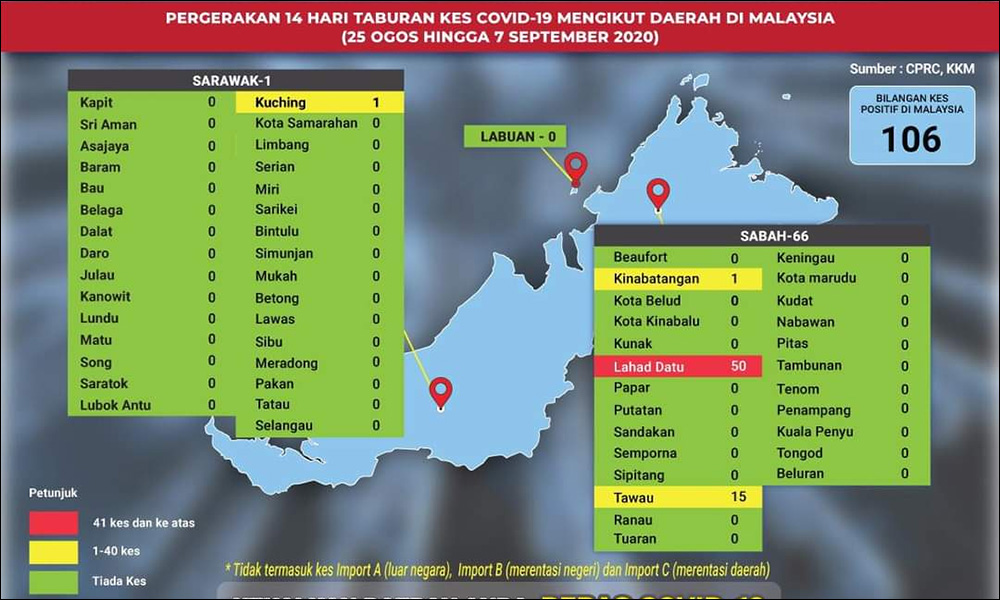 But the MP did tell voters not to believe the red zones marked on Sabah's map. He said those markings were not about Covid-19 but were areas where Warisan's opponents were afraid of losing.
While he did not mention specifics, Mohamaddin was referring to the Tawau and Lahad Datu districts where Covid-19 cases had spiked since early September due to an outbreak in the Lahad Datu police lock-up and Tawau prison.
"If you see the east coast of Sabah in the map, because those are where Warisan strongholds are located, they mark all those places red and say that they are Covid-19 areas.
"It's not Covid. They marked them red because they are scared of losing to Warisan. So the red markings are dangerous to them, not to us. So do not believe it," Mohamaddin said.
He claimed that in the days before polling day on September 26, the number of new Covid-19 cases at several constituencies in Sabah's east coast would be said to increase further.
"And there is more. Purportedly, during the polling day, some people have been told to pretend to collapse due to Covid.
"If you see any individuals who suddenly collapse, then it is good if you kick and step on them. It is not Covid, but their sandiwara," he said.
"They are not really scared of the Malays, but they are more scared of Chinese (voters). Because many of the Chinese support us, almost all of them.
"They (the Chinese) are more sensitive (fearful of Covid-19). So if someone is seen to collapse from Covid-19, they would run away (and not vote for Warisan)," Mohamaddin added.
---
Malaysiakini is providing stories on Sabah polls for free until polling day (Sept 26) to help voters make an informed decision. Continue to support Malaysiakini and independent journalism by
subscribing
for as low as RM20 per month.
Follow Malaysiakini's coverage of the Sabah state election here.