UPDATED 8.12PM | Added additional details on Laut cluster and cases nationally.
COVID-19 | Malaysia has reported 71 new cases of Covid-19 in the 24 hours up to noon today, of which two cases were imported while the remaining 69 are locally acquired infections.
Sabah again accounts for most of the local cases with 63 of the 69 new cases today, even though the Benteng LD cluster - which is now the second largest-ever Covid-19 cluster in Malaysia and has seen large increases in recent days - only recorded one case today.
However, there are still 1,754 individuals still waiting for test results in the Benteng LD cluster, out of 10,521 who had been tested. The number of cases in the Benteng LD cluster now stands at 730.
While the Benteng LD cluster appears to have slowed for today, other clusters in Sabah have seen double-digit growth in the number of cases.
The Bangau-Bangau cluster in Semporna has recorded 47 new cases today, bringing the total of 60 cases.
The cluster was first reported on Sept 22 following a pre-admission screening at Semporna Hospital, which had uncovered five cases of Covid-19.
Yesterday, eight new cases had been reported, and another two who previously tested positive on Sept 18 were identified as part of the cluster. In addition, five of yesterday's cases are from the same village as the earlier cases.
In a statement today, Health Ministry director-general Dr Noor Hisham Abdullah said 105 people have been screened in the cluster so far.
The latest chart issued by the MOH showed that all of the new cases are fellow villagers of the previous cases in the cluster.
As of noon today, 60 had tested positive, including the 47 new cases, while 45 are still pending results.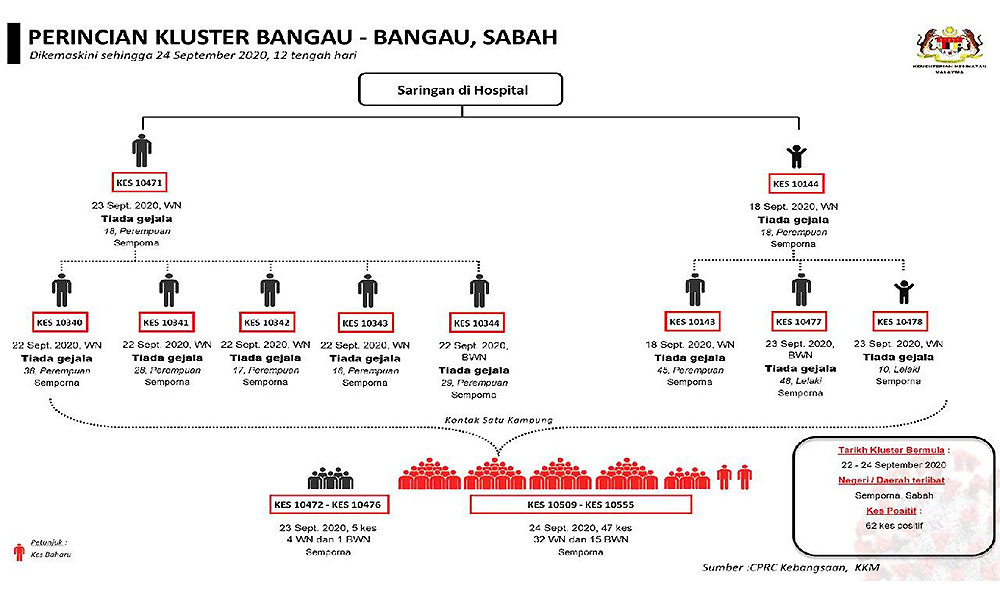 The Laut cluster in Kunak, meanwhile, reported 10 new cases, bringing the total to 22. Again, all of the new cases are from the same village as the previous cases.
Noor Hisham said 488 have been tested in this cluster and 114 are still pending results.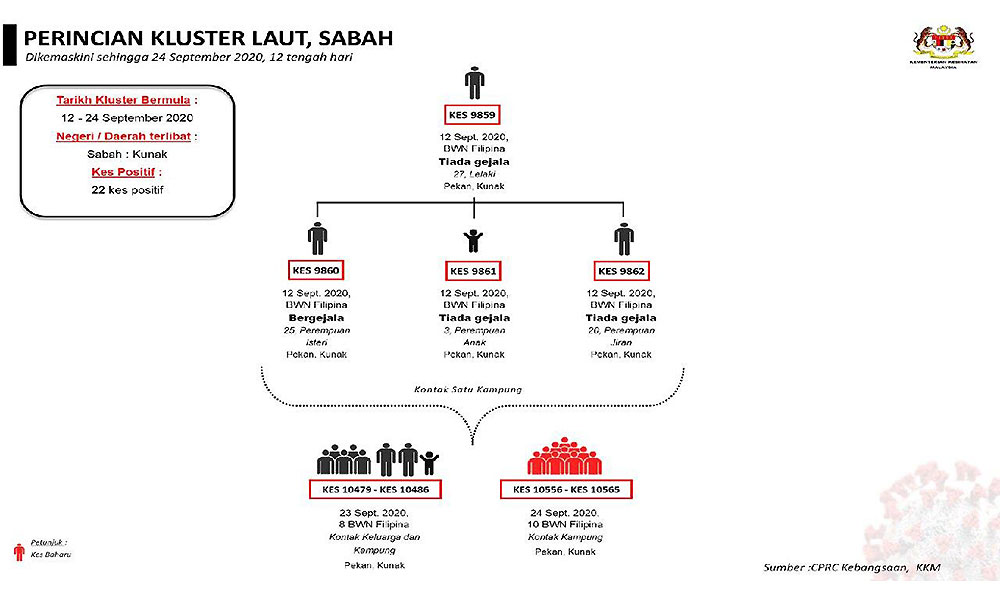 The remaining five cases in Sabah were detected through screening for various reasons:
- Two cases through pre-admission screening at hospitals.
- One case through referral screening at Tawau Hospital.
- One case through pre-surgery screening at Semporna Hospital.
- One case through screening of symptomatic patients at a healthcare centre, who has since been admitted to Queen Elizabeth Hospital for treatment.
Meanwhile, four cases have been reported in Kedah, all of whom are from the Sungai cluster.
Noor Hisham said 25,167 people had been screened in the Sungai cluster so far. Of these, 91 tested positive, and the results from 273 are pending.
In Selangor, two people were tested after showing symptoms for the disease, and the results were positive. Both recently travelled to Semporna.
Noor Hisham urged that people who show symptoms after travelling from a Covid-19 red zone must get tested at the nearest healthcare facility. Those who don't show symptoms are also highly encouraged to undergo testing and self-quarantine to protect their friends and family members.
There are five districts presently classified as red zones based on the number of cases recorded in the past 14 days, namely Tawau, Lahad Datu, Kunak, and Semporna in Sabah, and Kota Setar in Kedah.
As for imported cases, Noor Hisham said one case originated from Singapore to Johor, and while the other involved an undocumented migrant from Indonesia in Selangor.
Meanwhile, 64 people have recovered from Covid-19 and have been discharged today, leaving 777 cases still active. The total caseload is now 10,576, while the death toll is unchanged at 133 deaths.
Six of the active cases are being treated in intensive care units, including two who require ventilator support. Covid-19 cases from the Sungai cluster account for half the ICU cases.