COVID-19 | Malaysia has reported 691 new cases of Covid-19 in the 24 hours up to noon today, breaking a record high that was set just yesterday.
Following the new infections reported today, the country now has 2,936 Covid-19 patients under treatment, the worst level since the pandemic started in Malaysia in January.
The previous highest record was 2,595 active cases on April 5.
Of the 691 new cases today, 688 are locally acquired infections and three are imported cases.
However, Health Ministry director-general Dr Noor Hisham Abdullah said 394 of the 688 local cases (57 percent) are from the Tembok cluster in Kedah, which involves the Alor Setar Prison, and the area is already under an administratively enforced targeted enhanced movement control order.
Hence, he said the cluster is isolated from the community at large.
Malaysia has also recorded four new deaths today, including a one-year-old toddler.
This brings the death toll to 141 so far.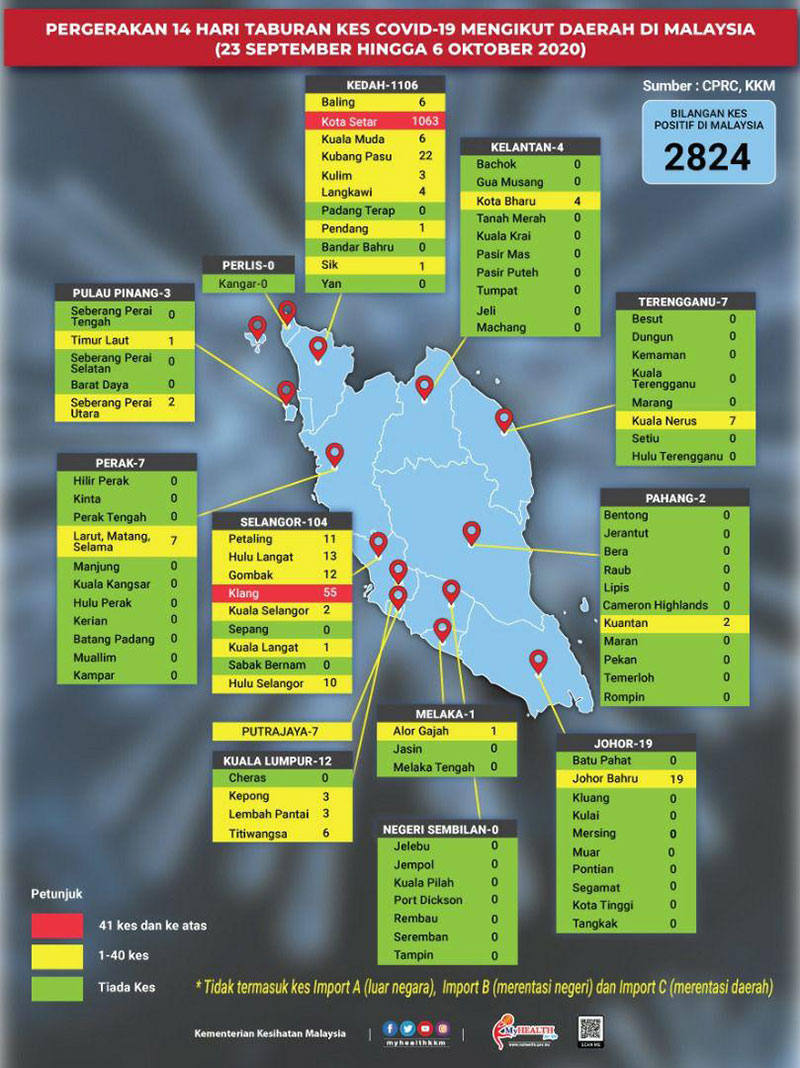 Meanwhile, the number of red zones has also increased to nine as of today, with Klang in Selangor and Papar in Sabah joining the list after the number of active cases in the districts reached 55 and 48 respectively.
Red zones are areas where the number of active Covid-19 cases are 41 and above.
Six other red zones are also located in Sabah, namely Kota Kinabalu (222), Kunak (115), Lahad Datu (109), Sandakan (67), Semporna (540), and Tawau (328).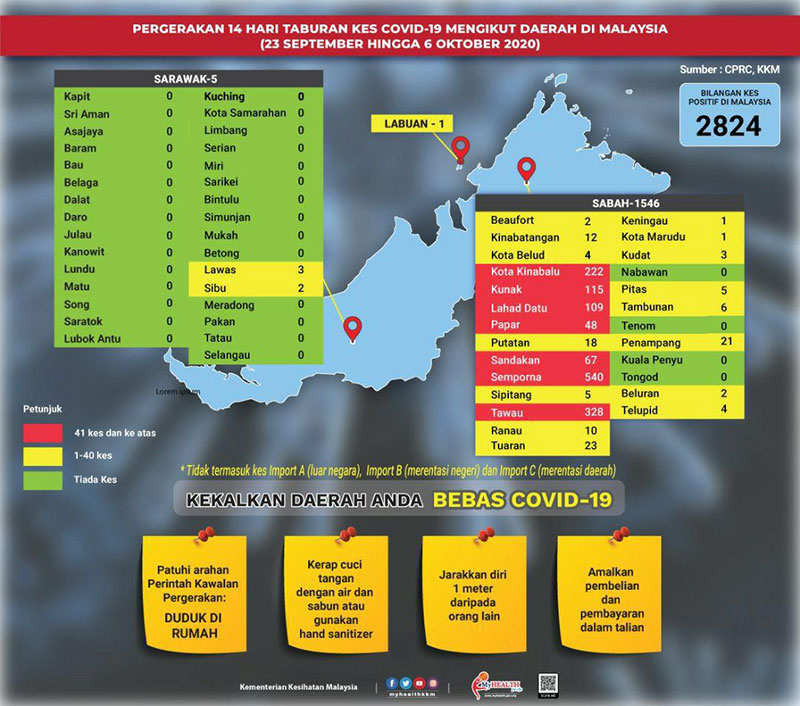 The other red zone is Kota Setar in Kedah, which has 1,063 cases.
Noor Hisham said the ministry has also found two new clusters in Perak and Sabah. The clusters have been named as Batu cluster in Perak, and Ramai-Ramai cluster in Sabah.
The Batu cluster was discovered through screening activities carried out on the staff of a detention camp and their family members. So far, a total of seven individuals had been tested positive.
Swab tests on 853 others have returned negative for 182 of them, while the rest have yet to get their test results.
"The source of infection is still being investigated," said Noor Hisham.
The Ramai-Ramai cluster, meanwhile, has been traced back to a bus driver who started to show symptoms of sore throat and fever since Sept 27. He was later tested positive on Oct 3 and warded at the Duchess of Kent Hospital in Sandakan.
To date, a total of 166 individuals had been tested in this cluster, of which 20 were found positive, while 146 others have yet to get back their results.
Authorities were also investigating the source of infection for this cluster.
Updating on existing active clusters, Noor Hisham said seven of them have recorded new cases as of noon today.
Besides the Tembok cluster in Kedah, the others are Bangau-Bangau cluster in Sabah (30 new cases); Jalan Meru cluster in Selangor (15 new cases); Bah Sintok cluster in Kedah (three new cases); Benteng Port Klang cluster in Selangor (two new cases); and one each in Selasih cluster in Putrajaya and Embun cluster in Selangor.