A Malaysian volunteer squad has rounded up more than 1,500 illegal immigrants working in a factory in western Selangor state in its largest crackdown so far this year, reports said yesterday.
Rela, a uniformed task force which assists security officials in raids on illegal immigrants, said it had caught the foreigners in a raid early Sunday at their hostel south of Kuala Lumpur.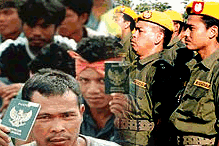 "This is our biggest swoop so far. We were tipped off by members of the public. The illegals are from Indonesia, India, Myanmar, Vietnam, Nepal and Cambodia," Selangor's Rela director, Khairy Mohamad Alwee, was quoted as telling the Star daily.
"We are compiling their particulars. Most of them do not have proper travel documents. After this, we will send them to immigration depots all over the country because the ones in Selangor are already overcrowded with illegal immigrants," he said.
Fresh plans
Malaysia in July announced fresh plans to arrest up to one million people in its latest crackdown on illegal immigrants, although round-ups take place periodically.
Khairy said Rela had arrested 13,000 foreign workers in the Klang Valley area, where Kuala Lumpur is located, since a crackdown earlier this year, and that it was targeting 138,000 illegal immigrants, said the Bernama news agency.
Malaysia since 1992 has launched several operations against illegal workers, most of whom come from impoverished parts of Southeast Asia.
But each one has led to a labour shortage followed by a new wave of illegal immigration - a pattern which was apparent after a blitz last year.
Malaysia is one of the largest importers of foreign labour in Asia. Foreign workers, both legal and illegal, number around 2.6 million of its 10.5 million workforce, officials say.