PARLIAMENT | Finance Minister Tengku Zafrul Abdul Aziz is tabling the Perikatan Nasional government's first budget in the Dewan Rakyat since coming to power in March.
---
No heckling or political swipes - Budget 2021 speech ends on civil note
6.30pm: Zafrul ends his budget speech without the usual political swipes and heckling from the opposition as witnessed in the past,
The minister wraps up his more than two-hour speech by stating that while Malaysians can disagree, they need to reach consensus on policy matters.
"If we can unanimously agree with setting up the Covid-19 fund, it is hoped that members of this House and the public will support this budget and that it will become that which unites us all," he says.
It appears that the PN government can ill-afford to fire salvos at the opposition when it requires the latter's support to pass the budget.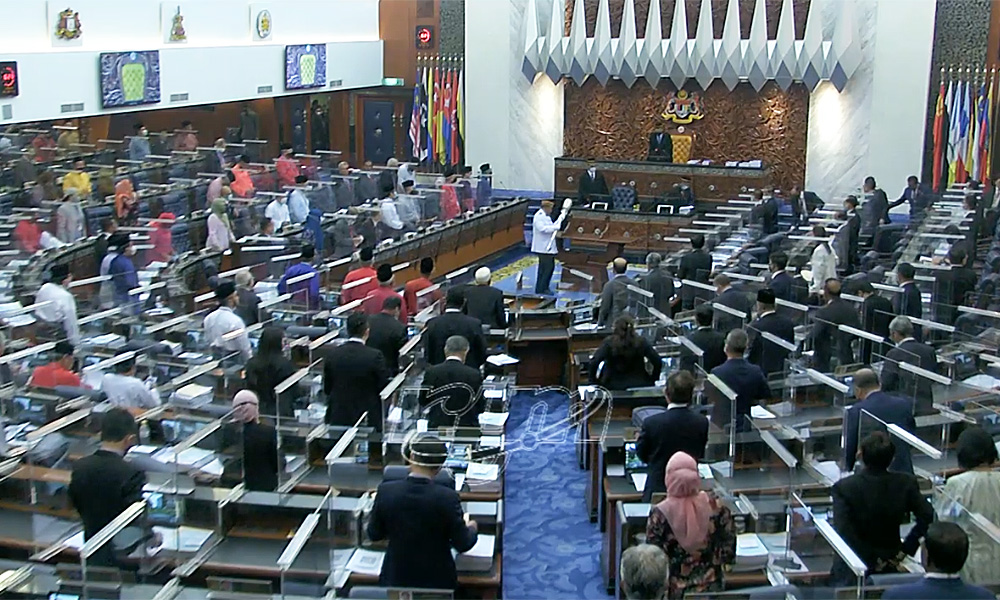 Meanwhile, the Yang di-Pertuan Agong has also called on politicians to stop squabbling amid the pandemic.
Note: Malaysiakini will still be updating this article with salient points from the Budget 2021 speech.
---
'Cool' green subsidies for AC units, refrigerators
6.23pm: The government will introduce the SAVE 2.0 scheme, which provides a RM200 e-rebate for households which purchase energy saving air-conditioning units or refrigerators.
Meanwhile, Zafrul says RM20 million will be allocated to hire 500 former military and police personnel, along with Orang Asli community members, to patrol the jungles for biodiversity protection.
---
If you like what we do, support independent media by subscribing to Malaysiakini for as low as RM0.55 a day. Details here.
Your contribution helps ensure the sustainability of independent journalism.
---
New vape tax
6.22pm: All electronic cigarettes or "vape" equipment will be subjected to a 10 percent tax.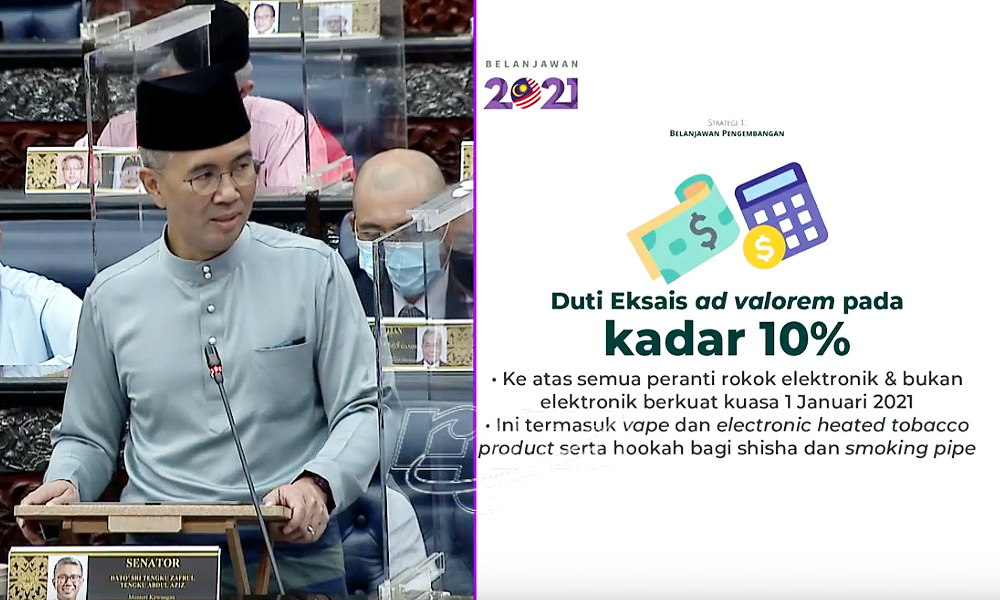 Nicotine liquids will be subjected to a 40 sen excise duty per milliliter. This means that a regular 30ml nicotine salt bottle will be taxed RM12.
---
Crowd funding for start-ups and tax incentives
6.21pm: The government will provide tax incentives for those who participate in the Equity Crowd Funding (ECF) scheme managed by the Securities Commission.
ECF is designed to fund technology start-ups. Investors can obtain tax relief for 50 percent of what they invest in ECF, capped at RM50,000.
---
Tourism: Retraining, job placements for 8,000 airline workers
6.20pm: With tourism being one of the worst-hit sectors due to the Covid-19 pandemic, the government plans to retrain and provide job placements for 8,000 airline staff. This will cost RM50 million.
The government, adds Zafrul, aims to provide 500 jobs for locals and the Orang Asli community to serve as eco-tourism guides at national parks.
Another RM50 million will be spent on refurbishing tourism spots nationwide.
Among others, RM10 million will be used to maintain the Sultan Abdul Samad building and Carcosa Seri Negara.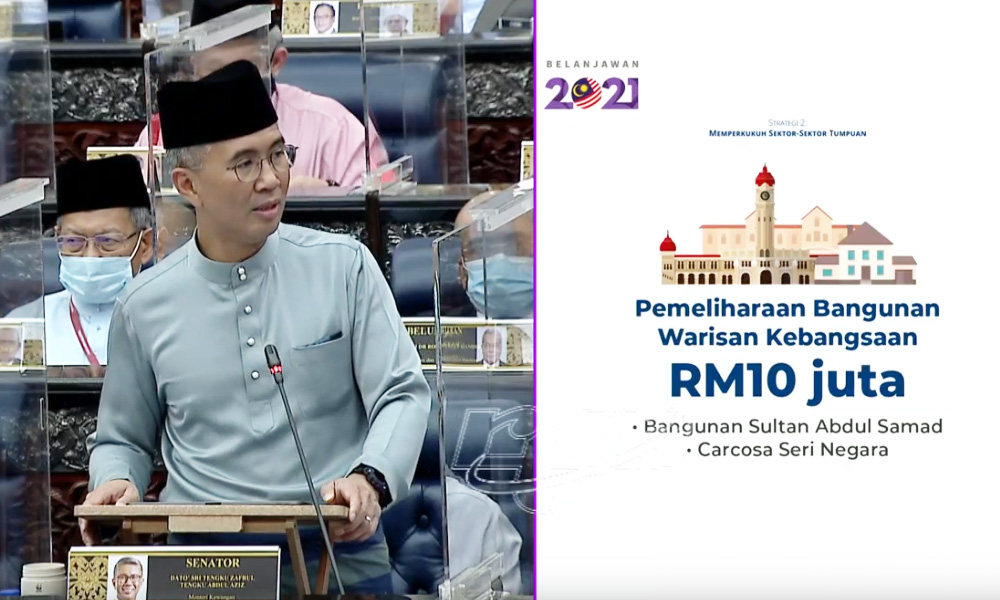 ---
Covid-19 fight: Glove manufacturers to chip in
6.18pm: Four glove manufacturers - Top Glove, Hartalega, Supermax and Kossan - will contribute RM400 million for Covid-19 vaccine costs and the procurement of health equipment.
"The government appreciates the commitment of the private sector, NGOs and individuals, who are contributing to this effort," says Zafrul.
---
Tax holiday for manufacturers who choose M'sia
6.15pm: Zafrul says the ongoing scheme to entice selected manufacturers to relocate to Malaysia will be extended by a year and will now end on Dec 31, 2022.
These companies will be offered either a tax holiday for 10 years or a low tax rate of 10 percent for the same period.
---
Public transport incentives
6.10pm: The My30 unlimited travel card, which is only RM30, for public transport in the Klang Valley will be extended to Penang and Kuantan, announces Zafrul.
School children and disabled persons will also be able to purchase a new unlimited travel card for RM5 a month. This travel card can be used on KTM Komuter, the train between Kuala Lipis and Tumpat and the Beaufort-Tenom trainline in Sabah.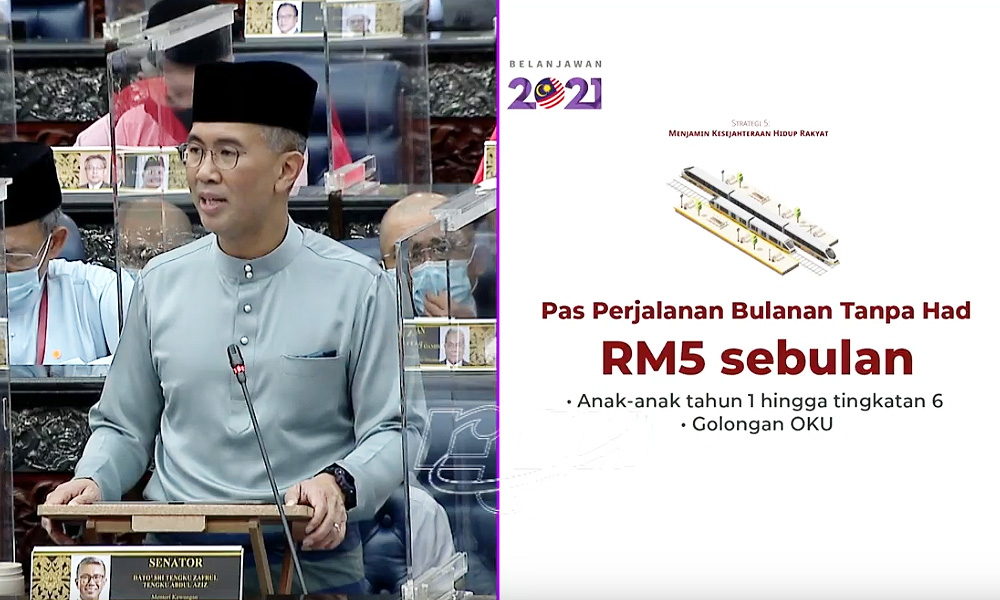 "If the fares now is RM5 a day on average, from next year, it will be RM5 a month," says the minister.
---
More incentives to own homes
6.05pm: To encourage homeownership, Zafrul says stamp duty for properties of up to RM500,000 will be waived. This scheme will apply to sales and purchase agreements dated between Jan 1, 2021 to Dec 31, 2025.
He adds that RM1.2 billion will be spent to subsidise affordable housing programmes.
The government also plans to start a rent-to-own scheme involving 5,000 PR1MA houses for first-time buyers.
---
SSPN tax relief extended
6pm: The RM8,000 tax relief for the National Education Savings Scheme, better known as SSPN, will be extended until tax assessment year 2022.
---
Daily free milk for schoolchildren
5.57pm: The ongoing twice-a-week milk programme in schools will be replaced with a scheme that provides milk daily.
Zafrul explains this is to help underprivileged children receive the needed nutrition.
---
Free computers for schoolchildren
5.55pm: GLCs will contribute RM150 million to the Tabung Cerdik which aims to provide laptop computers to 150,000 students in 500 schools under a pilot programme, says the minister.
The project, managed by Yayasan Hasanah, is designed to promote e-learning.
---
Lifestyle tax relief increased
5.53pm: The tax relief for lifestyle purposes has been increased by RM500 to RM3,000. Zafrul says this is specifically for sports purposes.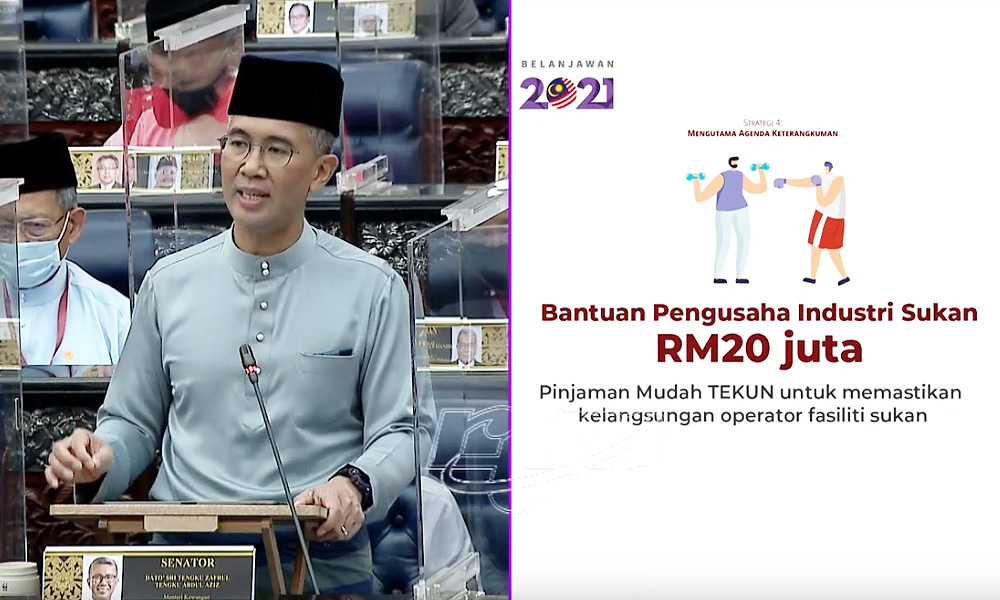 He adds that the tax relief will also cover online news subscriptions.
If you are not a Malaysiakini subscriber and would like to take advantage of this, visit our subscription page for offers. Thank you.
---
Free RM50 e-wallet payment for youths
5.51pm: The government will credit RM50 into e-wallets owned by youths between 18 and 20 to encourage cashless transactions.
---
Incentive to hire fresh graduates
5.50pm: Employers will be given a RM1,000 monthly incentive for each fresh graduate they hire for three months for apprenticeship, according to the minister.
Zafrul adds that employers can also apply for a maximum RM4,000 grant for the apprentice programme.
---
Free childcare for urban B40
5.45pm: The government, says Zafrul, plans to spend RM20 million to set up "community centres" that will serve as after-school childcare centres for the B40 community in urban areas.
The minister adds NGOs will be roped in for tuition classes and mentorship programmes, among others.
---
More allowance for caretakers, tax relief for disabled
5.40pm: The payment for people who volunteer under the Program Khidmat Bantu di Rumah program will increase to RM400 from RM150 presently, according to Zafrul.
This programme is for people who volunteer to take care of the elderly or disabled.
Meanwhile, the minister says the government will increase the tax relief for disabled couples to RM5,000, up from RM3,500 presently.
On the same note, tax relief for employers who hire senior citizens has been extended until 2025. This scheme was only supposed to cover the assessment year of 2019 and 2020.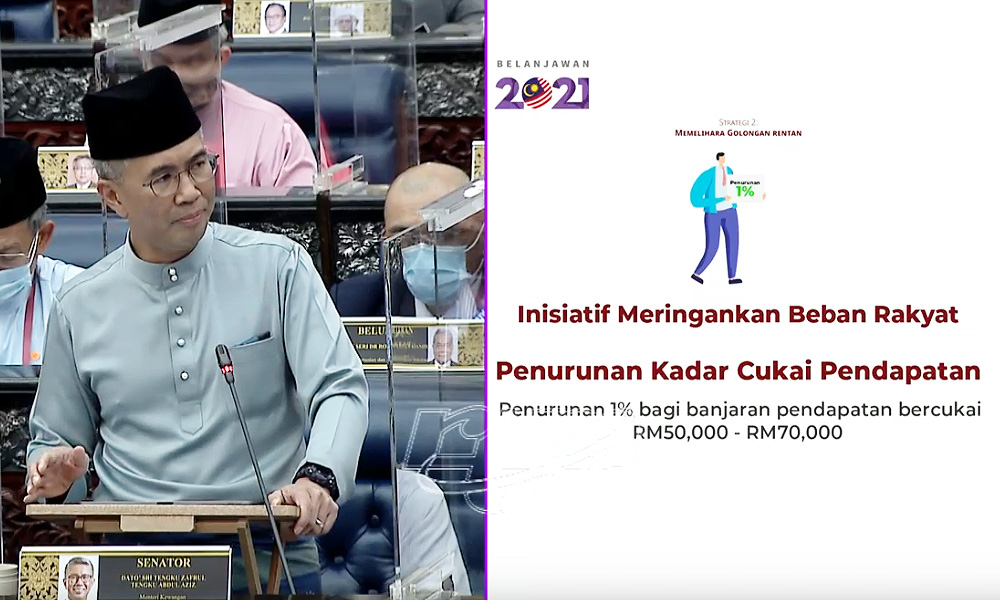 Other groups that were supposed to becovered by this incentive - ex-convicts, parolees, supervised personsand ex-drug dependants - were not mentioned by Zafrul.
---
Tax relief for private retirement Savings funds extended
5.33pm: The RM3,000 tax relief for contributions to private retirement saving funds (PRS) will be extended until 2025. This was supposed to be a 10-year scheme ending 2021.
---
Targeted wage subsidy scheme for tourism and retail sectors
5.30pm: Zafrul announces that another round of wage subsidies is coming. This will last three months and will be targeting the tourism and retail sectors.
The minister says each staff earning RM4,000 a month and below will be subsidised RM600. The 200 cap for the number of staff qualified per company will be increased to 500.
Zafrul adds this will benefit 70,000 employers and 900,000 workers.
---
New work schemes - JanaKerja; PenjanaKerjaya reworked
5.20pm: The finance minister says RM3.7 billion will be spent to create 500,000 jobs through a scheme known as JanaKerja. This will include upskilling and reskilling programmes.
He adds that another scheme, known as PenjanaKerjaya, currently handled by Socso, will have better incentives.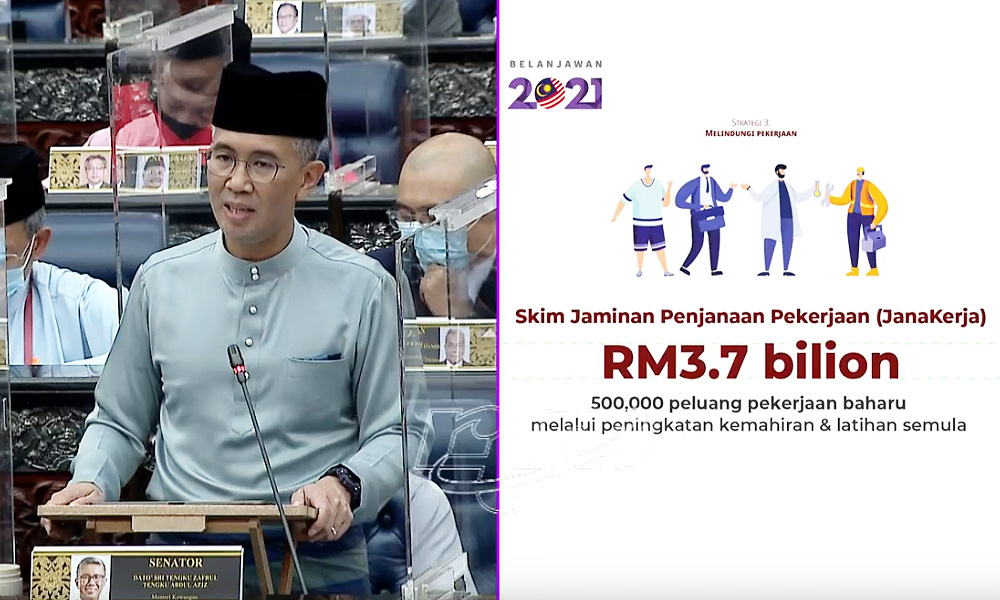 The first incentive will see the existing RM800 flat-rate subsidy for those earning RM1,500 and above with a 40 percent subsidy for those earning up to RM4,000. Meanwhile, subsidies for jobs given to disabled persons, long-term unemployed people have been increased from 20 percent to 60 percent.
For industries which depend on foreign workers, there will be a special subsidy to both the employer and employee to replace foreign workers with locals.
All PenjanaKerjaya schemes will only last six months.
---
More subsidies, handouts for farmers and fisherfolk
5.15pm: The monthly allowance for fisherfolk will increase by RM50 to RM300 next year while RM400 million will be spent on the interest owed by Felda settlers.
---
EPF contributions to be reduced for 12 months, staggered Account 1 withdrawals
5.10pm: Employees Provident Fund contributions will decrease to 9 percent from 11 percent beginning Jan 1 for a 12-month period to increase disposable income.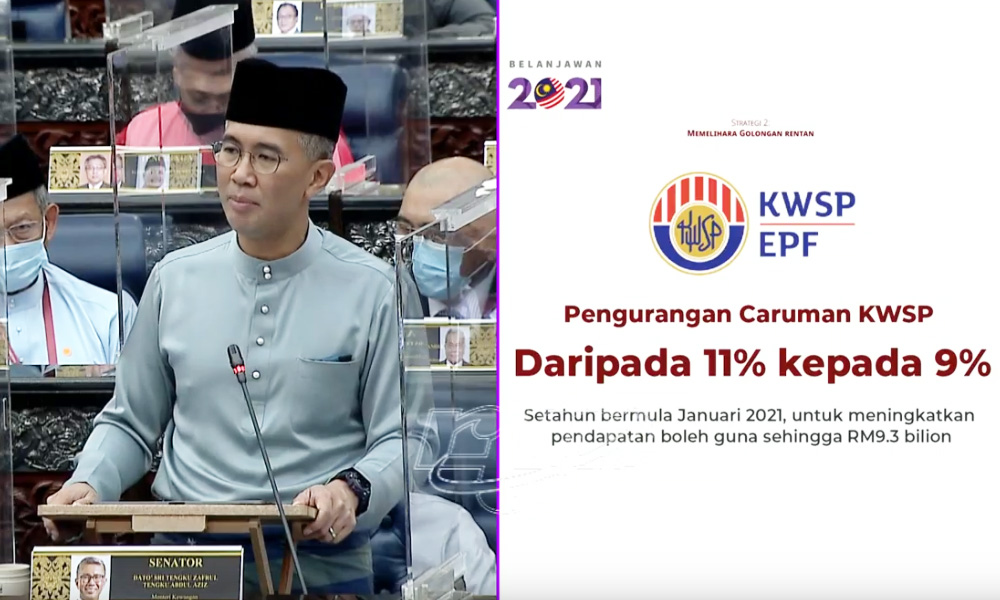 EPF will also allow Account 1 withdrawals of up to RM6,000 over a 12-month period. The measure was suggested by Umno. Withdrawals can be made from Jan 1 onwards.
---
If you like what we do, support independent media by subscribing to Malaysiakini for as low as RM0.55 a day. Details here.
Your contribution helps ensure the sustainability of independent journalism.
---
No blanket loan moratorium extension
5.05pm: The government will not take up Umno and Pakatan Harapan's suggestion to extend the loan moratorium scheme.
Zafrul said banks are reporting that 85 percent of lenders are resuming payments after the blanket moratorium expired on Sept 30.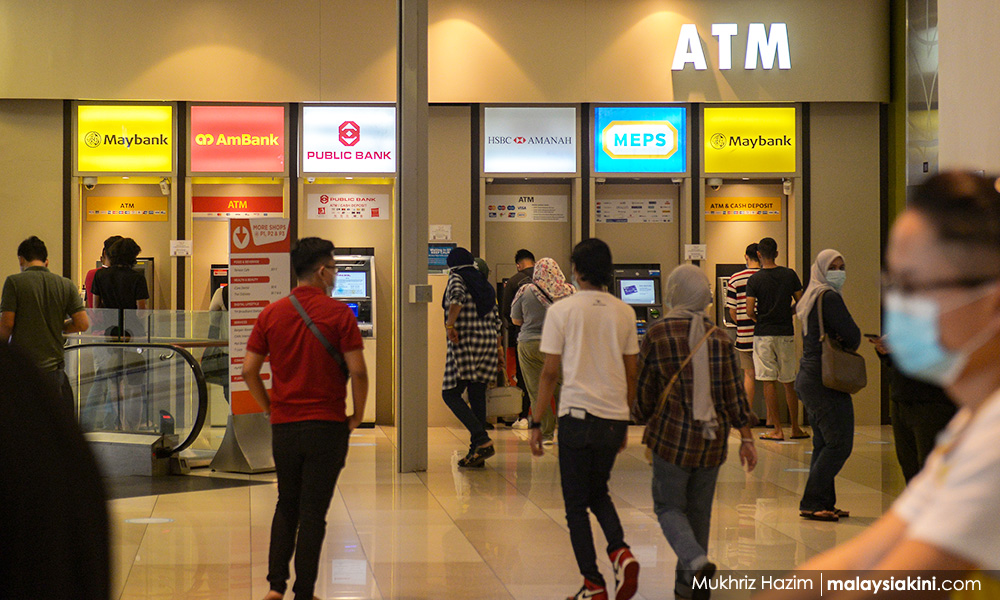 However, he adds that banks are allowing those from the B40 category to choose from two options if they have trouble paying:
They can either choose a three-month moratorium or reduce their monthly installment payments by half for six months.
Those in the M40 category can rework their financial packages through a self-declaration process if they experience an income reduction. This facility will start in December 2020.
---
Lower income tax, 1 band only
5.00pm: Personal income tax will be reduced by 1 percent for the RM50,001 and RM70,000 tax band. This is expected to benefit 1.4 million tax payers.
---
Third round of BPN payments
4.50pm: The government will go through a third round of Bantuan Prihatin Nasional (BPN) payments.
Zafrul says households with a combined monthly income of RM2,500 and below will receive RM1,000. Families with more than two children will receive RM1,800.
Households with an income of between RM2,501 and RM4,000 will receive RM800 while families with more than two children will receive RM1,200.
Households with an income of between RM4,001 and RM5,000 will receive RM500 while families with more than two children will receive RM750.
Singles with an income of less than RM2,500 will receive RM350. The age limit to claim this sum has been reduced to 21, down from 40.
---
Welfare payments increased
4.50pm: Welfare payments for children of poor families have been increased from a maximum of RM450 per family to RM1,000 per family.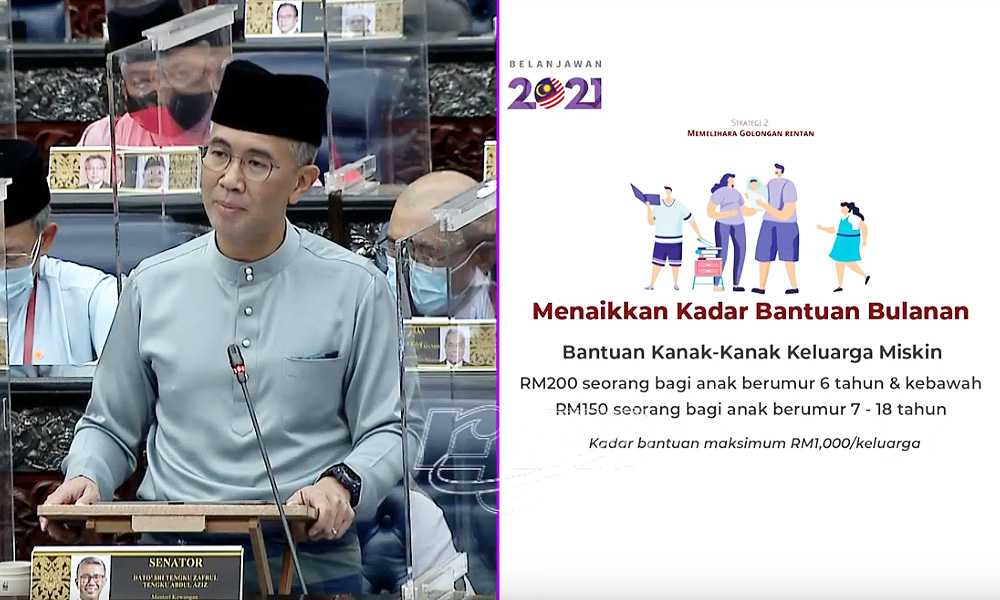 Zafrul says it is hoped that this will help with childcare and nutrition.
Welfare payments for people with disabilities have also been increased by RM50 and payments for senior citizens and caretakers of disabled people have been increased by RM150 to RM500.
---
Pneumococcal vaccination programme soon
4.45pm: The government will finally initiate a pneumococcal vaccination programme at the cost of RM90 million which will benefit 500,000 children, says Zafrul.
The minister adds that another RM6 million will be allocated for rheumatology treatment while RM25 million will be spent on home-based dialysis programmes, to reduce wait-time at hospitals
---
RM500 cash handout for health workers, tax relief for health costs
4.40pm: Zafrul says the government will provide a RM500 cash handout to 100,000 health workers as a token of appreciation.
Whereas, he adds that RM3 billion will be spent on the Covid-19 vaccine.
To encourage people to get the pneumococcal, influenza and Covid-19 vaccines, taxpayers will be given a RM1,000 tax relief.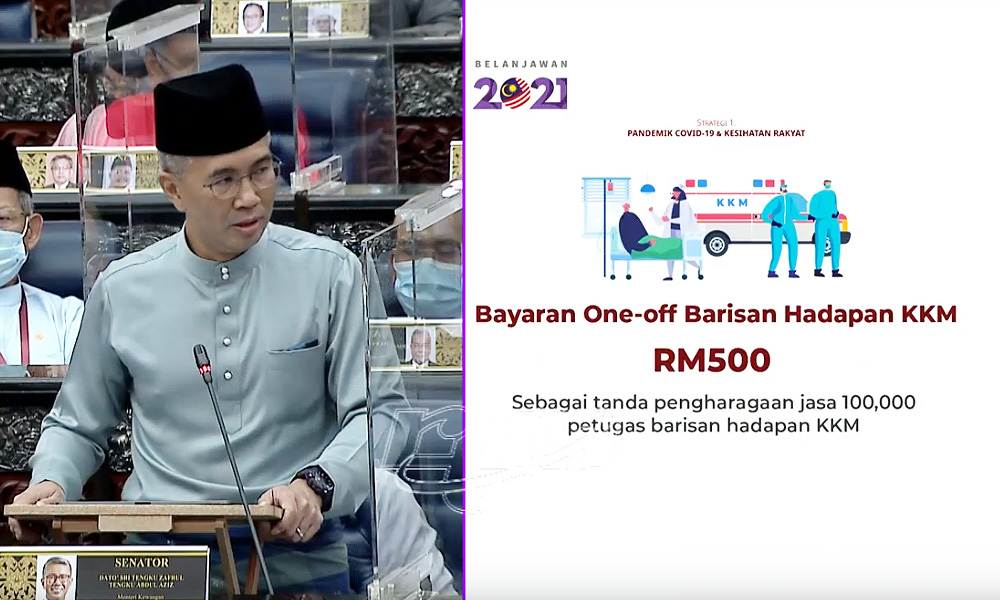 The tax relief for serious illnesses has been increased by RM2,000 to RM8,000 and the relief for health checkups has been increased from RM500 to RM1,000.
The tax relief for medical care because of special needs or used for the care of the elderly has been increased by RM3,000 to RM8,000.
---
Govt proposes to increase Covid-19 fund by RM20b
4.35pm: On Covid-19, Zafrul says some measures such as Malaysia's Temporary Measures for Reducing the Impact of Coronavirus Disease 2019 (Covid-19) Act 2020 was already in place that allows debt ceiling to be temporarily raised to 60 percent of the GDP, up from the statutory limit of 55 percent.
This law also allows the government to allocate RM45 billion for the Covid-19 fund. The minister says the government will propose to increase the fund by RM20 billion.
---
2020 GDP estimated at -4.5 pct
4.30pm: Malaysia's economy is expected to shrink by 4.5 percent this year compared to the year before.
However, Zafrul expects the economy to rebound next year and grow by 6.5 to 7.5 percent, while the global economy is expected to grow by 5.2 percent.
---
Speaker makes exception on limit, finance minister delivers speech
4.23pm: Dewan Rakyat speaker Azhar Azizan Harun reconvenes the sitting and begins by saying that he was allowing an exception today on the 80 MPs limit.
"It is better that I am given notice next time. I don't like to make decisions alone, I want to make decisions by consensus," he says.
He promises that the 80 MPs limit will be enforced again on Monday.
Finance Minister Tengku Zafrul Abdul Aziz begins his speech.
---
If you like what we do, support independent media by subscribing to Malaysiakini for as low as RM0.55 a day. Details here.
Your contribution helps ensure the sustainability of independent journalism.
---
MPs from both sides compel speaker to reconsider 80 MPs limit
4.14pm: Dewan Rakyat speaker Azhar Azizan Harun rescinds a previous ruling to limit the number of MPs in the House for Finance Minister Tengku Zafrul Abdul Aziz's Budget 2021 speech.
Opposition leader Anwar Ibrahim (Harapan-Port Dickson) started the ball rolling and received support from both sides of the floor, including backbenchers Bung Moktar Radin (BN-Kinabatangan), Tajuddin Abdul Rahman (BN-Pasir Salak), Ahmad Jazlan Yaakub (BN-Machang) and Noh Omar (BN-Tanjung Karang).
Azhar argued that the matter had already been decided by the party whips yesterday but MPs continued to pressure him.
Eventually, the speaker relented when DAP secretary-general Lim Guan Eng (Harapan-Bagan) suggested that a motion be tabled on whether to allow all 221 MPs into the chambers.
The House is in recess.
---
Budget 2021 is RM322.54 billion, up 10.61 percent from the previous year and is the largest budget on record.
This is an expansionary budget where the government cuts back marginally on operational expenditure while ramping up development expenditure.
Given that revenue for this year and the next is projected to be below the 2019 level, Malaysia will have to make up for the shortfall with massive borrowings.
Total budget for 2021: RM322.54 billion (↑ 8.6 percent, 2020: RM297.02 billion)
Operational expenditure: RM236.54 billion (↓ 1.9 percent, 2020: RM241.02 billion)
Development expenditure: RM69 billion (↑ 23.21 percent, 2020: RM56 billion)
Projected deficit for 2021: 5.4% (2020: 6 percent [estimate])