COVID-19 | The country reported 2,176 new cases of Covid-19 as of noon today.
Of these, 1,618 were Malaysians and 557 were non-citizens.
It's the lowest number of daily cases since Jan 5 when 2,027 new cases were recorded.
It should be noted that the government stopped testing asymptomatic patients since Jan 11 due to the high caseload. 
However, there were indications that things were improving with the number of intensive care unit (ICU) patients remaining stable at 260, down from a peak of 319 on Jan 30.
The Health Ministry also reported 4,521 recoveries, helping to bring the number of active cases to the lowest level since Jan 29.
The lower number of active cases will give some breathing space to the health system which had been under strain.

Active cases: 47,135
Patients in ICU: 260
Intubated: 112
New daily cases in Sabah dipped under 100 for the first time since September last year when the third Covid-19 wave just started.

In Selangor, it also dropped under four-figures for the first time since Jan 24.
However, Negeri Sembilan and Sarawak saw a spike, both seeing the highest number of cases in around two weeks.
Deaths
Another 10 people succumbed to the virus, bringing the death toll to 975.
Half of today's deaths were from Selangor while the remaining were in Kuala Lumpur (2), Johor (1), Perak (1) and Sabah (1). All of them were Malaysians.

The youngest to die today was a 57-year-old woman in Sabah.

The remaining deaths were all aged above 60 with the oldest being a 91-year-old woman in Perak.
New cases by states
Selangor (910)
Existing clusters: 107
New clusters: 42 (Jalan Cheras, Jalan Tiga Belas, Jalan Bursa, Jalan Tropicana and Jalan Kepong clusters)
Close contacts: 575
Other screenings: 186

Johor (269)
Existing clusters: 33
New cluster: 131 (Jalan Senai Utama cluster)
Close contacts: 61
Other screenings: 44

Sarawak (246)
Existing clusters: 36
Close contacts: 41
Other screenings: 169

Kuala Lumpur (182)
Existing clusters: 40
New cluster: 12 (Jalan Jinjang cluster)
Close contacts: 56
Imported: 1
Other screenings: 73
Negeri Sembilan (145)
Existing clusters: 32
Close contacts: 58
Other screenings: 55

Sabah (97)
Existing clusters: 26
Close contacts: 52
Other screenings: 19
Pulau Pinang (91)
Existing clusters: 18
New clusters: 25 (Persiaran Mutiara construction site and Jalan Baru clusters)
Close contacts: 20
Other screenings: 28

Perak (83)
Existing clusters: 60
New cluster: 4 (Tembok Tapak cluster)
Close contacts: 14
Other screenings: 5

Terengganu (53)
Existing clusters: 4
New clusters: 19 (Guntong Dalam and Pengkalan Teras clusters)
Close contacts: 9
Other screenings: 21
Kedah (33)
Existing clusters: 11
Close contacts: 10
Other screenings: 12
Kelantan (31)
Existing clusters: 8
Close contacts: 17
Other screenings: 6
Pahang (15)
Existing clusters: 1
Close contacts: 11
Other screenings: 3

Malacca (14)
New clusters: 6
Close contacts: 6
Other screenings: 2

Putrajaya (7)
Close contacts: 4
Other screenings: 3

There were no new reported cases in Perlis and Labuan.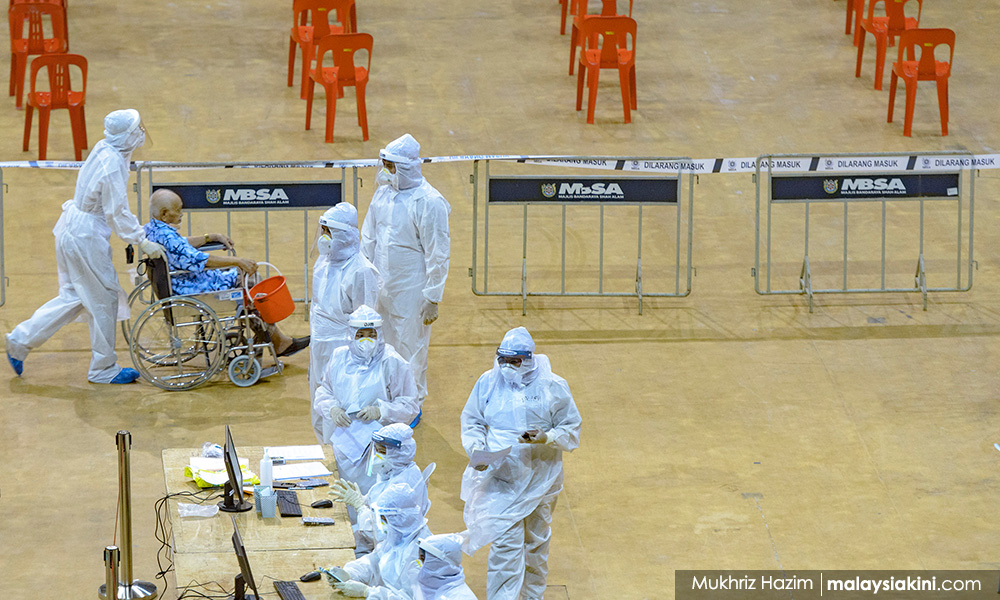 Clusters
A total of 489 out of 996 clusters are still active. Of this, 68 clusters reported new cases.
Eight clusters were declared resolved today, including Jalan Sibuga, Taman Tasi Sungai Chua, Jalan Bukit Bendera, Lumut Barat, Pagar Siput, Kampung Renok, Sungai Redan and Bah Manggis clusters.
However, 13 new clusters were discovered. Details are as follows: 
Jalan Kepong cluster
District(s): Kuala Selangor, Selangor
Locality/Source: A factory along Jalan Kepong, Ijok
Cluster category: Workplace
First case: Feb 7
Total infected: 23 out of 150 screened

Jalan Tropicana cluster
District(s): Petaling, Selangor
Locality/Source: A shopping centre along Jalan Mutiara Tropicana, Petaling Jaya
Cluster category: Workplace
First case: Feb 5
Total infected: 25 out of 73 screened

Jalan Bursa cluster
District(s): Petaling and Klang, Selangor
Locality/Source: A firm along Jalan Bursa, Shah Alam
Cluster category: Workplace
First case: Feb 15
Total infected: 22 out of 66 screened
Jalan Tiga Belas cluster
District(s): Petaling and Kuala Selangor, Selangor
Locality/Source: A factory along Jalan 13/6, Petaling Jaya
Cluster category: Workplace
First case: Jan 30
Total infected: 11 out of 120 screened

Jalan Baru cluster
District(s): Seberang Perai Tengah and Seberang Perai Utara, Penang
Locality/Source: A shopping centre along Jalan Baru, Perai
Cluster category: Workplace
First case: Feb 8
Total infected: 22 out of 73 screened

Persiaran Mutiara construction site cluster
District(s): Timur Laut, Penang
Locality/Source: A construction site along Persiaran Bayan Mutiara
Cluster category: Workplace
First case: Feb 12
Total infected: 14 out of 21 screened

Jalan Jinjang cluster
District(s): Kepong, Kuala Lumpur
Locality/Source: A factory along Jalan Jinjang Aman, Kepong
Cluster category: Workplace
First case: Feb 15
Total infected: 12 out of 150 screened

Jalan Senai Utama cluster
District(s): Kulai, Johor
Locality/Source: A factory in Senai, Kulai
Cluster category: Workplace
First case: Feb 15
Total infected: 131 out of 414 screened
Teknologi Lot Enam cluster
District(s): Melaka Tengah, Jasin and Alor Gajah, Malacca
Locality/Source: A factory at Lot 6, Batu Berendam
Cluster category: Workplace
First case: Feb 11
Total infected: 24 out of 300 screened

Guntong Dalam cluster
District(s): Setiu and Besut, Terengganu
Locality/Source: A firm in Bandar Jerteh, Besut and residential area at Kampung Guntong Dalam
Cluster category: Workplace
First case: Feb 9
Total infected: 43 out of 293 screened

Pengkalan Teras cluster
District(s): Besut, Terengganu
Locality/Source: A residential area at Kampung Pengkalan Teras, Besut
Cluster category: Community
First case: Feb 8
Total infected: 29 out of 237 screened

Tembok Tapah cluster
District(s): Batang Padang, Perak
Locality/Source: A detention centre along Jalan Tapah
Cluster category: Detention centre
First case: Feb 9
Total infected: 64 out of 191 screened

Jalan Cheras cluster
District(s): Hulu Langat, Selangor
Locality/Source: A care centre along Jalan Cheras, Kajang
Cluster category: High-risk group
First case: Feb 15
Total infected: 24 out of 182 screened