COVID-19 | The Health Ministry today reported 6,824 new Covid-19 cases, where the Klang Valley reported the lowest number of new cases in eight days.
Active cases are at a record high today, as was the number of patients needing intensive care.
The number of Covid-19 patients in intensive care had risen approximately 160 percent in just a month.
Active cases: 79,523
Patients in ICU: 851
Intubated: 422
Breakdown by states:
Selangor (2,111)
Kelantan (695)
Sarawak (654)
Johor (489)
Kedah (464)
Kuala Lumpur (387)
Malacca (352)
Penang (328)
Perak (255)
Negeri Sembilan (253)
Pahang (219)
Sabah (207)
Terengganu (204)
Labuan (166)
Putrajaya (28)
Perlis (12)
In Selangor (2,111), approximately one in ten new Covid-19 cases were detected among those with symptoms. This is considerably better from one in seven observed on May 27.
As of yesterday, the R-naught for the country was 1.12, down from a year-to-date high of 1.21 observed on May 23.
This does not necessarily indicate that the spread of Covid-19 was decreasing in absolute terms, but instead indicate that just the rate of increase is slowing.
Apart from Perlis, every state or territory in Malaysia has a R-naught of more than 1.00.
Deaths
Another 67 deaths attributed to Covid-19 were reported today, bringing the cumulative casualty count to 2,796.
These deaths occured in Selangor (15), Johor (12), Sarawak (8), Kedah (6), Negeri Sembilan (5), Kelantan (5), Pahang (4), Penang (3), Labuan (3), Malacca (3), Sabah (2) and Kuala Lumpur (1).
The youngest victim was a 15-year-old boy with leukemia. There were eight victims who were pronounced dead on arrival at the hospital.
For a detailed breakdown of the reported deaths today, please refer to our Covid-19 tracker site.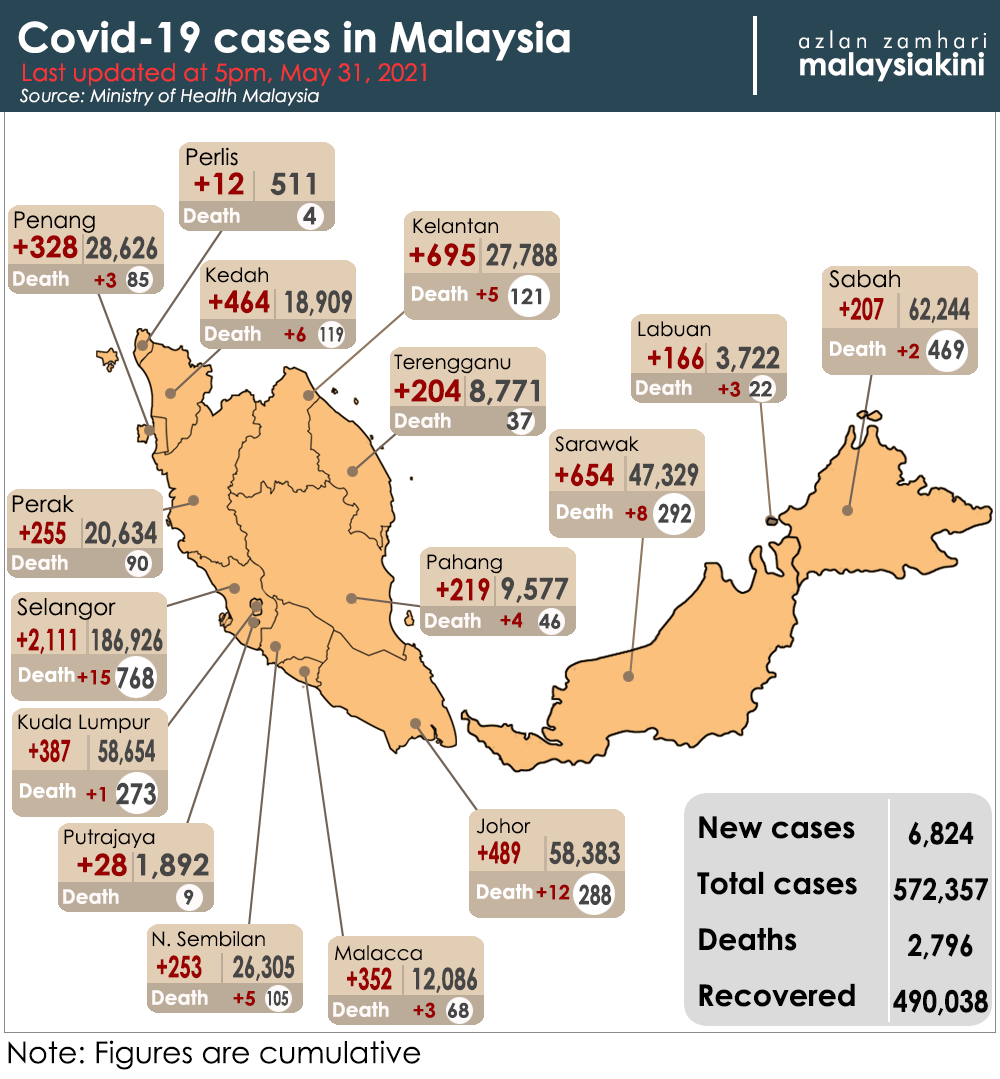 Clusters
There are 655 active clusters being monitored by the Health Ministry, up 68 percent when compared to April 30.
There were 25 new clusters that were classified today, of which 14 were clusters related to workplaces and nine related to community spread.
Jalan Alam Jaya cluster
Category: Workplace
State(s): Selangor
District(s): Hulu Langat
Total infected: 35 out of 37 screened
Jalan Perusahaan Dua Lima cluster
Category: Workplace
State(s): Selangor
District(s): Hulu Langat, Gombak and Petaling
Total infected: 29 out of 34 screened
Jalan Coastal Bintulu-Miri cluster
Category: Workplace
State(s): Sarawak
District(s): Bintulu
Total infected: 49 out of 1,574 screened
Jalan Sierra Perdana Empat cluster
Category: Workplace
State(s): Johor
District(s): Johor Bahru
Total infected: 7 out of 42 screened
Dah PKNK 3/8 cluster
Category: Workplace
State(s): Kedah
District(s): Kuala Muda
Total infected: 48 out of 280 screened
Perindustrian Trisegi cluster
Category: Workplace
State(s): Kuala Lumpur
District(s): Lembah Pantai
Total infected: 19 out of 52 screened
Jalan Mahsuri Kluang cluster
Category: Workplace
State(s): Johor
District(s): Kluang
Total infected: 52 out of 1,019 screened
Tapak Bina Klebang cluster
Category: Workplace
State(s): Malacca
District(s): Melaka Tengah
Total infected: 124 out of 371 screened
Lintang Bayan Lepas Enam cluster
Category: Workplace
State(s): Penang
District(s): Barat Daya, Timur Laut and Seberang Perai Tengah
Total infected: 25 out of 107 screened
Industri Bukit Minyak Tujuh cluster
Category: Workplace
State(s): Penang
District(s): Seberang Perai Tengah and Seberang Perai Selatan
Total infected: 15 out of 376 screened
Industri Indera Mahkota 14 cluster
Category: Workplace
State(s): Pahang
District(s): Kuantan
Total infected: 28 out of 123 screened
Muara Tabuan cluster
Category: Workplace
State(s): Sarawak
District(s): Kuching, Samarahan, Serian and Asajaya
Total infected: 152 out of 500 screened
Industri Jalan Karak cluster
Category: Workplace
State(s): Pahang
District(s): Bentong
Total infected: 37 out of 560 screened
Jalan Sudirman cluster
Category: Workplace
State(s): Pahang
District(s): Temerloh
Total infected: 18 out of 61 screened
Jalan Pantai Permai cluster
Category: Community
State(s): Kuala Lumpur
District(s): Lembah Pantai
Total infected: 22 out of 508 screened
Langgar Hilir cluster
Category: Community
State(s): Terengganu
District(s): Hulu Terengganu and Marang
Total infected: 32 out of 233 screened
Kampung Gelong Badak cluster
Category: Community
State(s): Kelantan
District(s): Bachok and Kota Bharu
Total infected: 18 out of 32 screened
Tok Jawa cluster
Category: Community
State(s): Kelantan
District(s): Bachok
Total infected: 10 out of 42 screened
Jalan Jambusan-Sunchar cluster
Category: Community
State(s): Sarawak
District(s): Bau and Kuching
Total infected: 18 out of 243 screened
Dah Bagan cluster
Category: Community
State(s): Kedah
District(s): Padang Terap and Pendang
Total infected: 41 out of 175 screened
Kampung Sungai Kerang cluster
Category: Community
State(s): Perak
District(s): Manjung and Perak Tengah
Total infected: 21 out of 142 screened
Milenium cluster
Category: Community
State(s): Sabah
District(s): Tawau
Total infected: 34 out of 101 screened
Kampung Laneh cluster
Category: Community
State(s): Perak
District(s): Kuala Kangsar and Kinta
Total infected: 23 out of 70 screened
Dah Batu Dua cluster
Category: Higher Education
State(s): Kedah
District(s): Kota Setar
Total infected: 19 out of 42 screened
Persiaran Titiwangsa cluster
Category: High-risk Group
State(s): Kuala Lumpur
District(s): Titiwangsa and Kepong
Total infected: 13 out of 67