COVID-19 | The number of fresh Covid-19 infections today climbed to another record high of more than 17,000, pushing the cumulative cases to over a million.
The Health Ministry reported 17,045 new Covid-19 cases, a third consecutive day of record highs.
The previous records were 15,902 yesterday and 15,573 on the day before that.
Selangor topped the chart, crossing 8,000 fresh infections for the first time since the start of the pandemic. The previous record was two days ago (July 23) at 7,672 cases.
Kedah also broke 1,000 cases for the first time, breaking the July 23 record of 937.
Likewise, Penang hit a record high of 573, breaking the previous record of 530, also on July 23. Penang, which neighbours Kedah, has seen more than 500 cases for three consecutive days.
Sabah also saw a record high of 818 for this year, but still below the 2,126 infections recorded on Nov 26 last year when the state became the epicentre of the pandemic.
Every state except Perlis has now failed the criteria to be in Phase 2 of the National Recovery Plan as their seven-day average new Covid-19 cases exceeded the maximum threshold.
The cumulative cases stand at 1,013,438.
A total of 9,683 Covid-19 patients recovered today but they were outpaced by new infections, contributing to a rise in active cases which breached 160,000 for the first time.
The number of intubated Covid-19 patients also climbed above 500 for the first time.
Active cases: 160,903
Patients in ICUs: 970
Intubated: 501
Deaths
There were 92 fatalities today, bringing the death toll to 7,994.
Johor saw a rise in deaths with 23 casualties, only behind the 27 deaths in Selangor which is the current epicentre of the Covid-19 pandemic.
The other deaths were recorded in Kuala Lumpur (12), Negeri Sembilan (11), Malacca (5), Kedah (4), Pahang (3), Sabah (2), Sarawak (2), Perak (1), Terengganu (1) and Labuan (1).
New cases by states
Selangor (8500)
Kuala Lumpur (2045)
Kedah (1216)
Johor (950)
Sabah (818)
Perak (609)
Penang (573)
Negeri Sembilan (513)
Pahang (424)
Sarawak (407)
Malacca (370)
Terengganu (273)
Kelantan (266)
Putrajaya (50)
Labuan (21)
Perlis (10)
Clusters
A total of 992 out of 3,452 clusters are still active including the 34 new clusters reported today.
This was compared to the 905 active clusters exactly a week ago.
Out of the 34 new clusters today, 18 were workplace-related and 15 were community transmissions.

Details of the new clusters are as follow:


Tapak Bina Jalan Meranti
Category: Workplace
State(s): Pahang
District(s): Bentong
Total infected: 121 out of 121 screened

Padang Kubu
Category: Workplace
State(s): Terengganu
District(s): Kemaman
Total infected: 103 out of 1,329 screened

Tapak Bina Kampung Sedeng
Category: Workplace
State(s): Johor
District(s): Segamat
Total infected: 96 out of 221 screened

Lengkok Rishah Dua
Category: Workplace
State(s): Perak
District(s): Kinta
Total infected: 62 out of 300 screened

Bagan Sabak
Category: Workplace
State(s): Selangor
District(s): Sabak Bernam
Total infected: 59 out of 253 screened

Industri Jalan Bebas Lapan
Category: Workplace
State(s): Selangor
District(s): Petaling and Klang
Total infected: 48 out of 55 screened

Gipan Kolombong
Category: Workplace
State(s): Sabah
District(s): Kota Kinabalu and Tuaran
Total infected: 40 out of 72 screened

Industri Mahkota Satu
Category: Workplace
State(s): Selangor
District(s): Hulu Langat
Total infected: 40 out of 41 screened

Persiaran Desa Tebrau
Category: Workplace
State(s): Johor
District(s): Johor Bahru
Total infected: 37 out of 234 screened

Tapak Bina Kluang Perdana
Category: Workplace
State(s): Johor
District(s): Kluang
Total infected: 33 out of 79 screened

Industri Taman Gunung Mas
Category: Workplace
State(s): Negeri Sembilan
District(s): Tampin
Total infected: 31 out of 157 screened

Tinabau
Category: Workplace
State(s): Sabah
District(s): Kinabatangan
Total infected: 26 out of 26 screened

Jalan Besar Sabak Bernam
Category: Workplace
State(s): Selangor
District(s): Sabak Bernam
Total infected: 20 out of 82 screened

Jalan Gambir Lima
Category: Workplace
State(s): Johor
District(s): Tangkak
Total infected: 16 out of 54 screened

Dah Kedundung Industri Alor Setar
Category: Workplace
State(s): Kedah
District(s): Kota Setar, Paandg Terap and Penandg
Total infected: 15 out of 154 screened

Dah Pinang Industri Alor Setar
Category: Workplace
State(s): Kedah
District(s): Kota Setar
Total infected: 12 out of 71 screened

PLO Jalan Timah
Category: Workplace
State(s): Johor
District(s): Johor Bahru
Total infected: 11 out of 63 screened

PLO Jalan Tengar
Category: Workplace
State(s): Johor
District(s): Johor Bahru
Total infected: 8 out of 170 screened

Taman Hock Ann
Category: Community
State(s): Kuala Lumpur
District(s): Lembah Pantai
Total infected: 185 out of 299 screened

Dah Bukit
Category: Community
State(s): Kedah
District(s): Langkawi
Total infected: 139 out of 286 screened

Jalan Tungku
Category: Community
State(s): Sabah
District(s): Lahad Datu
Total infected: 35 out of 233 screened

Batu Enam Penjom
Category: Community
State(s): Pahang
District(s): Lipis
Total infected: 25 out of 64 screened

Kampung Kemahang Labok
Category: Community
State(s): Kelantan
District(s): Machang and Kota Bharu
Total infected: 18 out of 109 screened

Alor Bakong
Category: Community
State(s): Perak
District(s): Hilir Perak
Total infected: 18 out of 119 screened

Kampung Budi Tawang
Category: Community
State(s): Kelantan
District(s): Bachok
Total infected: 17 out of 37 screened

Padang Tembak Intan
Category: Community
State(s): Perak
District(s): Hilir Perak
Total infected: 15 out of 28 screened

Tok Khalifah
Category: Community
State(s): Selangor
District(s): Sabak Bernam
Total infected: 14 out of 40 screened

Kampung Bukit Tok Ali
Category: Community
State(s): Kelantan
District(s): Jeli
Total infected: 14 out of 20 screened

B5 Keratong Tujuh
Category: Community
State(s): Pahang
District(s): Rompin
Total infected: 12 out of 26 screened

Kampung Tok Sadang
Category: Community
State(s): Kelantan
District(s): Kota Bharu
Total infected: 11 out of 27 screened

Jalan Damai Kampung Cherang
Category: Community
State(s): Kelantan
District(s): Kota Bharu
Total infected: 11 out of 17 screened

Kampung Sogo-Sogo
Category: Community
State(s): Sabah
District(s): Tongod
Total infected: 9 out of 46 screened

Gerbang Kauran
Category: Community
State(s): Sabah
District(s): Keningau
Total infected: 9 out of 28 screened

Simpang Tiga Ranau
Category: High-risk group
State(s): Sabah
District(s): Ranau
Total infected: 14 out of 417 screened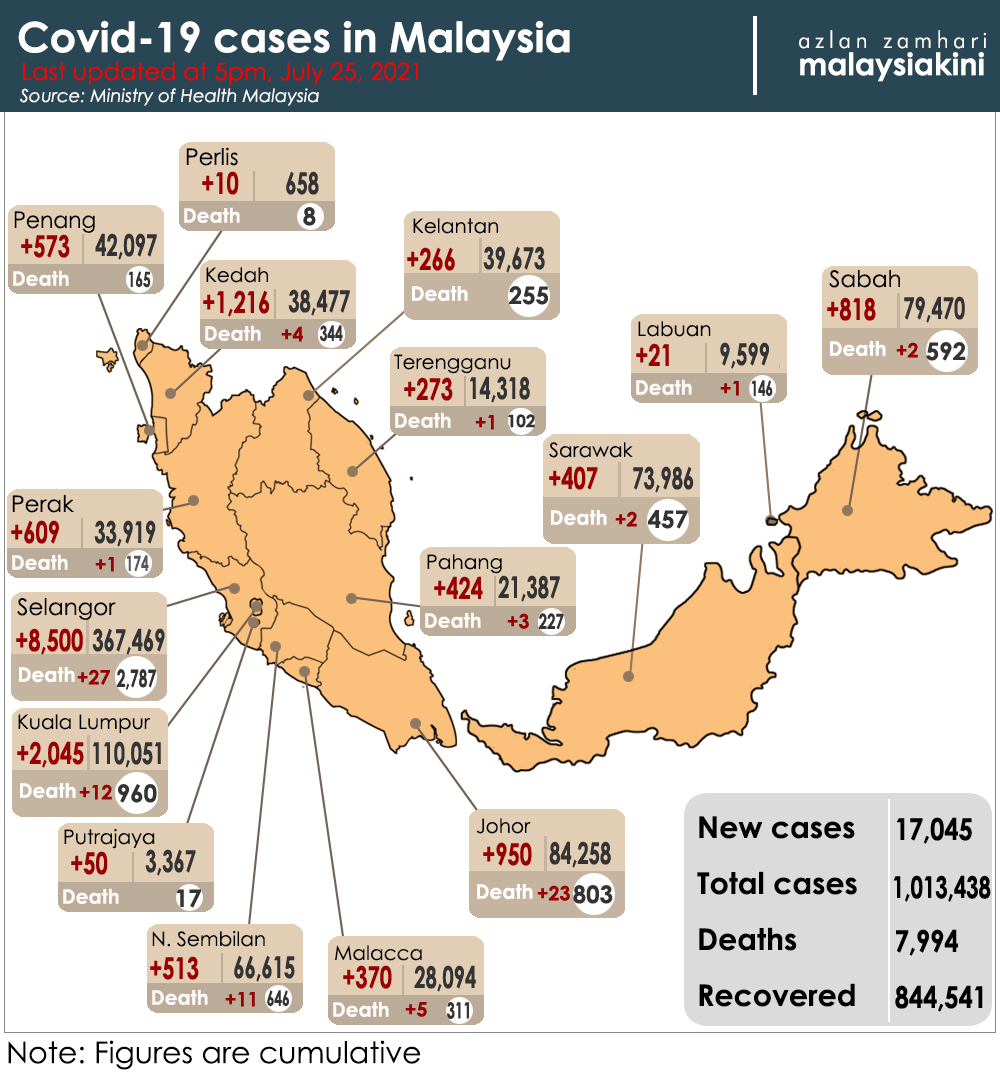 [More to follow]