Twenty three social activists and residents were detained by the police today after a brutal confrontation involving residents of Kampung Berembang in Ampang and enforcement officers from a local authority.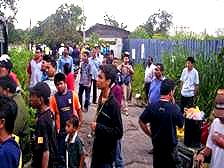 The officers from Ampang Jaya Municipal Council (MPAJ), together with Rela members and the police, had gone to the village to demolish some 60 houses this morning.
The Malay village, with 470 residents, is located less than 10km from the Petronas Twin Towers in Kuala Lumpur.
However, they ran into stiff opposition mounted by residents backed by members of the non-governmental organisation Jerit and pro-tem political party Parti Sosialis Malaysia.
A stand-off ensued between the demolition squad and the villagers, which resulted in an open clash. Police moved in and arrested nine people for prohibiting the demolition of the houses.
Four houses were demolished but following a tense situation in the village, the operation was called off.
Then after some time, the MPAJ officials tried to demolish the houses again and this time another 14 people were arrested for trying to stop the demolition.
By now, the Federal Reserve Unit had been sent to control the situation.
MPAJ then proceeded to demolish the houses.
Matter in court
Human rights group Suaram's Chang Lih Kang said the activists, including three women, were taken to the Taman Keramat and Ampang Jaya police stations.
"Suaram condemns the unnecessary arrest of these activists," he said. Soon after he too was arrested.
According to Jerit, the residents had been served eviction notices under the Emergency Ordinance.
"They were given eviction notices even before alternative housing was completed," it said in a statement.
Jerit has been assisting the villagers over their predicament, seeking an extension of the eviction notice until the new houses are ready.
"On Nov 2, the villagers had met Selangor State Secretary Ramli Mahmud who said he would see if they can stay here until their homes are completed in April next year," added Jerit.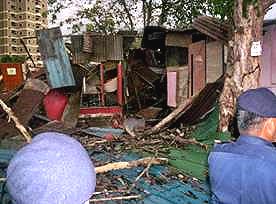 The villagers have also filed a suit against the eviction notice. On Friday, the Shah Alam High Court postponed the matter to April 2007.
They have lived in the village for more than 30 years but are being evicted by the Selangor government under its 'zero squatters' policy.
"Why can't the MPAJ just wait until the court process is over or wait until the villagers can move directly to their new homes? This is only five months away," said Jerit.

Click here to watch
a two-minute video clip
.