The Drug Control Authority (DCA) has approved Covid-19 vaccines from AstraZeneca and Sinovac for use as booster shots, said Health Ministry director-general Dr Noor Hisham Abdullah.
The approval is for people aged 18 years and above who have previously received the same vaccine.
"The AstraZeneca booster shot will be given after an interval of six months following the second dose of the vaccine, while for (Sinovac's) Coronavac, the booster will be administered three to six months after the second dose is administered.
"The provision of both vaccine products to certain target groups will be detailed by the 'Covid-19 Immunisation Task Force - Booster' (CITF-B) and updated from time to time," he said in a statement today.
The decision was made during a DCA meeting today. During its last meeting on Oct 8, it granted a similar approval for the Pfizer vaccine to be used as a booster shot.
Noor Hisham said the approvals are on a conditional basis, which requires the vaccines' quality, safety, and efficacy data to be monitored closely.
"This is to ensure the benefit-over-risk ratio for the vaccines is always positive," he said.
In immediate response to the approval, Health Minister Khairy Jamaluddin said the approval will pave the way for the Vaccination Technical Working Group to make recommendations on who qualifies to receive the vaccines and the vaccines' inclusion in the heterologous booster program.
Heterologous boosters refer to a booster shot that is different than the vaccine previously administered, in contrast to homologous boosters where the same vaccine type is used as the booster shot.
A booster shot is given when immunity wanes to a point where it no longer provides adequate protection, in order to improve vaccine effectiveness.
Previously, Vaccine Selection Technical Working Group chairperson Dr P Kalaiarasu said the Pfizer vaccine is the 'default' vaccine for Malaysia's Covid-19 booster shot rollout, even for those who previously received other vaccines.
This is based on data from Thailand and Chile showing heterologous vaccination with the Pfizer shot elicits a robust and more protective immune response against Covid-19.
Nevertheless, Kalaiarasu said last Friday that Sinovac and AstraZeneca vaccines will still be available as booster shots for people who previously received those vaccines, once approved by drug regulators.
This is for those who are medically unable to receive the Pfizer shot (for example, if they have a known allergy to the Pfizer vaccine or its components).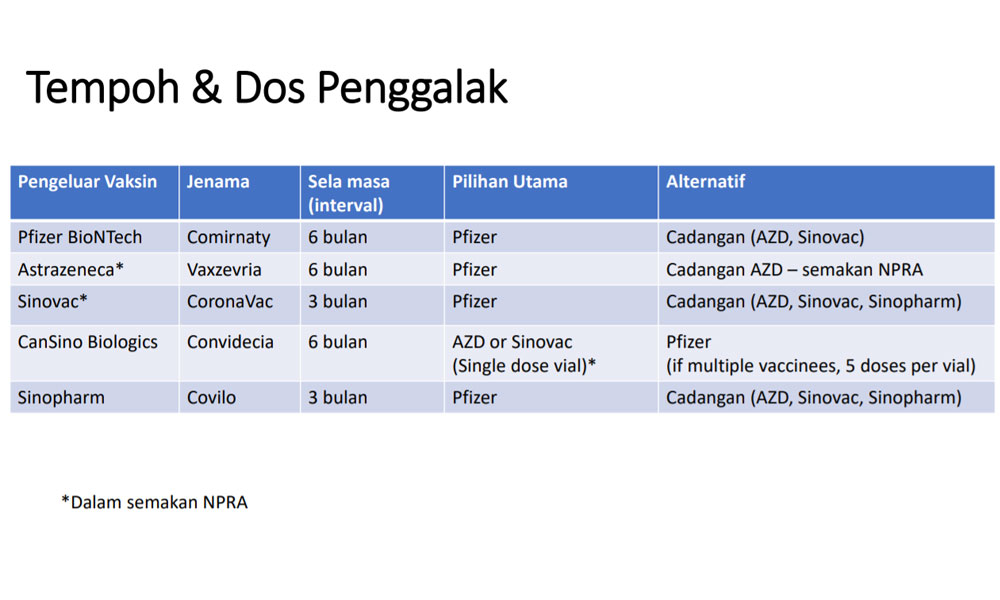 Malaysia's Covid-19 booster rollout is currently prioritised for frontliners, people aged 40 and above, people aged 18 and above who have comorbidities, workers and residents at long-term care facilities, pregnant women, and people who require the booster shot for overseas travel.
Appointments are being handed out through MySejahtera without the need for registration.
However, those eligible can also sign up to be on a waiting list beginning next Monday, so they could be called up to be vaccinated in case there is a no-show at the appointments.