GE15 LIVE DAY 1 | It's Day 1 of the 15th general election campaign period, and there are 13 days to go before polling day.
Follow our live blog as the Malaysiakini team brings you the news as it takes place.
---
11.59pm: Thank you for following our live updates for Day 1 of the campaigning period in the lead-up to the Nov 19 polls. Follow us again tomorrow for Day 2.
---
Hokkien song at Penang DAP talk
11.10pm: Tanjong, Penang - DAP organised a talk at the Penang Chinese Town Hall here at 8pm, which lasted about three hours.
About 400 seats were prepared, and about 75 percent of them were occupied at peak attendance.
Party veteran Lim Kit Siang was among tonight's speakers and he cited the title of a Hokkien song "World Number One", hoping that Malaysia will be among the top countries in the world.
DAP's Sungai Pinang and Batu Lanchang assemblypersons Lim Siew Khim and Ong Ah Teong sang the song at the end of the talk.
---
'Ku Li, 85, should make way'
11.05PM – It is time for Tengku Razaleigh Hamzah to make way for a younger lawmaker in Gua Musang, says Shafiq Razak who is the Gua Musang DAP Youth chief.
The 85-year-old, also known as Ku Li, who has served the constituency for 12 terms, is once again defending his seat this election.
While thanking the octogenarian for his contributions to Gua Musang over the years, Shafiq says the constituency now needs a younger elected representative who is more energetic and has fresh ideas.
They need someone who can boost the local economy, improve education standards, and get along with the people on the ground level.
"Looking at the physical ability and energy levels of Tengku Razaleigh, which is far behind in the context of going down to the ground to meet the people of Gua Musang, there is a huge gap.
"That is not his fault but it is his age that has limited his personal activeness," Shafiq said in a statement today.
---
Maszlee suggests debate between candidates
10.30pm: Simpang Renggam, Johor – On the first night of the GE15 campaign period, Pakatan Harapan candidate Maszlee Malik launched a PKR branch and welcomed 50 Bersatu members to join the party here.
He is expected to have a close fight with BN candidate - former Johor menteri besar Hasni Mohammad.
Another two candidates for the parliamentary seat are Fazrul Kamat (Perikatan Nasional - Bersatu) and Kamal (Pejuang).
Earlier today, Maszlee suggested a debate involving all four candidates for Simpang Renggam and said this proposal was welcomed by all the candidates when they met at the nomination centre.
He said the debate is expected to be held two days before voting day and they are looking for a media agency to moderate the session, according to Sinar Harian.
---
9pm: Simpang Renggam, Johor - PKR candidate Maszlee Malik released a TikTok video which showed him and his mother using the Hakka dialect, urging voters to come home to vote.
"Your votes are very important for the country, not even one can be disregarded," Maszlee said in the video.
Maszlee's mother is of Hakka descent. Being the incumbent MP of Simpang Renggam, Maslee is seeking a second term in office.
---
Not many women candidates
8.55pm – Only 13.5 percent of the total number of candidates in this election are women, according to the Election Commission.
Women make up only 187 of the total 1,386 candidates.
There are also no candidates under the age of 21, the EC said in a statement.
The youngest candidate is a 23-year-old independent candidate in Tenom, Peggy Chaw Zhi Ting, while the oldest candidate is Langkawi's Dr Mahathir Mohamad at 97 years old.
---
Friendly greeting between Muar candidates
8.28pm: Tokong Seri Menanti, Muar, Johor – Muda candidate Syed Saddiq Syed Abdul Rahman bumps into his opponent BN candidate Helmy Abdul Latiff at a campaigning event here.
"Woah, met Helmy at the same event again! This time at Tokong Seri Menanti!" Syed Saddiq tweets.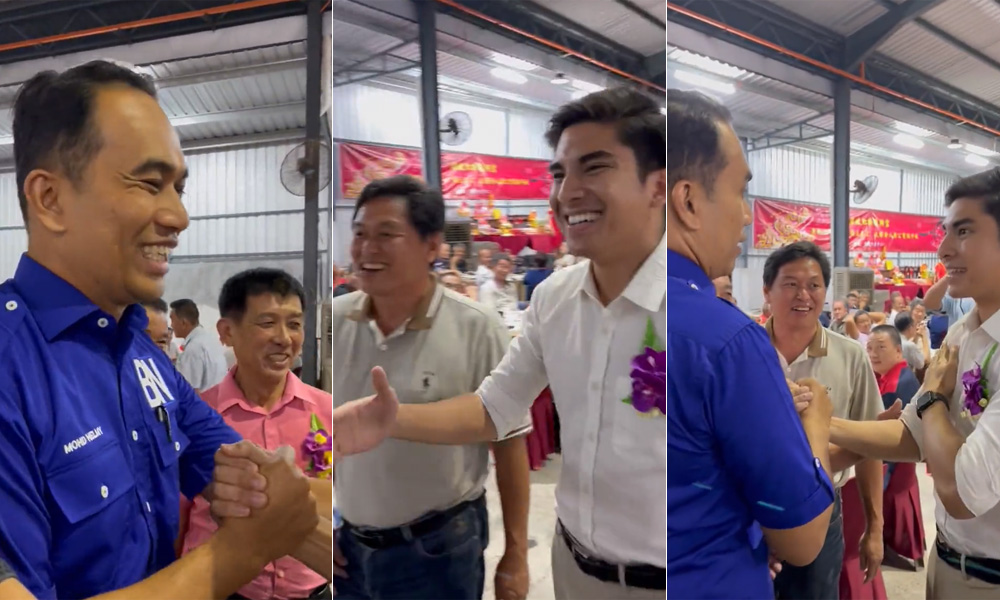 In an attached eight-second video clip, the two are seen greeting each other with wide smiles and a firm handshake.
They then exchanged some small talk as an emcee's voice is heard blaring from a loudspeaker in the background.
---
Vigneswaran vows to restore Sg Siput's 'golden age'
6.15pm: Sungai Siput, Perak - MIC president and Sungai Siput candidate SA Vigneswaran vows to restore the constituency's 'golden age' back when it was held by the party's representatives.
"The opposition has held this seat for three terms, yet we don't see any development. So, I want to 'reset' Sungai Siput," he tells Malaysiakini.
He faces a seven-cornered fight against the Pakatan Harapan incumbent S Kesavan, as well as rivals from Perikatan Nasional, Pejuang, and three independent candidates.
---
Ampang voters sing praises for incumbent Zuraida
6pm: Ampang, Selangor - A few constituents express their appreciation for Parti Bangsa Malaysia (PBM) Ampang candidate Zuraida Kamaruddin, saying she has contributed much to the area over her three terms here.
Despite having changed parties several times - from PKR to Bersatu and now to PBM - they are still thrilled to see Zuraida when she makes her campaign rounds near Spectrum Mall.
Mother of two S Megalah, shortly after meeting Zuraida outside the mall, says the politician has helped her husband when they were in need.
"The issue of party-hopping is just mere politics. What matters is that she has served and will continue to serve the rakyat," says the 44-year-old Ampang voter.
Another shares the same sentiment about Zuraida. A shoe polisher, who only wishes to be known as Eddy, says the incumbent MP has done a lot of good work in the constituency.
On the issue of her having switched parties a few times, the 55-year-old Ampang local shakes his head, reiterating he has known about her contributions here for a long time.
---
Muar BN candidate kicks off campaign at wedding
4.05pm - Muar, Johor: BN candidate for Muar parliamentary seat Helmy Abdul Latiff starts his campaigning on a high note, by attending a wedding.
Taking to Twitter, he says he feels relieved and energised after having a feast at the event, held at Umno's building.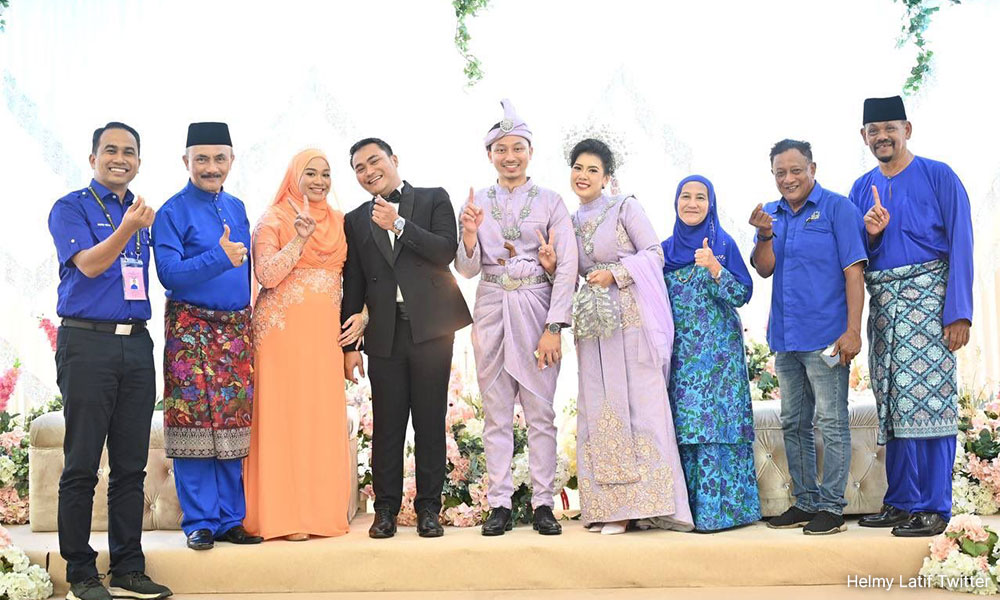 "I feel like a celebrity whenever someone asks me to take a photo (with them). InsyaAllah (God willing), I will take a picture with anyone who wants to."
---
Six nomination papers rejected
4pm: At a press conference today, Election Commission (EC) chairperson Abdul Ghani Salleh said a total of six nomination papers were rejected.
"This involves four parliamentary seats and two state seats," he said without divulging further information.
He, however, said the EC will release more detailed information on the rejected nomination papers later today.
"Batu records the highest number of candidates contested in (a single) parliamentary constituency with a 10-cornered fight. As for state seats, the highest number of candidates contesting is Chenderiang in Perak, with a seven-cornered fight," he said.
On another development, Ghani said the standard operating procedure for the election will be released later today.
No seats were left uncontested.
According to EC data, a total of 945 candidates are contesting in 222 parliamentary seats.
Of the 222 parliamentary seats, 206 candidates are from Pakatan Harapan, followed by BN (178), PN (149), Pejuang (116), Warisan (52), and GPS (31).
Some parties are using their own logo in some seats instead of the coalition they represent. Those include 22 candidates from PAS and eight from DAP.
Meanwhile, Parti Rakyat Malaysia is contesting 16 parliamentary seats, while PSM is contesting one. PBM will contest five federal seats in its electoral debut in GE15.
This election also saw the participation of 108 independent candidates.
---
Mat Sabu loses his cool after being provoked
2.20pm: Kemuning Utama, Selangor - A report says Amanah president and Kota Raja candidate Mohamad Sabu lost his cool during the nomination process this morning.
According to Berita Harian, Mohamad was seen arguing with BN supporters as he exited the nomination centre at Dewan MBSA Kemuning Utama after supposedly being provoked.
However, the argument did not result in a physical altercation and authorities intervened to bring Mohamad back inside the nomination centre.
---
MACC launches operations centres
2pm: The MACC launches operations centres nationwide to receive public complaints regarding graft and abuse of power throughout the campaign period.
These centres will operate 24 hours a day until Nov 19, and can be reached by phone (see below) or via email at [email protected]
---
PBM touts women agenda
1.20pm: Parti Bangsa Malaysia says five of its seven parliamentary and one of its two state assembly candidates are women.
Hailing it as a "historic" moment, PBM president-designate Zuraida Kamaruddin says this is in line with her party's agenda of women empowerment and contrasted it to supposed "tokenism" by other parties.
"PBM has gone over and above the 30 percent quota other political parties have set for women candidates. In PBM, we believe that women need to play a more dominant role in our male-dominated politics," she said.
---
1.15pm: Pandan Indah, Selangor - PKR deputy president and Pandan candidate Rafizi Ramli shares on Twitter he is busy frying banana fritters (pisang goreng) as he meets voters in front of the Midpoint shopping centre.
"Invite friends to come along en masse," he tweets.
There are two pictures attached to his tweet, depicting him putting on an apron at a makeshift stall under a red tent.
---
Umno threatens rogue members with sacking
1.05pm: If Umno finds some of its members to be candidates, proposers, and seconders for other parties, the party will automatically nullify their Umno membership under Article 20.11 of its constitution.
Its secretary-general Ahmad Maslan warns that the party is looking out for members supporting opposing candidates throughout the campaign period and will not hesitate to sack them.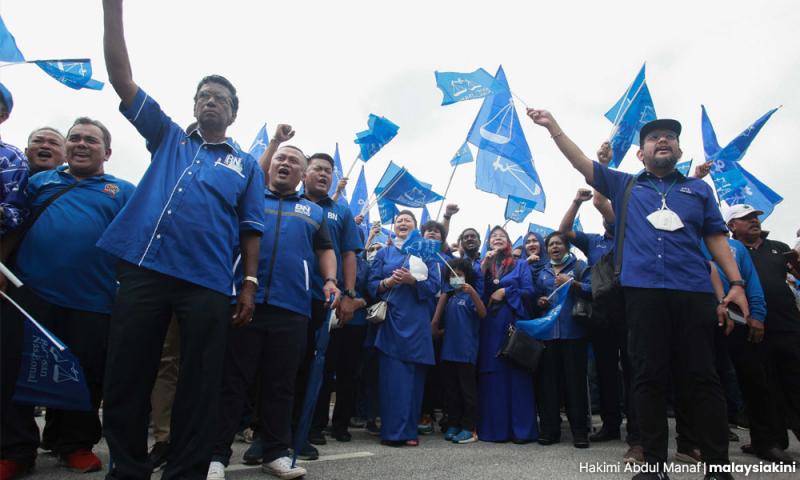 "Umno will not tolerate betrayal by its members," he says in a statement.
---
DAP's Ayer Hitam hopeful gunning for MCA
11.30am: After the nomination process, DAP's Ayer Hitam candidate Sheikh Umar Bagharib Ali told the media he is not only fighting incumbent MP Wee Ka Siong this time but against MCA as a whole since Wee is also the party's president.
The former Johor executive councillor admitted he is facing an uphill battle but still believes in the people's wisdom and said Malaysians would choose a better economy and better development.
Earlier today, Wee said this is his first time facing two "ustaz" as competitors - Sheikh Umar (Harapan) and Muhammad Syafiq Aziz (PN), in Ayer Hitam.
"This will be a test of whether I can get Malay support as a non-Malay candidate.
"Besides, I would need to garner support from the 37 percent Chinese voters here, otherwise I wouldn't secure the seat.
"To win in Ayer Hitam, you have to get multiracial support," added the four-term Ayer Hitam MP.