Sarawak Chief Minister Abdul Taib Mahmud has demanded malaysiakini to remove several articles concerning accusations of corruption allegedly linked to him and his family.
Taib, who has been the Sarawak leader for 26 years, said he would take legal action should malaysiakini refuses to do so in 48 hours.
In the letter which was hand-delivered late yesterday to the malaysiakini office in Kuala Lumpur's Bangsar Utama, Taib identified eight articles which he claimed were defamatory.
These articles - published between April 6 and 14 - alleged that Taib has been implicated in a scandal involving RM32 million in kickbacks paid by Japanese shipping companies for timber from the resource-rich state.
The eight articles cited by Taib were follow ups to the Japan Times news report on March 29 entitled ' Wood carriers allegedly hid 1.1 billion yen income '.
According to the report, the multi-million ringgit 'commission' - made over a period of seven years - was paid to a Hong Kong company said to be linked to Taib - who is the country's longest serving chief minister - and his family.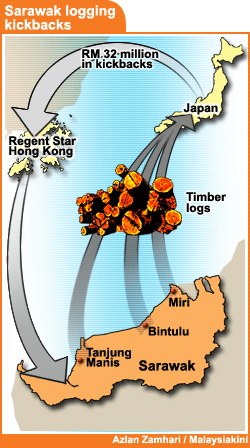 This was uncovered by Japanese tax authorities who deemed the payments made by the shipping companies as 'illegitimate expenses' since the Hong Kong agency, believed to be a paper company, did little 'substantive work' to justify the payments.
According to tax authorities, the shipping companies had tried to disguise the payments as 'business expenses' and were thus not taxed.
Japan Times reported that the shipping firms were likely to be slapped with well over 400 million yen (RM11.6 million) in back taxes along heavy penalties for 'hiding' the funds from tax authorities.
ACA report lodged
Following this, several members of parliament have urged the Anti-Corruption Agency (ACA) to investigate their colleague as Taib is also MP for Sarawak's Kota Samarahan, near Kuching.
"The words contained in the above articles clearly referred to our client and were highly defamatory of our client," read the letter from Shearn Delamore & Co, the legal firm representing Taib.
It stated that the published articles "amount to a very serious libel" against Taib and has caused him "considerable distress and embarrassment".
"These baseless allegations have lowered our client's reputation in the estimation of the public and exposed him to hatred, contempt and ridicule."
"All the allegations made against our client are false and your attack against our client is wholly unjustified," added the two-paged letter.
The letter demanded malaysiakini to do the following:
Stop from publishing defamatory words or similar words to that effect.
Immediately publish a full public retraction and apology according to terms approved by Taib.
Provide Taib with a written undertaking within 48 hours that the website will refrain from publishing defamatory words or similar words to that effect.
Nominate a substantial compensation sum within 48 hours for injury and damage to Taib's reputation.
Indemnify Taib of all costs incurred in this matter.
The letter also stressed that should malaysiakini fail to provide a satisfactory response to the demands, legal action will be taken.
Contacted this morning, a representative from Shearn Delamore said he was unable to reveal whether parties other than malaysiakini have been issued similar legal letters.
Malaysiakini: We'll fight
In an immediate response, malaysiakini editor-in-chief Steven Gan said the online news website intends to fight the law suit.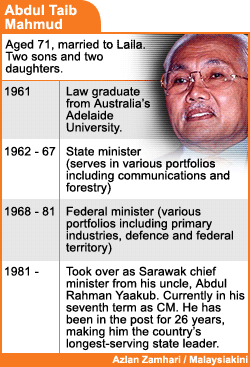 "Over the past seven years, we have published numerous reports on corruption. Malaysiakini is not in the business of apologising every time we report on such scandals. As journalists, we have a duty to report on such matters, which are of public interest," he added.
Prime Minister Abdullah Ahmad Badawi had last Thursday said that the ACA could investigate the allegations if a report is lodged.
However, Gan said ACA need not wait for a report to be filed to launch a probe on the matter.
"In any case, now that reports have been lodged , there's no excuse for ACA not to open an investigation on Taib," he added.
According to Gan, the law suit was aimed at muzzling malaysiakini .
"If by filing the law suit, Taib hopes to intimidate us, he is dead wrong. When we go to court, we have a long list of witnesses whom we plan to call - starting with the ACA and Japan's tax authorities," he said. "This could turn out to be the mother of all court battles."