Residents living around Bukit Gasing are up in arms that their requests for a public hearing on a proposed bungalow development project has been denied by Kuala Lumpur City Hall (DBKL).
They said this was not the understanding that was conveyed to them during the last meeting they had with DBKL planning officials on Nov 14, 2007.
According to the residents, DBKL officers led by its planning director Mahadi Che Ngah had in the meeting told them they would be given a public hearing to air their concerns on the safety and environmental aspects of the project.
Following a letter-writing exercise in which about 300 residents from Taman Petaling, Gasing Indah and Gasing Heights Condominiums petitioned for a public hearing, DBKL responded in a letter dated Dec 31, 2007 that such a hearing would be "against the rules and regulations".
This is because Planning (Development) Regulations 1970 of the Federal Territory (Planning) Act 1982 stipulate that public hearings are only to be held if the proposed development project involved changes in "population density" or "land use", said DBKL.
"Because the application submitted by Gasing Meridian Sdn Bhd does not involve additions to residents (population) density or land use changes, a public hearing cannot be held because it would be against the rules and regulations that presently exist," it added.
The land owner, Gasing Meridian Sdn Bhd, has applied to build 142 bungalows on the 15-hectare land.
Forty-nine percent of the said land, however, consists of slopes measuring 26-35 degrees or higher while 37 percent slopes between 16-25 degrees.
Fears of landslides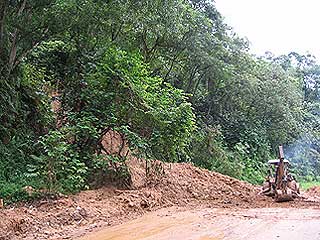 This as well as the fact that Bukit Gasing is highly susceptible to land erosion due to its soil composition have gotten residents worried that development on the hill would cause landslides.
They point out that over the last 15 years, at least 14 major landslides occurred in Peninsular Malaysia alone that led to the death of 68 persons.
One landslide occurred in March last year after renovation works were carried out on a Hindu temple on Bukit Gasing itself. On Jan 5 this year, another landslide followed near the same temple.
In a press conference held this morning in Petaling Jaya, Joint Action Committee (JAC) for Bukit Gasing member Gary Yeoh said these and other concerns could only be authoritatively and openly addressed by DBKL through a public hearing.
Both Gasing Meridian and DBKL have not entertained residents' requests for copies of the soil- and other tests that allegedly prove Bukit Gasing can be safely developed, said Yeoh.
As such, the public hearing was the only other way to obtain such information.
"Our only recourse was to have the public hearing. Now, they are rejecting it," said Yeoh.
Another JAC member Ashok Menon said DBKL was obligated to serve the interests and protect the welfare of residents and tenants by exercising complete transparency on the issues involved.
"Why all this secrecy? Local councils should be looking after us. Instead, they are working hand-in-glove with business interests," he said.
Also at the press conference was Edward Lee, who demanded that local politicians intending to run in the upcoming general elections make known their stand on development on Bukit Gasing.
"They have to say whether they support the people on this or not," said Lee.
JAC members also announced that a public meeting would be held this Saturday at the Gasing Indah Community Hall where residents within and around the area would be informed about the issues raised by the proposed Bukit Gasing development project.