Petaling Jaya Utara (PJU) parliamentarian Tony Pua has only held political office for a week, but he is already seeing the downside of being a VIP of sorts.
"Basically, I get calls from people who want to secure office in the local council. Some from the other side of the (political) fence have called and ask 'Are there vacancies, are you helping in the selection of councillors, can I give my resume to you?'
"Of course there are some genuine and concerned citizens who want to make a change so they've submitted their resume, but you can tell (that) some are just looking for favours," he related.
Hence, noted Pua, it is even more urgent for the state to amend the relevant regulations and laws to ensure that local council elections are held.
"This is important to take away the political patronage process. Such elections will ensure credible people are put in place of those who are there because of their connections," he said.
In an interview at his Petaling Jaya service centre, Pua said he has also heard from people who had declined to help him during the elections.
"I've been getting a lot of interesting calls from people whom I had asked for contributions to my election fund but didn't hear a sound from..but out of the blue, now they call me and offer their two cents worth on how we should run things," he said.
Aside from this, Pua has also been receiving bizarre requests and advice.
"One (person) came into my office asking if he could have a seat to contest in the next elections. He said he can win since DAP did so well (in the recent elections).
"Last week, I got a call (from someone) saying Barisan Nasional intends to make me a winner and that I must be loyal to (Prime Minister) Abdullah (Ahmad Badawi)," he laughed.
Focus on two issues
However, Pua also said he has received serious requests and complaints via email that are mainly about drains and street lamps.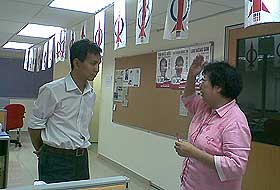 "Drains and street lamps as well as crime are high on the list. There are the urgent issues that I will deal with in my constituency with the help of my staff," he said.
Asked what issues he will raise when Parliament convenes, the Oxford-graduate said that he will focus on education and the economy.
"It is not that issues like human rights, religion and bad laws are not important, but there are plenty of experts on that. Education and the economy are still my speciality," he said.
Pua, who was wearing the party 'uniform' of white shirt and dark slacks, gulped a bottle of herbal chicken essence the moment he stepped into his office.
"Some donated money and some donated this. I've (received) fish essence and bird's nest as well," he explained with a smile.
In the 12th general election on March 8, Pua defeated BN's Chew Mei Fun with a majority of 19,972 votes in PJU .
Chew, the deputy head of the women's wing, had previously held the mixed urban seat for two consecutive terms.