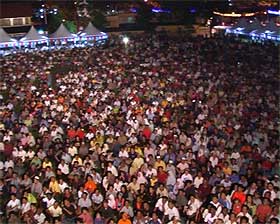 About 20,000 people attended a rally in central Kuala Lumpur tonight to mark the expiry of Anwar Ibrahim ban from public office, a decade after he was sacked as deputy prime minister.
The crowd defied a ban on the event which was held in Kampung Baru despite scores of riot police were deployed in the futile attempt to stop the illegal gathering.
Malaysiakini has the reports, videos and photos of the event.
20,000 defy police to celebrate Anwar's ban expiry
Kampung Baru hails 'Ketuanan Rakyat'
Anwar: We have numbers to topple gov't
On eve of political liberation, Anwar is in a forgiving mood
VIDEOS
Watch 6-min video of the rally
Watch 2-min video of press conference
PHOTOS
THE DAY AFTER
PKR leaders get early morning police visits
Police: They said Black 14 was a dinner event
MB gives statement in his office, others off to S'gor IPK
Police: Anwar 'may be' called in
COMMENT