High Court judge Ian Chin, who two weeks ago make stunning allegations that he was threatened by former premier Dr Mahathir Mohamad for a number decisions in high-profile cases, has yesterday slammed a fellow judge for questioning his integrity.
Chin said his integrity was "publicly impugned" in a June 11 report New Straits Times which quoted an unnamed "serving judge".
The judge had told NST that "Chin took the opportunity to speak from the bench because he thought Dr Mahathir was responsible for blocking his promotion".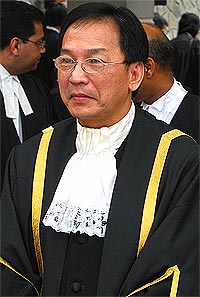 Chin yesterday provided a lengthy rebuttal against the unnamed judge, stressing that he did not harbour any intention of being promoted.
"The only time there were vacancies in the Court of Appeal was in 2002 in so far I may be considered to be qualified to be considered for promotion. Was I interested? Did Dr Mahathir block my promotion?" he asked rhetorically.
Chin then revealed that he had told his superiors that his preference was to be posted back in his home state of Sabah because of his wife and children.
"It was already decided by my wife even before (Chief judge of Sabah and Sarawak) Chong Siew Fai retired that we should be going home to Kota Kinabalu and not (go) to Kuala Lumpur to take up any appointment if it should come my way," said Chin, who was at that time serving as a High Court judge in Kuching.
Chin releases two confidential letters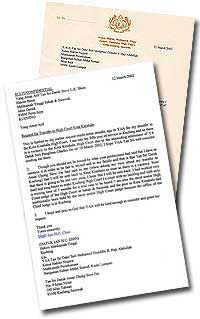 Chin appended a confidential letter dated March 12, 2002 which he wrote to Chong's successor, Steve LK Shim, where he stated his intention to take over the soon-to-be vacant post in Kota Kinabalu High Court [ see letter ].
He said a week later then chief justice Mohamed Dzaiddin Abdullah informed him he would be going back to Kota Kinabalu.
"I immediately called my wife in Kuching to tell her of the good news and that must be her happiest moment in her life for a long, long time."
Chin also appended a March 22 letter which he wrote to Dzaiddin to "put on record" that he did not "wish to be considered for appointment to the Court of Appeal" [ see letter ].
"So, there you have indisputable evidence that I did not want promotion and instead acceded to my wife's wish to go home to Kota Kinabalu. How can there, then, be any truth in my entertaining the idea that Dr Mahathir had blocked my promotion and that I had on account of that acted out of spite in making the disclosure."
Chin made the remarks yesterday at a hearing of the election petition filed by DAP candidate Wong Hua She, who wanted the court to declare the result of the Sarikei parliamentary contest on March 8 'null and void'.
BN candidate Ding Kuong Hing had won the seat with a slim majority of 51 votes in the election three months ago.
The hearing will resume on July 7 where lawyers from both parties of the election petition are to inform Chin on whether they have confidence in him to continue hearing the case given the attacks on his integrity and his subsequent rebuttal .
Judge tells Dr M: I'm always behind you
At the beginning of the court hearing yesterday, Chin said in a rather dramatic fashion that he had earlier emailed copies of his 16-page statement to lawyers of both parties.
According to Chin, the reason for this precaution was "in case I meet with an accidental death and both counsel had agreed that in the event of that happening, the statement I had sent them would be regarded as having been pronounced in court".
Chin said in his statement that he knows the identity of the judge who had "vilify" him and the reason why this individual was willing do it on behalf of Mahathir.
"I can think of one reason and I can think of one judge (who is still serving) who will do that," he said.
"This takes me back to 1996 or some other year, where Dr Mahathir had another group picture taken with the judges. To my disgust, this judge quickly planted himself behind the chair where Dr Mahathir was to sit and when Dr Mahathir was about to be seated, this judge declared: 'Sir, I am always behind you.'
"It was disgusting even as a joke as it reduced the dignity of the office of a judge since the statement panders for endearment to Dr Mahathir. Since then I have always pondered whether this judge really meant what that statement would ordinarily convey, which is that he will forever support Dr Mahathir and to mean also, since it was made by a judge, he will decide what he thinks what Dr Mahathir would like the verdict to be, and worse still, when told to."
In his statement, Chin also ticked off Mahathir, labelling him as a 'devil incarnate' for "what he had done and for what he is trying to do".
Related report
Judge hits back at 'devil incarnate' Mahathir
Full transcript of Chin's statement - from page 90 (PDF file)
You may need a special software to read the PDF file. If you don't have one installed, you can obtain the following free softwares from the Internet: