Malaysiakini is the most visited news website in the country, according to top traffic ranking service Alexa.com.
Alexa ranks Malaysiakini No 15 among the nation's most popular sites. This is the first time that the independent online news portal has overtaken The Star online in the ranking.
All but two in Malaysia's top 15 are international websites such as Yahoo (1), Google (2), Friendster (3), YouTube (4) and Blogger (5). [See top 100 list]
The only other Malaysian-based website apart from Malaysiakini to feature in the top 15 is online banking portal Maybank2u.com.my at No 13.
Other news websites to make it into the top 50 are The Star (16), Utusan Malaysia (18), Berita Harian (30), Malaysia Today (31), Harian Metro (34) and Harakah Daily (36).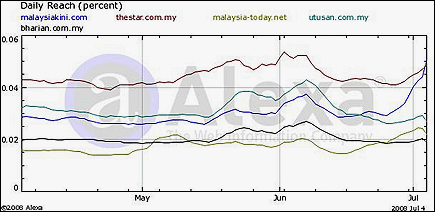 Interestingly, former prime minister Dr Mahathir Mohamad's blog Chedet.com comes in at No 60.
At the same time, Malaysiakini's Bahasa section comes in second after Utusan Malaysia in the Malay-language category, while the Chinese section is also No 2 behind Sin Chew Daily .
Alexa computes traffic rankings by analysing the web usage of millions of Alexa Toolbar users and information obtained from other traffic data sources.
"The information is sorted, sifted, anonymized, counted, and computed, until, finally, we get the traffic rankings shown in the Alexa service," said Alexa on its website .
However, Alexa is not the definite barometer in measuring the popularity of websites and its methodology has been disputed by some in the industry.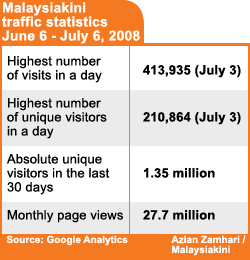 Malaysiakini's traffic has grown phenomenally since the March 8 general election. In that month, the website was accessed by 2,134,301 absolute unique visitors.
Since March, Malaysiakini reaches over one million unique visitors per month, generating an average or 20 million monthly pageviews.
"Even though Malaysiakini is a subscription website, we're able to get more traffic than free websites. This is a truly remarkable achievement," said chief executive officer Premesh Chandran.
He said that Malaysiakini will be looking at providing content beyond current affairs news.
The media organisation has launched youth portal Voize.my on July 1 and a few other content sites are in the works.
At last, official press tags
Meanwhile, Malaysiakini received its first batch of 10 official press accreditation badges yesterday.
This is the first time that the Internet media have been issued the official press tags by the Information Ministry.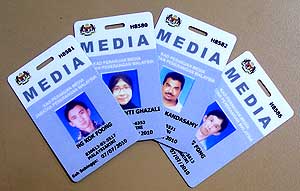 "I met Information Minister Shabery Cheek last month and pressed Malaysiakini's case for the tags. He said the ministry would consider our application favourably," said editor-in-chief Steven Gan.
"We've been waiting for the tags for almost nine years. Late is better than never. The passes will certainly help make our job easier."
Since Malaysiakini was launched in 1999, journalists for the independent online news portal have often been barred from press conferences organised by government leaders and the police.
Moreover, Malaysiakini had to obtain special permission from Minister in Prime Minister's Department Mohamed Nazri Abdul Aziz to cover Parliament over the past few years.
According to New Straits Times , Information Ministry's secretary-general Kamaruddin Siaraf has approved 10 news portals to be given official recognition and more will be added on the list.
Apart from Malaysiakini , other news portals eligible for the press tags include Agenda Daily and Malaysian Insider.
However, the government's recognition of online journalists will not include bloggers.