Anwar Ibrahim's lawyer has said it again - give us the police report made by the PKR de facto leader's 23-year-old former aide Saiful Bukhari Azlan without "any further waffling or prevarication".
R Sivarasa, who is also PKR vice-president, has told deputy inspector-general of police Ismail Omar to go check his law books when he told the Star yesterday that the police report lodged by Saiful will be provided "if and when" Anwar has been charged in court.
Ismail said the police were acting within the law by not giving Anwar a copy of the police report.
"Whatever we do is strictly in accordance with the law. Section 51A of the Criminal Procedure Code (CPC) clearly stipulates that," he told the Star.
However, Sivarasa said section 51A does not apply to Anwar's case as it referred to the handing over documents when a person has already been charged.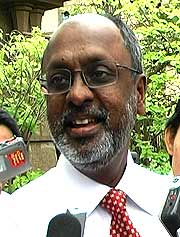 "Section 51A of the CPC as referred to by the deputy IGP is totally not applicable at this stage. The deputy IGP should go back to his basic legal books. Section 51A is only applicable if a person has been charged in court and the documents to be delivered before the commencement of a trial."
Sivarasa said it was "elementary natural justice" that an accused "should have sight of the accusation, before being called upon to explain anything".
"How can anyone called in to give a police statement in relation to a criminal investigation know what exactly the police are investigating and be obliged to answer questions without having a copy or even sight of the initial documents that sparks off the relevant criminal investigation?
"How is a person under a police questioning to know whether the answer he is giving will incriminate him unless he first knows exactly what offence he is being accused of or the police are investigating?"
Anwar kept in the dark
Sivarasa reminded the deputy police chief that the First Information Report - a complaint lodged with the police by an alleged victim of a crime - is a public document and should be made available to all persons affected by the report.
"To continue to expect the target of a criminal investigation to answer questions, supply information, and provide evidence in total ignorance of the circumstances of the offence alleged against him, is eerily reminiscent of an episode where a prisoner was blindfolded and handcuffed, and therefore totally unable to defend himself in any way and was then viciously attacked by the police themselves."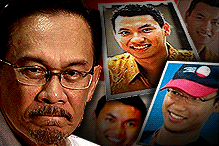 Anwar and his lawyers have complained that they are kept in the dark of the details in the police report made by Saiful, which raises fears that the police report could be amended depending on the opposition leader's answers.
"Is it so that they can keep amending and amending and amending it to fit in with the statement that I have just given to them?" asked Anwar last week.
"If they give the report to me now, how am I supposed to know that it is the original? Are they waiting to make up the 'perfect' police report?"
When he asked the police about it again after he was arrested on Wednesday, they said they had been instructed against giving him the report.
Anwar had then demanded to know, without much success, on who gave such an instruction.
Sivarasa said that Anwar had legitimate fears that the police report could be changed time and again as Saiful is currently being held under police protection.
In addition, the charges against Anwar on similar accusations 10 years ago were changed after it was revealed the alleged crime could not have taken place at the stated apartment as it was not even completed yet.