PKR plans to take action against its member of parliament for Kulim-Bandar Baharu over the latter's role in the disruption of the Bar Council's forum on conversions to Islam held on Aug 9.
Party deputy president Dr Syed Husin Ali said the initial mystery over Zulkifli's whereabouts and by-election exigencies have "unavoidably contributed" to the delay in PKR's action against its errant MP.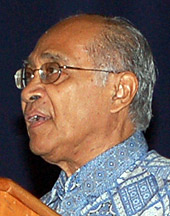 Syed Husin was responding to criticism by Khairy Jamaluddin, the Umno Youth deputy leader and MP for Rembau, that PKR's apparent inaction over Zulkifly's conduct and the latter's continued fulminations against the Bar Council boded ill for ideological coherence and constitutive cohesion of Pakatan Rakyat - the opposition coalition that groups PKR, DAP and PAS.
"Firstly, Zulkifli's conduct is not an issue that involves Pakatan so much as PKR," explained the PKR leader who heads the party's disciplinary board.
Syed Husin reminded that PKR's first response to the controversy was to denounce the conduct of those who used abusive language and generally behaved in ways repugnant to democratic norms.
"After that, we tried to get in touch with Zulkifli but he remained incommunicado," said Syed Husin.
"Then preparations for the Permatang Pauh by-election supervened and urgency on the matter receded but it was not shelved," he emphasised.
Syed Husin declined to be drawn on what transpired between PKR vice-president Azmin Ali, who met with Zulkifli when Parliament opened on Monday.
The Kulim-Bandar Baharu MP, returning to public view after one week where he was incommunicado, had reportedly explained his actions and his disappearance to Azmin ( photo, left ). According to Azmin, he had accepted Zulkifli's explanations.
"As far as the party's disciplinary process is concerned, the matter is in abeyance rather than resolved," said Syed Husin. "We will take up the issue in due course."
The difference between Pakatan and BN
On the matter of Zulkifli's continued criticism against the Bar Council, Syed Husin said: "You must remember the hierarchy in PKR, leave alone Pakatan, does not wield a single set of vocal chords, with the rest of the party in the role of chorus boys.
"There is a healthy diversity of viewpoints but on matters of grave public interest and with respect to the public deportment of party members and leaders, there must be uniformity and decorum. Otherwise you are not a political party but a cacophony. That we are not."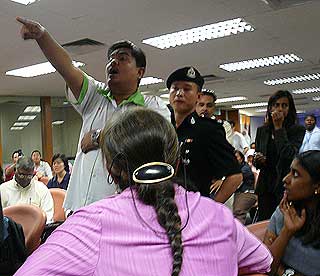 Syed Husin said Khairy Jamaluddin's criticisms were a diversionary tactic to hide the growing factionalism in Barisan Nasional, a coalition held together by "Umno's hegemony rather than the willing adherence of its components".
"The components adhere by dint of the hegemon's coercive authority, not by willing subscription to its ideology or platform.
"By contrast, Pakatan's cohesion is the fruit of broad concord among its constituents on the need for change to Malaysian political culture."
Syed Husin admitted that within that concord there were crochets and quavers, "but these cannot obscure the broad harmony on overarching themes and aims."
He concluded: "Suffice nobody is allowed to wield a single set of vocal chords. But discipline and decorum on matters of national import are not scanted. And those in flagrant violation of this norm have got to account for their conduct."
Related report