Why bother reviewing the need for the Internal Security Act (ISA) when it should be abolished and dumped out with the trash?
Offering this view, Penang Chief Minister Lim Guan Eng also said this would be the ideal way to end to the country's ugly chapter on the use of the dreaded law.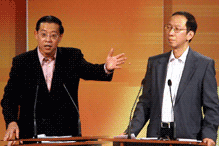 Lim (left in photo) , who is also DAP secretary-general, blasted the recent call by Gerakan acting president Koh Tsu Koon (right in photo) to set up a parliamentary select committee to review the ISA, which allows for detention without trial.
This would be meaningless, a waste of time and against the public interest, he said, noting that the ISA is historical baggage that has become an obstacle to nation building.
"It's a draconian law that has caused (many problems for) the country's growth into a liberal, progressive and dynamic nation," he said, pointing out that use of the ISA has also been a hindrance to foreign investments and business expansion.
He told journalists in George Town that Gerakan's proposal for a review - on whether the law should be repealed, amended or retained - only amounted to passing the buck.
"It's a waste of time (to review it) when virtually all Malaysians want to do away with it," said Lim, who was himself detained under the ISA for 18 months during the infamous Operasi Lallang police sweep in 1987.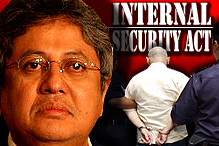 Questioning their sincerity in tackling the issue, Lim challenged leaders of Gerakan and MCA to emulate Umno stalwart Zaid Ibrahim (left) who had resigned as a cabinet minister because of recent use of the law.
The detention of DAP parliamentarian Teresa Kok, 43, journalist Tan Hoon Cheng, 33, and prominent blogger Raja Petra Kamarudin, 58, as reignited calls for abolition of the law. The two women have since been released.
Stronger legal clout
On another matter, the chief minister said the Penang government will tighten current laws to strengthen the public accounts committee (PAC) a la the Westminster model. This is to curb financial mismanagement and malpractices.
"Under the British Westminster model, the PAC is very powerful. We plan to copy the concept to vest more power and authority in the PAC to conduct independent investigations into alleged mismanagement of state funds by public officials," said Lim.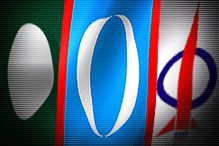 He was asked to comment on a similar move by the Selangor government which, like Penang, is helmed by the opposition Pakatan Rakyat coalition.
Lim said the state legal adviser is studying the plan and will come up with recommendations soon on the amendments required.
When these take effect, the PAC will have powers to compel witnesses to testify on allegations of abuse and misuse of power, as well as financial irregularities.
The changes are being introduced in line with state policy that emphasises competency, accountability and transparency.