Want to keep up with the latest news and views that matter on the go? Then download Mobilekini onto your mobile phone for quick and easy access to Malaysiakini.
Mobilekini is a Java-powered application which is used to read Malaysiakini news, letters and opinions in four languages - Bahasa Malaysia, English, Chinese and Tamil.

"We are very excited to offer Malaysiakini.com to mobile phone users. We believe that we are the first in Malaysia, and possibly first in the region to offer a quad-language mobile application which brings the full Internet experience to the mobile phones," said Malaysiakini CEO Premesh Chandran.
Mobilekini will work on most mobile phones that are Java-enabled and can be downloaded by sending a sms with the words "mk" to 32577.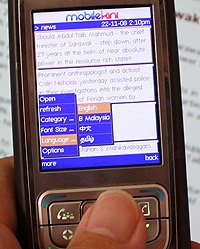 Existing Malaysiakini subscribers will be able to read all the contents while non-subscribers will be offered a 30-day free trial.
After the 30-day period, users yet to subscribe will be restricted to only summaries of selected items.
Mobilekini also enables users to send Malaysiakini news summaries easily to their friends and relatives.
"In the near future, more exciting features would be implemented into Mobilekini such as posting comments on news stories, voting in surveys and more," added Premesh.
Visit launch
Advertisers will also be pleased to know that Mobilekini supports high-level targeted advertising, which will help advertisers reach specific demographics or viewers at specific locations.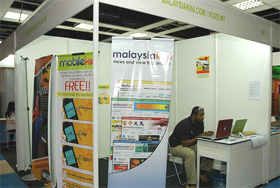 Mobilekini was developed by Murasu Communications Sdn Bhd, winner of Malaysia's National ICT Excellence Award in 2005.
"We are happy to work with Malaysiakini on this technology. It's a sure winner in terms of language management, functionality and speed," says founder and Chief Technology Architect Muthu Nedumaran.
"Internet on the mobile is exploding. Working with Murasu Communications, we plan to be well ahead on the curve in the mobile space, as we have been in the Internet space," said Premesh.
Mobilekini was launched this afternoon at Go Mobile Expo held at PWTC in booth 164.