A furious Ungku Farid Ungku Abdul, 54, did not hesitate in identifying the cause - and culprits - of last Saturday's landslide in Bukit Antarabangsa.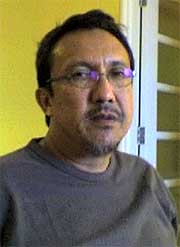 "We are victims of the corruption in Malaysia," alleged Farid (left) , a businessman, whose house was one of the 14 destroyed in the incident.
The family's Indonesian helper, 33-year old Suaenah of Tegal, Java, was one of four people who died that day. The family of five has taken shelter at the De Palma hotel in Kuala Lumpur since the morning of Dec 6.
Farid's son Ungku Faris, who has been doing his PhD studies in the US, rushed home as soon as he learnt of his family's predicament.
Faris said that the incident has confirmed his view that, when politics and business mix, the results can only be disastrous.
"The developers go all out with their 'predatory' marketing to sell their projects. This must have been with the approval of state authorities," he said.
"And if the state authorities had approved these hillside projects, they must have known the consequences of such development.
"So why didn't they tell us the risks? You cannot expect home buyers to hire engineering experts to ensure that their houses are safe! We need them to tell us!"
While bitter about these and other unanswered questions, Farid said he is now considerably more rational - and politically inclined - compared to before the landslide.
Unlike other residents who have signaled intent to sue the authorities, Farid said he can only afford to raise his questions and demands before the public. However, he also said it is within his capacity to try and prevent similar incidents.
Among his first steps will be to ensure that politicians - like those who approved the development projects in Bukit Antarabangsa - are not placed in decision making positions.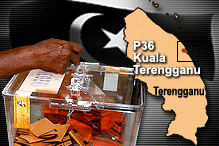 Asked what this means in concrete terms, Farid said he would start by campaigning against Umno in the upcoming Kuala Terengganu by-election by telling voters the dangers of keeping the party in power.
"The occurrence has been grievous to all of us, but there's nothing more I can do to get our life back as it was before the landslide," he said.
"We fell victim to the incestuous relationship of our politicians and businessmen. This is not a 'natural' disaster as they claim, because it was human failings that caused it. The least I can do is ensure that (other) Malaysians do not suffer as we have."
'Common sense suspended'
Farid, who bought his house 16 years ago, claimed that he had found out too late about 'irregularities' in the development projects in Bukit Antarabangsa.
State forestry officials had allegedly told him a few days ago that his house (left) stands on de-gazetted forest reserve, and that whole of what is now Bukit Antarabangsa was once a water catchment area.
He also referred to the difficulties faced by more than 1,500 residents after the landslide. They could not leave their homes, as the sole access road to their houses and apartments was blocked.
"Why was there only one access road in the first place? How could the local authorities approve development projects with only one access road?
"Why are they talking about access roads and bridges only now? Is it because access roads and bridges would have cost the developers money, so they put off building these?"
Farid further questioned if environmental impact assessment studies had been carried out, given that several different projects have been, and are still being carried out, in Bukit Antarabangsa,
"Why are they going about these projects in bits and pieces? Did they or didn't they have an overall plan for the whole area?"
"From this incident, we have found that common sense had been in suspension, the role of greed was prominent, and there was a complete lack of ethics on the part of business interests and politicians. Where were the regulators in all of this?"