Penang may see a different Chief Minister Lim Guan Eng come 2009.
The Pakatan Rakyat leader aims to control his sharp tongue and inject more diplomacy into his dealings with the federal government.
"I do not want to start the new year by criticising anyone, especially the federal government," he told journalists at his final press conference for 2008 in his office in Georgetown today.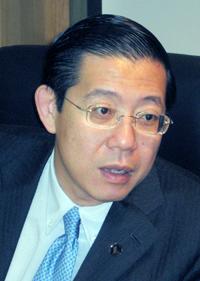 Lim expressed hopes that he would be able to refrain from lashing out at his political adversaries, and adopt a more tactful approach in tackling political and administrative issues in the new year.
Since assuming power after the March 8 general election, Lim has several run-ins with the federal government, notably on Putrajaya's lukewarm attitude in providing financial assistance to the opposition-held state.
The chief minister also expressed hopes for a change of in his management style - from being abrasive and hard-hitting to being milder and more composed.
Confident of hitting RM10 bil investment target
Meanwhile, in his statement to welcome the new year, Lim said he was "a little" confident in meeting the RM10 billion investment target this year, having already secured RM9.5 billion in both domestic and foreign investments between January and October.
However, he is more pessimistic about the future, pointing out that the current global economic downturn would dampen Penang hopes to increase investments in the state.
"I don't think next year would see high investment flow into Penang," said Lim.
Because of this, his Pakatan government has embarked on a plan to introduce new tourism products and events to boost the tourism industry in order to off set the expected decrease in investments in other sectors.
"The tourism sector would play a crucial role in Penang's growth in coming years in creating new business and employment opportunities," he said.
The service sector contributed 57 percent of the state gross domestic product (GDP) while the manufacturing sector made up 40 percent in 2007.
On manufacturing, the second biggest contributor to the state economy, he said Penang would focus on increasing investments on high technology, bio-technology and halal hub industries.
He said the state government and Penangites should procure the necessary knowledge, information and facilities to be ready to capitalise on the post-crisis upturn.
Met with Unesco on heritage status
On Georgetown heritage status, Lim said he had met one of the two Unesco representatives who visited the city last week to get first-hand information on the four controversial high-rise hotel projects in the heritage zones.
Declining to reveal on what had transpired between the state government and the Unesco delegation, Lim nonetheless hinted that the world body may make some recommendations to his government regarding the projects.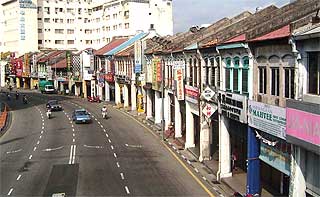 However, Lim declined further comment on his meeting, citing a press embargo by Unesco on the issue.
The four hotels, all of which have been approved by the state government, would be too tall under Unesco's rules for world heritage listing.
Lim had earlier said his government was in a bind as the state could not afford to face legal action over cancelling the buildings which exceed Unesco's 15-metre maximum height limit.
He said three of the buildings were approved by the previous state government, and the fourth was approved before heritage status was granted in July.
The chief minister also said he was happy with the way his nine-month-old government had carried out its duties, but conceded that both executive councillors and assemblypersons would have to do more to meet the expectations of the people.
"We must set ourselves in the right direction to achieve this," he said, wishing all Malaysians a Happy New Year.