Since elections are round the corner, this is the best time to pen a few suggestions to aspiring politicians regarding Penang. Overall, from 1970 until 2007, the Gerakan-led Penang government has presided over a remarkable economic transformation.
In 1970, Penang's unemployment rate was a staggering 15 percent (including under-employment). Its traditional economy dependent on trade had been adversely affected by the Indonesian Confrontation as well as the shifting of economic and administrative development to the Klang Valley. Penang also lost its free port status in 1969.
Then chief minister, the late Wong Pow Nee, was struggling to find solutions. A man of good intentions but of rather humble intellectual abilities, he was unable to find innovative policies to uplift the state's economy.
This economic decline combined with a host of national issues saw the Alliance (comprising Umno, MCA and MIC) losing the state to Gerakan. Under the leadership of Dr Lim Chong Eu, a Penang Master Plan was implemented.
The plan was simple. Penang's solution lay outside the state, growth would come from foreign direct investment (FDI). Manufacturing and tourism would be the twin propellers of development.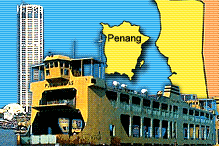 Lim actively courted western firms to set up electronics and textile companies in Penang. He also presided over the transformation of Batu Feringghi into a tourism belt. Infrastructure was also important and he worked hard toward achieving the goal of building the Penang Bridge. To revitalise Georgetown, he cleared away pre-war houses to build Komtar, which became Southeast Asia's tallest building.
All this was done with the New Economic Policy as a guideline. Malay participation in the Penang economy grew exponentially. Malay poverty was a high of 51.4 percent in 1977 but by 1990, it had dropped to 14.7 percent. This was achieved despite an increase of 148,000 in the Malay population (from 258,000 in 1970 to 406,000 in 1990).
The overall poverty rate decreased from 32.3 percent to 8.9 percent in the same time period. Similarly unemployment rate was reduced from 15 percent in 1970 to 4.9 percent in 1990.
This translated into a better quality of life for Penangites. Hawkers whose children made it to university became less of a rarity. There was perceptible social mobility. If we take into account the number of Penangites who have migrated to Kuala Lumpur and achieved success there, the achievement of Penang would be tremendous.
The downside to the heady development was pollution, traffic congestion, the high cost of housing and a persistent incidence of hardcore poverty.
Diversified economy
Under Dr Koh Tsu Koon, Penang developed at an even more rapid pace. The challenges he faced were more complicated. Penang was already functioning on auto-pilot.
Manufacturing and tourism had created an economic momentum of its own, but the state had become too reliant on FDI, technology transfer was not happening rapidly enough and income disparities was emerging.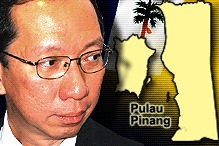 Koh decided to re-invent Penang. SMEs were given incentives to plug into intra-sectoral needs. Over time, these SMEs have turned into homegrown multinational companies themselves. Design, research and development, high-tech manufacturing and value-added logistics helped the state move into the 'knowledge' economy.
By 2005, the diversified manufacturing sector was worth close to RM11.6 billion (1987 prices) constituting 47.7 percent of GDP. More importantly, the services sector had improved to new levels amounting to 48.3 percent of GDP. At the end of the Koh years, Penang's economy is sufficiently diversified but also more integrated into the global economy.
But infrastructural problems have become chronic, the public transport system has broken down as Malaysians became car-obsessed. Georgetown emptied itself as the Rent Control Act was lifted. Some parts of the inner-city is now under-going a gentrification process as wealthy expatriates and Penangites return to buy up and renovate entire heritage enclaves.
Other bits are falling apart. Quality of life is certainly not improving in the suburbs. Traffic jams are now an every day occurrence. Cycling in the city is almost non-existent. These are obvious problems that trouble Penangites. Lately, civil society groups have been left dissatisfied especially with KL-based developers who care more for profits than the environment or traffic woes.
At each phase, Penang's leadership has been able to manage this extremely complex and dynamic state. That Gerakan has achieved all this development while maintaining an equitable society has been noticed by Penangites. Over the last three elections, Gerakan has been returned to power with a larger share of the popular vote.
But the gap between the wealthy and the middle-class is widening. Gated communities, a KL disease, is slowly creeping into Penang. There is a genuine fear that Penang will become another version of KL, racially-divided with class distinctions to boot. The food in Penang is also beginning to taste like KL-style generic fast-food to be eaten on the go!
Ineffective mantra
Since Gerakan is calling for another 're-invention', it might be profitable to recognise that Penangites have developed beyond middle-class aspirations. The mantra of development is no longer working as effectively as before. In fact, there is little space left for development. The people want to see more efficient governance. Public safety, good public infrastructure and an accountable government is what will win votes.
Penangites also want to be impressed by their leader. They have become very used to the intellectual level of Lim and Koh.
Gerakan has been in power in Penang for some 39 years, so there are few Penangites who know of any other chief minister. The next one will have big shoes to fill. He will have to start the job running and will be compared all the way with his predecessors.
Today, the rise of China, India and Vietnam poses new challenges. Many falsely believe that China is Penang's new salvation. Trade with China is mostly in raw materials. Our palm oil is particularly sought after.
In 2005, Penang's agricultural sector accounted for only 1 percent of the state's GDP. It is also important to recognise that manufacturing spread wealth to large numbers of people while China-bound exports profit mostly plantation owners and their largely foreign workers.
In order to truly re-invent, Gerakan needs to address critical issues like the education system by upgrading universities; importing foreign talent to generate intellectual competition; implementing true meritocracy at all levels of government and industry.
It also needs to dismantle the BN's race-based policies. If Indian Malaysians voters can be reassured that race will no longer be a criteria for economic and educational assistance, then they might consider voting for Gerakan.
It is still not too late for the party to re-invent its manifesto. It needs to take bold steps to survive in this general election. Only then will the next Gerakan CM have a chance to take Penang to the next level economically, politically and socially.
---
DR NEIL KHOR (PhD Cantab) is a social historian of Penang and a concerned citizen. He obtained data for this article from the Penang Strategic Development Plan (1991-2000) and 2nd Penang Strategic Development Plan (2001-2010), both prepared by the Penang State Economic Planning Unit.