Many of us take laughter for granted. When a person laughs, it's a sign that he or she is happy.
Medical studies indicate that laughter boosts levels of endorphins, the body's natural painkillers, and suppresses levels of epinephrine, the stress hormone. Norman Cousins, whose book Anatomy of an Illness tells how watching comedic movies helped him recover from an illness that was predicted to be fatal, is generally credited with starting the scientific study of the effect of humour on physical wellness some 20 years ago.
Laughter may or may not activate the endorphins or enhance respiration, as some medical researchers contend. What seems clear, however, is that laughter is an antidote to apprehension and panic.
- Norman Cousins
Science may consider this a new field, but spiritual teachers, some physicians and most comedians have known for centuries that laughing can take some of the power away from a disease.
According to Dr Suresh Govind, a professor at the Faculty of Medicine in Universiti Malaya, it's healthy for adults to adopt the innocent laughter of babies. For one plain, simple reason - it's healthy to laugh.

"Babies laugh 300 times a day but as they grow older, their laughter becomes less. When they become adults, their laughter is reduced to only 15 times a day."
"But I believe that we should learn to laugh more often than that," he told a forum in Petaling Jaya last week.
Enjoy what you do
Suresh was speaking on 'The secrets of happiness and spirituality in our daily lives' at the forum organised by the Guru Dharma Society at Taman Kanagapuram in Petaling Jaya. He is also deputy president of Sathya Sai Central Council of Malaysia.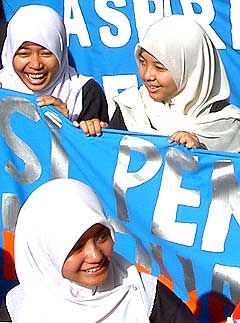 "If adults cannot concentrate on carrying out a particular task, this means that their minds are thinking of other things while carrying out the task, hence they will not enjoy what they are doing."
Suresh pointed out that it is important to carry out a task with 100 percent concentration because by practising this, an individual will not only enjoy but is also happy about carrying out the task.
"When one is feeling down while carrying out a task, it's good to think of something funny and have a laugh. Colleagues can be a great help here by brightening up the days of their moody co-workers by creating an atmosphere of laughter," he said.
Suresh also stressed that for people to achieve true happiness, it is essential for them to develop their inner self-spiritual happiness.
True happiness, he said, comes from their heart.
"We must also learn to be grateful and satisfied with what we have. Whenever we start to feel lacking in our materialistic needs, think of those more unfortunate than us," he advised.
"The ultimate happiness is to always have a natural state of mind where you're satisfied of what you earn and what you have."
He stressed that when an individual is in a natural state of mind, everything encountered and experienced will be seen as pleasant and he or she will rejoice in the experience.
The big ego
Suresh also pointed out the importance to drop one's egoism because without being overly egoistic, people will not tend to judge or evaluate.
"When you start comparing and making judgements, it becomes difficult to be satisfied and feel happiness.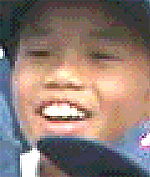 "It is important to always see yourself as a witness where you are there to experience and not to judge, only then can you rejoice in the bliss and you will feel good and happy," he told the audience of some 80 people.
Suresh also discussed 'conditioned happiness' - a phrase linking materialistic factors to the kind of happiness which he said will not be permanent.
He said that those who enjoy 'conditioned happiness' will get depressed easily when materialistic needs no longer abound.
Ultimately, he emphasised, to attain 'real' happiness in life, an individual should not have any hatred, must be friendly, compassionate and forgiving and free from any attachment to egoism.
Meanwhile, Lekha Murali, assistant secretary of Guru Dharma Society told Rentakini that the society hoped to organise more of such talks about happiness and spirituality.
"These subjects are healthy and important in this rather stressful world we live in," she added.
Guru Dharma Society was established 32 years ago and has been involved in welfare and spiritual work in the Klang Valley, such as helping children from poor families and old folks' home as well as providing medical services to he needy.
---
WONG YEEN FERN is a member of the
malaysiakini
team. She can be contacted at
[email protected]