SARAWAK'S youngest assistant minister Larry Sng Wei Shien, 27, tied the nuptial knots today.
A London School of Economics (LSE) graduate and son of businessman-politician Sng Chee Hua, Sng Junior married May Ting, 29, the eldest daughter of well-known Sarawak businessman Ting Pek Khiing and his wife Chai Yu Lan.
The couple registered their marriage at the Kuching Marriage Registry before the Registar of Marriage Brahim anak Na'o in a signing ceremony this afternoon at a Kuching hotel.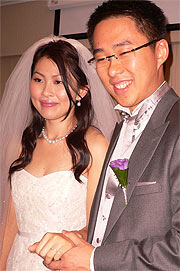 The couple's friends and relatives, including the bridegroom's parents, Sng and his Taiwanese-born wife Susan and daughter Jessie Soon were present at the signing ceremony.
Grand wedding receptions have been planned for later in Kuching and Miri.
First victory in 2001
Larry is the state assemblyperson for Pelagus and assistant minister in the Chief Minister's Office as well as Assistant Minister of Industrial Development and Economic Planning.
He first stood for election as a 22-year-old in the 2001 state polls on a BN-PBDS ticket, replacing his father as the Pelagus representative. He was re-elected for the same seat in the May elections this year, this time representing the newly-formed PRS.
The bride is a political science and economics graduate from the National University of Singapore (NUS) as well as a Masters graduate in commerce from an Australian university and is currently project manager of the family-owned Wisma Yu Lan in Miri.
The marriage is seen as bringing together two well-known Sarawakian personalities - Ting Pek Khiing, who is a well known airport builder for his success in bidding for the construction of airports in Kuching, Miri, Bintulu and Labuan and Sng Chee Hua, who is PRS deputy president and a renowned corporate player.
---
TONY THIEN is
malaysiakini's
Sarawak-based stringer.