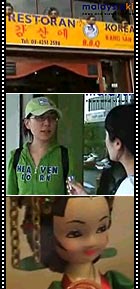 There is an estimated 5,000 Koreans living in Malaysia, many of whom are expatriates working in Korean companies all around the country.
To support the needs of the expatriates, a small corner of Ampang - right on the border separating Kuala Lumpur and Selangor - has been turned into a 'little Korea'.
Here, Korean-owned businesses have mushroomed mini-markets retailing Korean delicacies, restaurants, bars, hair and beauty salons, travel agencies, to name a few.
Our Korean intern, Rhee Hyun Ah explores Ampang in search of her compatriots.

10-minute video