ZULKIFLEE Anwar Haque, better known as Zunar to his friends and associates, has quite a unique trade - he is a professional political cartoonist.

In his 20-year career in the profession, the 44-year-old Zunar had his share of ups and downs but on Friday (Jan 12), he will be a proud man. That day, the fourth edition of his cartoon collection will be launched by none other than a namesake - Anwar Ibrahim, a former deputy premier.
Ahead of the launching of his Cartoons on Tun ...and Others , Zunar told malaysiakini why he is doing what he does best.
"Before I start to draw a cartoon, I already have a message in mind which I want to get across to others. I suppose many will find it easier to send messages by talking but for me, it's by drawing.
"The cartoon is not only to entertain but also to educate as people learn to understand the political message behind it," he explained.
Zunar felt that it was more important for people to get the message than to give them a giggle.
Every cartoon he sketches, Zunar stressed, comes from the heart. He also said he gets his ideas mostly from current political issues.
Zunar started his career as a political cartoonist in 1986 when he joined Gila-Gila magazine as a general cartoonist. In 1990, he joined Berita Harian as a political cartoonist.
However, his stint in Berita Harian was short-lived due to restrictions imposed by the company and pressure from the government.
Inspired by Tun's big nose
Following the sacking of Anwar Ibrahim in 1998, Zunar realised the importance of playing a role in educating the public about the political scenario in Malaysia. He then came back as a political cartoonist.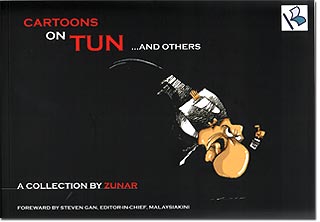 "It was at that time that I was inspired to draw Tun's big nose - that remains the essence of my cartoons till today," Zunar noted.
Currently, he draws for malaysiakini.
On the publication of his fourth edition of cartoon collection, Zunar said it was to give a clear message that changing the approaches were not what the people want but rather to come out with new policies.
The 136-page book was published with the support from Zunar's family, especially his wife, friends and malaysiakini.
Although bookstores declined to launch his latest book because it was generally critical of the government, Zunar was not perturbed, saying that "the most challenging factor is to gauge whether the public can accept this type of (political) cartoons."
He was optimistic that his latest book will be well received by cartoon lovers as well as those with strong interest in Malaysian politics.
The launching on Friday is at the Selangor Chinese Assembly Hall, Kuala Lumpur, beginning at 8pm.
Cartoons on Tun ...and Others , priced at RM29, is available at malaysiakini office in Bangsar or purchased online at www.kinibooks.com.
For further information, call 03-22843367 ext 104. or email [email protected]