AS a father, I feel a lot for Azlan Jaafar and deeply share his grief and sorrow. I believe many of you, even if you do not have children, will understand a father's grief at losing a child and at losing one in such tragic fashion.
Azlan's 17-year-old daughter, Ili Ameera, went for her National Service (NS) training. She never came back. Last Thursday, she died as she was being rushed to the Malacca Hospital after experiencing breathing difficulty at the Ayer Keroh training camp.
For Azlan and his wife, their loss is perhaps more devastating than the American parents who have to send their son to war-torn Iraq. At least, for the Americans, they are made aware of the possibility that their beloved son or daughter may never return. That is after all, a war zone!
But for the Malaysian parents, their daughter was enrolled on a programme aimed supposedly at promoting national unity. They did not enlist her to fight in the battlefield. Yet, their little girl never came back.
Ili Ameera's death raises a lot of questions on the NS programme. How, why did it happen? What is the medical aid available at the NS camps during an emergency? Are all the trainees certified medically fit before they are enlisted? Are parents made aware of what their children have to undergo during NS training?
The RM500 million NS training programme is now in its fourth year. This year, a total of 34,318 youths are enrolled for the NS programme to be held at 78 camps nationwide.
With so many things going wrong right from the start in 2004 and also this year, culminating in the death of Ili Ameera last week, the NS programme comes under heavy criticism again and rightly so too.
Sometimes, it is very difficult to comprehend why a plan that aims to mould our young people into loyal, patriotic, responsible and wholesome citizens be that bad?
That can't possibly be. But it's true.
It was unfortunate indeed that the NS, with all its noble aims and objectives, got off to such a bad start. The inaugural NS programme, launched on Feb 16, 2004 and involving 85,000 youths born in 1986 was fraught with problems from the onset.
Apart from sexual related problems, there were also accusations of physical assault, theft and drug abuse.
First fatality
Two months into the programme, a 18-year-old college student drowned in Sungai Cina in Matang near Kuching, making it the first fatal incident of the NS programme.
An official report stated that the youth strayed away from the rest of the group during the outing and he was only discovered missing after it was too late.
Whatever the reasons or excuses may be, parents just cannot accept that they send their son or daughter to attend the NS programme only to lose their life.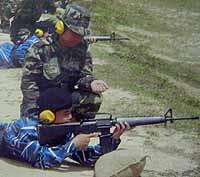 In the Sungai Cina incident, it was established that there were only two trainers supervising 37 trainees in the group. Needless to say, it is impossible for two persons to handle such a big group. How often have we heard of even a family of five (the parents with three children) having met with tragedies during picnics at beaches or waterfalls...let alone two adults looking after 37 children.
Soon after the Matang drowning case, two male trainees in a Sibu camp lodged police reports that they were sexually assaulted by their trainer. They claimed that their trainer had touched their private parts.
Sibu police confirmed the reports and the Kolej Bersatu Sarawak camp commandant in Sibu also confirmed that the alleged incidents took place in his camp. How unfortunate indeed that such a thing should happen!
While we try to appreciate the efforts of the authorities to put things right again, it is important for them, and Najib Tun Razak in particular as he is the minister in charge of NS, to recognise that the NS was not properly planned before it was implemented.
Worst, it is now in its fourth year and the criticisms and grumbling are getting louder.
Back to square one
So what must be done? Perhaps, it is advisable for the government to retract to the drawing board the entire programme.
If there is a need to go back to square, then do so. There is no shame in it. Conduct a meticulous evaluation of what had happened during the first three years of the NS programme.
For example, it is important to ensure that there are proper and adequate facilities at the camps for the trainees and that there are enough well-trained supervisors and trainers in each camp.
There have been serious complaints regarding the programme's infrastructure. Proper infrastructure and facilities should be in place before ushering the trainees in.
The cleanliness and hygiene of the training facilities should also be checked and maintained as complaints from female recruits have been overwhelming.
Then, there is the urgency to make sure that medical attention is immediately available to those in the camp when required.
Two years ago, it was reported that a parent had complained that her daughter who was not feeling well because of an asthma attack was given pain killers instead of being sent to the doctor. Now, this complaint was made two years and had appropriate action been put in place, perhaps Ili Ameera would still be with us today.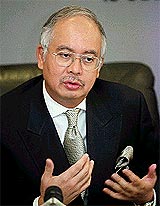 All Najib could say a week after Ili Ameera's death was that an indepth investigations will be carried out into the cause of death and that he was still waiting for a detailed report of the incident. This is not very comforting, to say the least.
If such an incident was to happen in a youth programme in another country, the whole event would have been immediately suspended. Sadly here, we say we will wait and see and hope that such an unfortunate incident will not recur.
Early this month too, NS trainees were having problems getting the necessary transport arranged for them to reach the NS camps. Buses were not there to pick them up and many were stranded at airports because they were informed of the wrong time of departure.
Last week, it was reported that NS camp officials at Bukit Saban in Betong, Sarawak are putting a tight lid on information after reports that more than 50 trainees were down with suspected food poisoning or contaminated drinking water.
No compromise on safety
This happened on Jan 14 when 51 trainees, all in their late teens, were sent to the government hospital in Betong where they were treated as outpatients after complaining of vomiting and fever. The 52nd trainee was admitted the following day. All had been sent back to the camp after receiving treatment.
These are but a few of the more serious flaws that have been discovered. There were many others but suffice to say, if the situation does not improve in the days and months ahead, then there is no shame whatsoever to suspend the NS programme and start all over again.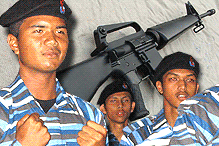 Anything that involves the security and safety of our young people should not be compromised. That should be above the ego and pride of those in authority and they must be made to understand that there is really no shame in calling off the programme, if necessary.
It can always be implemented again after all the problems have been sorted out. In fact, we can all be more confident that a properly introduced NS plan will make parents, the supervisors and recruits happy and more importantly, achieve its desired goals
American casualties in Iraq now have passed the 3000 mark...and still counting.
Our NS training programme fatality is now 18. Please stop the count.
---
FRANCIS PAUL feels that NS should be scrapped as too many things had gone wrong and that achieving its desired objectives is a long shot.
(Suggestions and feedback can reach Rentakini at [email protected] Selected letters will be published.)