JUST as Marina Mahathir was about to leave for lunch on Thursday, rentakini 'ambushed' her for a light-hearted interview somewhere in a Bangsar building.
Like the good natured person that she is and living up to her rather friendly and down-to-earth demeanour, Marina sportingly obliged ... despite her growling stomach (I'm hungry, she says).
Well, we learn that Marina is a Merdeka year baby, has high regard for Bill Clinton and the Perlis mufti, worries about teenage sex, will not go for cosmetic surgery and is a good advertisement for Mitsubishi. (Wonder why the automaker never thought of getting Marina to model for them)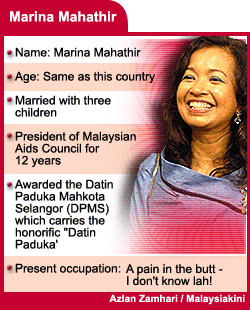 Here's the chit-chat with Malaysia's former First Daughter - we asked for 15 minutes of her 'lunch time' but she graciously gave us 30.
What did you do on Valentine's Day yesterday?
I didn't do much really ... in fact, I think I didn't do anything of significance. I didn't get any flowers or chocolates. Just received the day's good wishes from girlfriends.
So Valentine's Day isn't that exciting for you now?
Not after you have reached a certain age.
Aaah, age! You are not secretive about your age, are you?
Well, well... oh... I'm the same age as this country.
Some conservative Malaysians are against Valentine's Day. What do you say to that?
It's just a bit of fun, lah . Nothing serious. Are Malaysians not allowed to have fun sometimes. But you know, some people will always object to everything.
Do you believe in love at first sight?
I've heard that it happens. Maybe it does. It hasn't happened to me. But that's OK.
Who do you admire as a statesman? Which leader stands out to you?

Besides my dad, you mean? I don't know, actually. I can't say I've seen anyone who's really impressive. Maybe (former US president Bill) Clinton. He's an incredible speaker. He's got a very compelling style. Compare Clinton to the present guy (George W Bush), I wonder why people switch (their votes) like that.
What about local figures? Apart from your dad, of course.

Hmmm... I have to think. Does it have to be a politician? I'm sorry, I'm really terrible right now. I can't think of any. I guess my current favourite is the mufti of Perlis (Dr Asri Zainul Abidin). He's very different, very radical. I've never heard him speak live, though.
In your free time, what do you do?
I try to spend it with my kids. Just normal family trips. I will also try to catch up on personal stuff. I have a bunch of girlfriends whom I go out with, have tea, and stuff like that.
What are your hobbies?
You mean apart from being a pain in the butt - I mean, pain in the neck! I don't really have time for hobbies. No time. Everything I do is with the family.
How many children do you have?
Three. They are 19, 18 and seven years old.
What do you think about sex education for our kids?
I think you should start teaching children (about it) from as young as possible, of course, in accordance with their age. I think you can't escape from it. You have to do it properly. I can't say that I'm very good at teaching it. I myself find it very difficult, very awkward. Especially when they're teenagers and just say, "I know, I know, I know".
I watch programmes on TV with them, such as music videos, and try to temper them a bit. Like with my daughter, I try to tell her that Britney Spear's videos is all acting. If you were going to do that in real life...
Are you worried about the incidence of teenage sex in Malaysia?
Yes. I think it is (worrying) because you see an increasing number of abandoned babies. I've worked a long time on the Aids issue. I think we need to look at how we approach it. Also, we may think it's just teenage sex, but a lot of things are going on out there. I don't think we know the level of violence that young people are faced with.
Will religion be the right way to help resolve such a problem?
I think it's very important. But the religion has been taught (in such a way) that it's a lot of 'you cannot do this, you cannot do that.' What can you do?!
In general, all religions teach good moral values. We have to see how best we can get these messages across to our young people.
Unicef came out with this report on young people, and there was this girl from the Netherlands who said, "I can buy drugs and alcohol at this place right next to my school. But because it's legal, it's not interesting." So there are other more ways we can explore here.
What makes a good mother?
Communicating. It's very important. You have to know what's going on in their lives, know what kind of music they're listening to, who their friends are. There's a tendency (for them) not to tell you anything, but you have to find ways to get them to talk.
What does Islam mean to you?
Oh, I thought this was supposed to be a light interview... it's getting heavier? Yes, Islam means a lot to me. It stands for justice, equality, compassion. It's just sad that there's so much interpretation that is so harsh, so dark, so difficult. It's meant to be easy. It's a pity, especially to young people. They don't know how to differentiate between the religion and the people (who interpret the religion).
And your favourite writer is...
Salman Rushdie. I really liked Shalimar the Clown . I recently read Goenawan Mohamad's Conversations with Difference , which is a compilation of essays from (the Indonesian) Tempo (magazine). There are some people who write really well. I just like good writing. I put a book down when I don't like the writing.
Do you watch the Oscars, Grammy's or Golden Globe awards?
Of course. It's fun to see the famous names, see what they're wearing... My biggest memory of the recent Grammy's (I watched the repeat telecast in the evening) is that of Smokey Robinson. Did you seek his face?! It was so stiff, all botoxed and all.
Do you think you'll ever go for plastic or cosmetic surgery?
No, lah . I'm clinging to the hope that my genes will come through.
Are there any local entertainers who you think can be good role models for young people?
I don't really know. I think a lot of alternative music by young people today are really interesting. There's this music video that I saw on YouTube . It was done in Chinese and Malay. It has got all these comments on the haze.
So no role models?
No lah . I don't really follow (the entertainment industry).
That does not say very much for our local celebrities/entertainers, does it?
Ho ho ho... that's your opinion.
What car do you drive?
A Mitsubishi Airtrek.
Waaa.
It's OK lah . A car is just to get from A to Z.
What's your favourite car?
My first car. A Mitsubishi Colt.
Hey, why not Proton... your dad must be fuming...
That was before Proton came out, in the (early) 1980s.
We'll publish this on Chinese New Year. Here's the opportunity for you to say something to your Chinese friends.
Gong Xi Fa Cai and Happy New Year. May this Year of the Khinzir be a good one for everyone.
Are there less and less open houses nowadays?
I don't know. I always feel bad because I haven't had an open house for some time. I usually go to my parents house... I don't make kueh or anything. I just buy them. But I should, lah. It's a good tradition.
We don't have any more questions.
Because you're not getting interesting answers. I'm hungry.
That's why we're letting you go now. Sorry about that. Thanks for your time. Go ahead and have a good lunch.
---
FAUWAZ ABDUL AZIZ is a member of the
malaysiakini
team. Readers can write to
rentakini
by emailing
[email protected]
( Anything But Politics is an occasional column featuring political personalities, activists, intellectuals, about everyone really!)