THOSE taking English literature in high school will probably be familiar with Pygmalion , a George Bernard Shaw classic, which had been staged as a musical around the world over the past few decades.
On the movie screen, this classic is better known as 'My Fair Lady' and its 1964 screen debut starring ethereal screen legend Audrey Hepburn in the leading role is noted as one of the most memorable movies of all time.
Come May 15-20, Malaysians will be able to catch the musical titled 'My Fair Lady' in Kuala Lumpur. The six-day shows will be held at the Kuala Lumpur Convention Centre.
If the musical introduction on Thursday is any indication, then those fond of English literature or simply fans of music, songs and the theater should not miss this opportunity to watch a classic at its best.
Poppy Tierney ( right ), who plays the lead role as Eliza Doolittle, hopes to touch Malaysian audience by her spirit and songs.
"In fact this is what I intend to do wherever I go and wherever the musical is staged," she told reporters at the musical intro organised by the Tourism Ministry.
Tierney, 27, reiterated the importance of being able to touch the hearts of the audience in order to make them feel what was felt by Eliza Doolittle in regards to her encounter and journey in the play.
For Tierney, playing Eliza Doolittle in 'My Fair Lady' was her dream role of the lifetime.
"That role fulfills a dream and it is also a great achievement in my career as a musical actress," she happily told the Malaysian press.
Memorable songs
Trained as a singer and dancer at Italia Conti in London and TVI studios in Los Angeles, Tierney humbly maintains that she is still facing many challenges particularly in her singing style even though she has been playing the role for quite some time now.
Tierney currently shared the title role in 'Mary Poppins' in London's West End at the Prince Edward Theater.
Until now, 'My Fair Lady' had been played on stage in London for more than 5700 performances since it started in 1976.
Songs featured in the famous play include 'With a Little Bit of Luck', 'The Rain in Spain', 'I Could Have Danced all Night' and 'On The Street Where You Live'.
Speaking at Thursday's event, Tourism Ministry secretary-general Dr Victor Wee described the staging of 'My Fair Lady' in Kuala Lumpur as one of the special musical highlights for the country this year.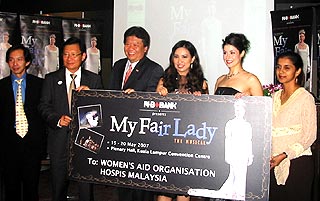 He asserted that the government has always been serious in its quest to develop Kuala Lumpur as the hub of arts and culture in order to accommodate the growth of literary arts and performances around the world in Malaysia.
'My Fair Lady' musical in Malaysia is made possible with the collaboration of the ministry and RHB Bank.
Boasting a cast of more than 50 performers, it is produced by Brownoski Productions, a leading London production company specialising in musical theater performances and opera worldwide.
The musical will be directed by Nikolai Foster, a noted name in the musical industry in Europe..
The May 15-20 world class musical in Kuala Lumpur will be staged between 3pm and 8pm. Tickets range from RM100 to RM350.
---
WONG YEEN FERN is a malaysiakini team member.