NURUL Izzah Anwar recently sat down with Rentakini for a chat. She started by sharing her interest in reading and some of the recent books she picked up.
What are some of the latest books you have read?
Memerdekakan Rakyat Memerdekakan Sendiri by Eep Saefulloh Fatah, WS Rendra, Teten Masduki and Anggito Abimanyu, is about Deklarasi Agustus in 1999, the (then Indonesian president) Suharto's fall, during (Suharto's successor BJ) Habibie's rein. They basically talk about what are the challenges now and Memerdekakan Rakyat Memerdekakan Sendiri is basically empowering the people and empowering yourself. The book is very interesting.
What about English titles?
There are a few. 'Democracy in Iran: History and the Quest for Liberty' by Ali Gheissari and Vali Nasr. This one is recommended by the Economist , it described the revolution in a different light. It was very interesting. Another one is 'Selling China' by Yasheng Huang, which gives a different take on China economic and the success that it has attained.
What is the most crazy thing you have done in your life?
Believe it or not? Bungee jumping. It was in Perth, Australia and I was 15 then. It was a family holiday and my father (Anwar Ibrahim) didn't know what was it so he allowed me to go. When he saw the video tape later, he almost screamed.
Is there anything you wish to tell your father but not dare to?
I share a lot with my father - stories about my first boyfriend, when I was to get married... He was always trying to project his image (that) 'I am a sporting father', so I would tell him a lot of things. I don't think I left out anything.
Probably I wish I had told him earlier that it was very hard for me when I was asked to contest in the 2004 general election because I was still a student. There were a lot of expectations at that time regardless of whether I lose or win. It's difficult for me because we wanted to do something good for the movement but I had studied so hard (to face the final exam), it was not easy.
Name some of your favourite actors and actresses?
I like Keanu Reeves very much but he is such a bad actor. He is just good looking...no matter how hard he tried, it's so bad, you can see (laughs). I liked Ralph Fiennes for a while but he wasn't that outstanding in The Constant Gardener - normal performance from him.
About actresses, I do not have any favourite but I think Julianne Moore ( left ) is impressive, particularly when she took on the role in the Hannibal series. It's hard to carry that role but she did it well.
What are some of your favourite movies?
Pirates of Caribbean: Johnny Depp is so good, he is such a good actor. I am trying to convince my mother-in-law that I can watch it (the upcoming Pirates of Caribbean 3 ), 'pregnancy can watch pirates one ' (laughs). They say that pregnant women must only watch happy things, cannot watch hantu-hantu (ghosts).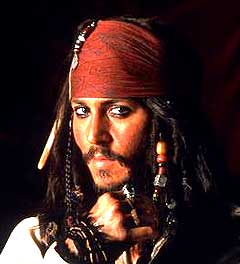 The Constant Gardener: I thought the movie was really good but it fell short of expectation. I had wanted more from him (Fiennes) because it was such a good story line.
What about local movies that you have seen?
I have seen Gubra, Sepet , but not Mukhsin (all directed by Yasmin Ahmad) yet. I like Sepet because it was such a bittersweet movie and Gubra was good, but Sepet was just fresh in that sense.
My favourite Malay actor will be M Nasir because he gives you such a lasting impression as an actor and a singer. Once, I had the opportunity to meet him together with my father. I shook his hand and it was like wah...
I haven't seen Cinta , I heard it's good as well. In America you never need to line up at a cinema but when I go to the cinema here, I will be like 'let's go home'...
(Nurul Izzah returned from the US early this year after completing her 18-month post-graduate studies.)
Which is your favourite band now? From Radiohead to ...?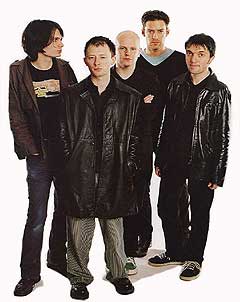 I still think Radiohead cannot be compared with any other band. They are so talented. I like Strokes and the Killers too but they cannot be compared with Radiohead's prowess and talent. Right now there is the Modest Mouse and Fall Out Boy, but it is okay lah .
I tried to strike a balance by listening to al-Quran because my mother-in-law said stop listening to rock music (grins). I mean it's good - the baby also needs some spiritual input, true or not? So I tried to balance both, spiritual input and rock music.
The local music scene?
I haven't been in touch because you need to listen to them regularly on radio and I was not much of a fan of pop music. I heard about Mawi. God, everyone heard about Mawi. My neighbour sent Mawi's CD to the US, goodness gracious me. He is charismatic lah but I would say I prefer M Nasir in terms of the musical and the style. The rest I haven't really been in touch.
There is one song - 'Dealovar' sang by Once (Dewa). Siti Nurhaliza sang that on her wedding for her husband. I like the song but I was disappointed that she sang it for her husband but never mind, that was their wedding. That's the most beautiful song that I have ever heard, Indonesian song
Do you watch any series?
Yes, I like CSI even though my mother-in-law said orang mati lah, kena bunuh lah but I like CSI a lot. I used to watch Alias , my husband didn't like it but I forced him to watch it and now, he likes it. We didn't like Grey's Anatomy but in the US, all my classmates watch it so if you didn't watch it then you macam kampung, so I had to. But it is too scandalous sometimes, shouldn't a doctor be focusing on the patient? CSI is better.
Any talk show host?
There are not many right? I can tell you (Nurul Izzah's sister, Nurul) Nuha's, she likes Oprah Winfrey.
Name a personality who inspires you most apart from your parents?
I did admire Aung Sang Suu Kyi. I think as a woman, she faces criticism of being too harden or being uncompromising in her stance but you got to give it to her. Her resilience is just amazing. I wish I could become like her, as strong as that and she is really inspiring. In terms of Burma, I just hope Asean as a whole, we can do so many things better. She is just amazing.
Did your husband ever make you angry or have you ever raised your voice at him?
Which couple never fought before? Obviously, in any relationship it is impossible that you don't get angry with one another.
There is one funny story which can best describe who I am.
I met my father - the day before I was supposed to meet my future in-laws - and my father said 'Izzah, listen to me - please don't make any loud jokes; please don't laugh unless they make a joke but please laugh softly; please be quiet'. So yeah, that's what I did when I first met them.
Of course they knew me later on. I am soft-spoken at times and is actually a shy and reserved person. My husband is far more quieter but we talk a lot with each other, we get along well.
People always have this perception that there will be some problems between a mother-in-law and daughter-in-law. Is that the case for you in your marriage?
I have been very blessed. I get along very well with both my father-in-law and mother-in-law. My mother's (Dr Wan Azizah Wan Ismail) advice is very good in that sense. She told me, "Always be yourself, don't try to overdo it because you can't keep up, you can't maintain your sterling performance, it's not sustainable, so just give it up".
I try to be a good daughter-in-law. Of course I have my weaknesses and she (her mother-in-law) put up with a lot. She is very patient and will always remind me that she loves her daughter-in-law as much as she loves her own children.
What do you do in your free time?
I love to read. It's so important and there are many things to learn. I love swimming too but I can't swim yet (due to the pregnancy). My doctor advised me to swim later on, so I will do so (later).
Where do you swim?
It's really difficult (to find a suitable place). One is in Universiti Malaya, they have a swimming pool for women. Now we have a swimming pool in our house but I have to wait till the fifth month to do so.
Lastly, any beauty tips you like to share?
Well, I do take care of myself. I just wash my face twice a day and floss every day because I wear braces for two-and-a-half years when I was 13. You should feel good about yourself and you will look good.
---
BEH LIH YI is a
Malaysiakini
team member. Comments can reach
Rentakini
by e-mailing
[email protected]
. Selected letters will be published.
(Anything But Politics is an occasional column featuring political personalities, activists, intellectuals, about everyone really!)