THERE is a moment in award-winning Hollywood movie Jerry Maguire when Tom Cruise says to Renee Zellweger: You (pause) ... complete me.
Yes, you have to say it with the dramatic pause, because it's THAT dramatic.
A moment so clich, but it makes our hearts melt like ice kacang under the sun. A very "awwwww...." inducing moment.
Like the rest of us, I am sure that finding love is just as hard for Prime Minister Abdullah Ahmad Badawi. For some of us, his realisation of a new found love after he tragically lost his first wife, Endon Mahmood, also makes us put on our puppy-dog eyes and go "awwwwww...".
Pah Lah wept and wept almost one and a half years ago when cancer cruelly took Endon away from him. But time heals and today, Pak Lah's life is complete once again.
This time, Jeanne Abdullah will complete him. Yes, say it with me: "awwwwwww..."
Fallen in love
When announcing his marriage plans on Wednesday, Abdullah said: "My love for Endon remains as strong as ever but I have fallen in love with this one."
"I believe that God has created in your heart many spaces for many people that you can love as much as you want."
Today's marriage is a historic occasion as it is the first wedding for a serving Malaysian prime minister. Since Pak Lah is a national leader, we've gone out to ask around what people think of the prime minister's surprise decision to remarry.
Nurunnajwa and Nur Syawalina, both students at Institut Perguruan Ilmu Khas, extended their congratulations to the happy couple.
"We think it's good for him. This is the right time."
Bank officers Azrin and Saiful had similar thoughts. "I think it's very good decision made by Pak Lah. His happiness is very important for the country."
On the political front, Works Minister Samy Vellu has expressed his sentiments in the form of a poem: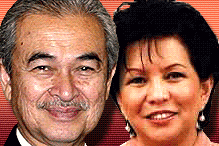 From this day forward
You shall not walk alone.
Her heart will be your shelter,
And her arms will be your home.
A mountain needs a valley to be complete;
the valley does not make
the mountain less, but more;
and the valley is more a valley because
it has a mountain towering over it
Federal Territory (FT) PAS Youth wing made a request to the prime minister to mark this happy occasion.
As a wedding present, the opposition party urged him to release all the detainees held under the Internal Security Act (ISA).
DAP secretary-general Lim Guan Eng extends his felicitations and heartiest congratulations to Pak Lah and Jeanne Abdullah. He believes that the public will definitely bless Pak Lah's marriage and hopes that the soon-to-be husband again will hold on to his promise that a happy prime minister can do a lot of good work.
Pak Lah's bride, Jeanne Abdullah, was previously married to Endon's younger brother Othman Mahmood. They have two daughters. However, the couple divorced 15 years ago.
Happiness all around
Jeanne, who is of Portuguese-Eurasian descent, was the supervisor of the deputy premier's official residence when Abdullah was DPM, and later managed Seri Perdana, the prime minister's official residence.
Her daughters, Nadiah and Nadine, were also elated with their mother's decision to wed the prime minister.
We are both very glad for our mum and the prime minister, Nadiah was quoted as saying by Bernama.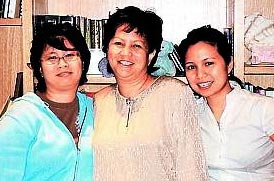 She said that two good people had managed to find each other and the most important thing is that they are happy and be able to look after each other.
Nadiah and Nadine, on behalf of their mother, thanked their relatives, friends and the public for their warm wishes and blessings.
We are very grateful for all the support, said Nadiah, 29, who runs a visual communications company in Kuala Lumpur. Her sister Nadine, 27, is involved in the fashion industry.
Abdullah's family members have also expressed happiness over the marriage.
The akad nikah will take place today in Putrajaya with only close relatives and family members in attendance in accordance with Pak Lah's wish to keep the wedding a small and simple affair.
Malaysiakini team members also pen messages of congratulations and extend their best wishes to Pak Lah and Jeanne Abdullah on the happy occasion today. This is what our staff have to say:
Andrew Ong: May God bless you and your newly extended family. On another note, let's hope that we will be able to get a newspaper permit from the government, so we too can join the print media family. That's my wish on this happy occasion of yours, Mr Prime Minister.
Beh Lih Yi: Dear Pak Lah, you've said, "I believe that God has created in our hearts many spaces for different people that we can love as much (as we want). When we are talking about women, we can love our mother, our wife..."
Hey, is that an idea for men to justify that they can have more than one woman at the same time? Anyway, heartiest congratulations Pak Lah!
Bede Hong and Yoges Palaniappan: We congratulate you on your wedding today and we extend our very best wishes for the future. We congratulate you on your decision to take your next step in life."
Fauwaz Adbul Aziz: I have nothing to say. Absolutely nothing!
Francis Paul: You're one lucky guy, Pak Lah! I'm jealous!
Indrani Kopal: Congrats Pak Lah, my best wishes for a very happy and successful married life. Hopefully as a happier person now, you will make more meaningful contributions to the nation..
K Kabilan: Dear Pak Lah, our warmest felicitations to you and Ms Jeanne Abdullah on the marriage. We are sure that your new life partner will now play an important role in providing inspiration and strength for you to achieve your dreams and goals for the nation.
K Manohar: Heartiest congratulations, Pak Lah. You have provided the inspiration for Malaysian men to be ever more productive!
Muhammad Azlan Zamhari: It's about time our nation's top leader has a woman by his side again to give him strength, courage and inspiration. History has shown that a single woman can launch a thousand ships. Perhaps, with the new First Lady we will be able to witness a similar launch as well as the execution of thousand of policies to benefit the nation.
Nash Rahman: Pak Lah is a good man. He will make a good husband.
Ooi Kelly: Congrats Pak Lah. After the merry-making today, please shift the media's focus back to the pressing issues at hand.
Priah Marimuthu:
"From Pak Lah to Jeanne...
I'm looking at you looking at me
At this age I'm hoping we'll never disagree
But it ever comes to that, I'm sorry
To hell with you, here's to me!
To the newlyweds.. may "for better or worse" be far better than worse!
Premesh Chandran: We wish Pak Lah a happy marriage. We hope that the union will be supportive of Dr Mahathir's 70-million population policy. Perhaps it will help bridge the gap with the former leader.
RK Anand: Congratulations and best wishes Mr Prime Minister. May you and your wife be blessed with peace and joy.
Soon Li Tsin: Heartiest congratulations to Pak Lah and his new bride. We are
counting on you, Lady Lah to watch over our PM and point out the good company from the bad to him. May happiness reign over Cabinet stress, busy schedules and sleepy meetings!
Su Hui Hsing: Congratulations on your newfound happiness. I look forward to greater things that you'll be doing for the country."
S Vicknesan:
The Prime Minister gets married,
Ah, the people are now less worried,
Love and happiness are now embodied,
A joyous union, yes! a higher GDP now fancied!
Selvarani Mogan and Vikneswary Gunasagaran: Congratulations! We wish Pak Lah and Jeanne Abdullah a happy marriage. Hope you will do more good things for the country.
Yong Kai Ping: Just as you thought there seems no road beyond this path. Amidst shading willows and blooming flowers, the second spring of life appears.
---
SABRINA CHAN is an intern at
Malaysiakini.