PLUCKY Malaysiakini video producer K Indrani was crowned one of the three winners of the recent Freedom Film Fest 2007 for her 15-minute documentary She's My Son.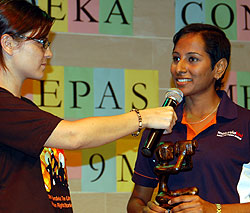 The film was premiered on Sept 15 during the second day of the festival at the Central Market in Kuala Lumpur.
Indrani' proposal for her documentary was one of three short-listed from a pool of more than 50 received by festival organiser Pusat Komas, which promotes human rights through film.
Her proposal bagged her a RM5,000 grant which allowed her to produce her maiden attempt at a film competition which took four painstaking months of planning, shooting and editing.
"It was a labour of love," said Indrani, 28,
The subject of her film is about the bond between transexual aid worker Sugania and how her mother Samsed gradually grew to accept her.
Strong message
In the documentary, Samsed speaks passionately about her son and the trials and tribulations they both faced due to Sugania's sexuality.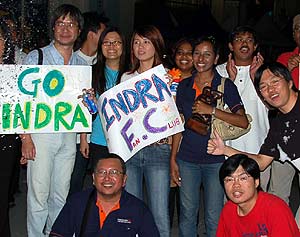 "But then, the documentary is not about sexuality. It's about how society needs to look at transexuals and transgenders in a non-sexual way and treat them like one of us," said Indrani.
The course of Indrani's research for the documentary also drove her further in sending a strong social message.
"A friend took me to Chow Kit Road and I spoke to several sex workers there. They were driven to doing it because they couldn't find jobs elsewhere due to discrimination against transexuals," she added.
Colleagues of Indrani turned up in full force on the screening night to support and congratulate her on her achievement ( top picture ).
There are still two legs of the Freedom Film Fest 2007 screening which will be held in Johor Bharu and Penang.
For more information on these two venues, please visit the official Pusat Komas website.
---
ANDREW ONG is a
Malaysiakini
team member.