QUESTION TIME | First we cheered when Pakatan Harapan kicked out a kleptocratic, corrupt government at the polls, but waited with bated breath for the official announcement by the Elections Commissions whose fairness everyone doubted and was wondering if there would be any last-minute tricks. We cheered when the results became final.
And then we waited for the new prime minister to be sworn in and heard the former prime minister's grudging speech accepting defeat but saying at the end that no party had a majority in the elections. Harapan had an outright majority although it was not then registered as a party.
We sat on the edge of our chairs wondering whether they will do something to thwart the will of the people and waited anxiously yet again. Only at 3.45pm on the day after the elections were the results presented to the king.
When the king asked if Wan Azizah Wan Ismail was prepared to form the government as her party was the one legally considered to have a majority, Wan Azizah and others kept to their promise that Dr Mahathir Mohamad was their choice as prime minister and Mahathir was sworn in that night. We heaved a collective sigh of relief yet again, cheered and celebrated.
And then the core cabinet of five was announced and we groaned as PKR complained of lack of consultation and the question of when its de facto leader Anwar Ibrahim was going to be released loomed. We wondered whether Anwar was going to be released any time soon. The weekend came and went.
He was expected to be released Tuesday. And he was, but a day later, on Wednesday - fittingly a day before the start of fasting month of Ramadan. His wife, Wan Azizah, clung to him as he walked the corridors of the palace and obtained a full pardon, not forgiveness but exoneration because he was persecuted, the system was bad. And we again, felt a wave of relief flood over us.
After all, he was the man who started it all with the reformasi movement way back in 1998 two decades ago. His foe then was Mahathir, who had him arrested first under the ISA in 1998 and then had him charged for sodomy. He would get his freedom only in 2004 when Abdullah Ahmad Badawi took over as prime minister from Mahathir.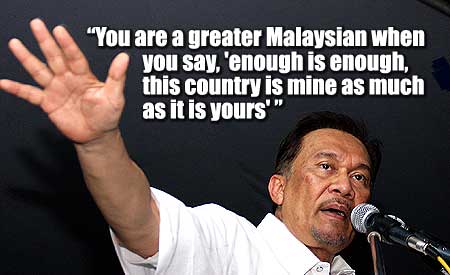 Abdullah won a landslide victory in 2004 when he promised change, a clean government and greater freedom. The public, tired by Mahathir's excesses, patronage politics and repression of Anwar, gave Abdullah the largest mandate...